Mark Richt knew what the prevailing storyline would be when he took his Georgia team to face Houston Nutt and Ole Miss. Richt's one criticism was that the media could have come up with a more creative title for the game than the "Hot Seat Bowl."

The furor surrounding the two programs is significant enough that Richt and Nutt rank first and second on coacheshotseat.com's list of the college football coaches with the shakiest job security in America, thus the overly obvious nickname.

"That was pretty easy to predict," Richt said. "You think they could have thought of something better than that. I think a couple of kindergarteners could have figured out that one."

Clever names aside, the meeting between the Rebels (1-2) and Bulldogs (1-2) in Oxford pits teams desperate to reverse their recent fortunes.

Georgia in 2010 endured its first losing year under Richt, punctuating a 6-7 season with a 10-6 loss to Central Florida in the Liberty Bowl. Ole Miss' season was even uglier, dropping six of its last seven games en route to a 4-8 record.

This season hasn't started much better for either side, with Ole Miss beating FCS opponent Southern Illinois between losses to BYU and last week's 30-7 embarrassment at Vanderbilt. The Rebels have now won only once in their last 10 games and those wins came against lowly Southern Illinois and Louisiana-Lafayette.

"I feel that every day when I wake up, and there hasn't been much sleep lately," Nutt said. "So when I wake up every hour on the hour, it's about Ole Miss football and how we're gonna get better."

Georgia opened with losses to Boise State and South Carolina before destroying FCS opponent Coastal Carolina last Saturday, but the Bulldogs' improved performance in the last two weeks made them the betting favorite against the Rebels.

The measure of positivity the Bulldogs carry into Oxford would evaporate with a loss to the slumping Rebels, however, leaving Richt in a more desperate situation than ever. Likewise, each successive defeat makes it appear as though Nutt's firing will be a mere formality -- and a loss to Georgia could be the final blow.

Nutt and Richt are two of the most experienced coaches in the SEC, but they both understand that winning is of the utmost importance in the ultra-competitive league. They won consistently for most of their SEC careers, but neither coach is winning enough lately to satisfy his fan base.

Richt and Nutt realize that's why their names now regularly appear on "hot seat" lists.

"The league that we're in and the times that we're in, you assume that there's things like that happening," Nutt said. "Hey, if that's what they want to talk about, I feel like that's pretty good company to be in, especially with Mark Richt."

Saturday's game could help one of these coaches move toward stable ground, but if neither of them manages to make rapid improvements, they could soon share each other's company again.

In the unemployment line.
Three storylines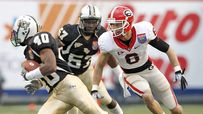 1. Road warriors
Richt's early Georgia teams were outstanding in opponents' home stadiums, but that has not been the case lately. Richt is 34-10 in true road games, but Georgia has lost four of its last five dating to last season's loss at South Carolina. In all, the Bulldogs were 1-6 away from Athens last year, including neutral-site losses to Florida and Central Florida. This week's visit to Ole Miss is the first of three true road games in the next four Saturdays, followed by a meeting with Florida in Jacksonville.

2. Georgia's linebackers
Michael Gilliard and converted safety Shawn Williams made their first career starts at linebacker in last week's blowout win against Coastal Carolina. This week marks a significantly greater challenge for the Bulldogs' linebackers. Ole Miss' offensive line features some massive road graders who won't be easy to avoid.

3. Shake 'em up.
Vanderbilt's opportunistic defense forced five turnovers in beating the Rebels 30-7 last week, so Georgia needs to damage the Ole Miss offense's confidence further. In two games against FBS opponents, the Rebels scored only one offensive touchdown and turned the ball over seven times. They might fall apart again if hit with effective pressure.
Dawgs to watch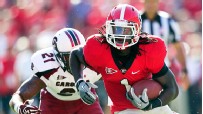 RB Isaiah Crowell
The star freshman rushed for 78 of his 86 yards in the first half of last week's 59-0 win against Coastal Carolina. He'll figure more heavily into the offense against Ole Miss.

CB Brandon Boykin
Georgia's coaches find more ways for Boykin to contribute each week. The star cornerback and kick returner continues to moonlight on offense, catching the first two passes of his career last week.

S Baccari Rambo
After sitting out the opener on a suspension, Rambo made an immediate impact upon his return. He intercepted a pass against both South Carolina and Coastal Carolina and has made 10 tackles.
Rebels to watch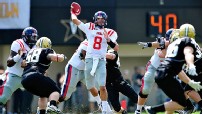 S Damien Jackson
Georgia coach Mark Richt said the senior safety "has caught our eye the most" in the Rebels' secondary. Jackson is second on the team with 27 tackles.

QB Zack Stoudt
The junior college transfer has started the Rebels' last two games, including last week's 30-7 loss to Vanderbilt, where he threw five interceptions.

LB Mike Marry
Marry led Ole Miss with 11 tackles in last week's loss to Vanderbilt, including a sack and two tackles for a loss, and is third in the SEC with 32 tackles.
Key matchup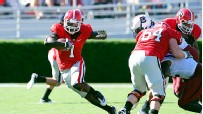 Georgia offensive line
vs. Ole Miss defensive line

Georgia offensive coordinator Mike Bobo has to like his chances to establish the run against Ole Miss' defense. The Rebels are 11th in the SEC in rushing defense, surrendering 198.3 yards per game and a league-worst 5.0 yards per carry. Georgia's depth-depleted offensive line started slowly, but picked things up in the last two games, paving the way for Isaiah Crowell to surpass the 100-yard plateau for the first time against South Carolina before the freshman ran for 86 of the Bulldogs' 194 yards last week against Coastal Carolina.
By the numbers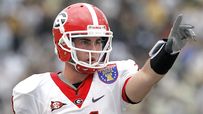 16-1: If Georgia beats Ole Miss, count on Bulldogs quarterback Aaron Murray having a solid outing. The redshirt sophomore has passed for 16 touchdowns and only one interception in seven wins as the Bulldogs' starting quarterback. In his nine losses, Murray's completion percentage dropped from 69 percent to 55 percent and he threw 17 touchdowns against nine interceptions.

0-5: This will be the first meeting between Georgia and Ole Miss since Houston Nutt became the Rebels' coach. In his time at Arkansas, Nutt was winless against the Bulldogs, posting an 0-5 record. Georgia is the only SEC opponent Nutt has failed to defeat at least once.

7-for-8: Georgia's defense must improve its red-zone defense, as even the 88 percent opponent success rate inside the Bulldogs' 20-yard line is deceptive. The only time an opponent failed to score inside Georgia's red zone was when Boise State mercifully took a knee at Georgia's 3-yard line to run out the clock at the end of the opener. Otherwise, opponents have scored touchdowns -- four rushing, three passing -- in each of their seven trips inside the Georgia 20.
Offensive line a concern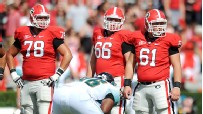 Georgia's offensive line is in a tight spot against Ole Miss, thanks to depth concerns caused by injuries and NCAA eligibility issues. The already-thin line has two regulars -- Chris Burnette and Kenarious Gates -- whose status is shaky against Ole Miss because of injuries. Plus, guard Kolton Houston hasn't dressed for the Bulldogs' first three games thanks to an ongoing NCAA eligibility issue.

Oft-injured Austin Long could be available for the first time, but the Bulldogs' only other options after the starters might be three true freshmen who made their debuts last week: center David Andrews, guard Hunter Long and tackle Watts Dantzler.

The Bulldogs can ill afford another injury to a starter that would force a green rookie into his first significant action during a road SEC game.
Losing new to Nutt
Ole Miss' coach is unquestionably on the ropes right now, but losing consistently is a relatively new problem for Nutt. He experienced only two losing seasons in a decade at Arkansas and had two winning seasons at Ole Miss before going 4-8 last year.

If the Rebels defeat Georgia, he'll surpass former Ole Miss and Georgia coach Harry Mehre and tie Pat Dye for 16th place in SEC history with 99 wins as a league coach. He is 15th in SEC wins with 52, three behind Richt.

David Ching covers University of Georgia sports for DawgNation. He can be reached at davidchingespn@gmail.com.