ATHENS, Ga. -- Georgia (2-2 overall, 1-1 SEC) and Mississippi State (2-2, 0-2) were in similar positions before their meeting last season in Starkville.

Mississippi State had lost consecutive games and was 1-2 before its 24-12 win against Georgia. That win sparked a hot streak for Mississippi State, which won eight of its last 10 -- including a 52-14 win over Michigan in the Gator Bowl -- and finished 15th in the Associated Press Top 25.

Meanwhile, the loss dropped Georgia to 1-3 overall and 0-3 in conference play, creating a hole the Bulldogs were unable to escape en route to a 6-7 record and the program's first losing season since 1996.

Georgia can return the favor Saturday by erasing Mississippi State's fading hopes of contending for an SEC West title.

"We weren't having the best start to the season last year," Georgia quarterback Aaron Murray said. "We weren't on the right path, and it was definitely a big upset for us, to feel like our chances of winning the SEC were slipping out of our hands last season. Right now we're still 1-1, and we feel like we have a chance in the East. We're still contenders, and it's a big game."

That's an enormous departure from the sentiment that surrounded the Georgia program three weeks ago, following back-to-back losses to Boise State and South Carolina to open the season. The Bulldogs since have cruised to wins over Coastal Carolina and Ole Miss, where they were big favorites.

Mississippi State presents a greater challenge, and Georgia knows it must avoid the catastrophic errors that decided the game last year if its record is to climb above .500 for the first time since a win against Louisiana-Lafayette in the 2010 opener.

"Something I remember from that game last year was just being very disappointed because I walked off the field knowing that we should have won that game and I felt like I could have done something better in order for Georgia to win," said tight end Orson Charles, who had one catch for 12 yards against State last year.

Charles and company will get their chance on Saturday.
Three storylines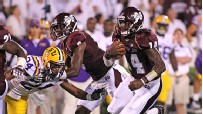 1. Keeping it clean. Georgia played one of its sloppiest games of last season in Starkville. Despite outgaining Mississippi State and accumulating more first downs, Georgia lost a fumble at Mississippi State's 1-yard line, had a 30-yard pass that would have put it inside Mississippi State's 10 called back on a holding penalty, and had a Vance Cuff interception waved off by an offside penalty. If Georgia plays a clean game, it probably wins.

2. Cox vs. Jones. Tempers overheated late in last year's highly physical game when Georgia center Ben Jones came up behind Mississippi State defensive lineman Fletcher Cox and dove at his knees. Jones was flagged for a clipping penalty, removed from the game and suspended for the first half of the following week's game at Colorado. It will be interesting to see whether there is any residual tension left over from that incident and whether there will be any more fireworks along the line.

3. Rattle Relf. Mississippi State quarterback Chris Relf, who rushed for 109 yards against Georgia last year, has been in a slump lately. He was struggling mightily in last week's game against Louisiana Tech before hitting LaDarius Perkins with a 17-yard touchdown pass to win in overtime. Georgia hopes to continue Relf's struggles by applying heavy pressure and forcing him into mistakes like LSU did two weeks ago.
Dawgs to watch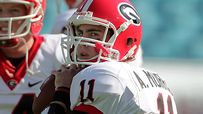 QB Aaron Murray. Murray has had his moments this year -- passing for 235 yards per game, with 11 touchdowns and three interceptions -- but Georgia needs him to be sharper than he was in losses to Boise State and South Carolina.
NG John Jenkins/Kwame Geathers. Georgia wants to take away Mississippi State's inside runs, which means its nose guard tandem must continue to clog the middle as it has for most of the first four games.
LB Cornelius Washington. Georgia's defense had applied consistent pressure on opposing quarterbacks but registered just one sack through the first three games. Washington helped the Bulldogs break through last week with 1.5 sacks in a win over Ole Miss.
Bulldogs to watch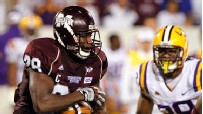 RB Vick Ballard. Ballard is averaging more than 100 rushing yards per game, but only 53 in the last two games. He provides an excellent 1-2 combination with quarterback Chris Relf in the Bulldogs' option game when the offense is clicking.
QB Chris Relf. Mississippi State's hopes of victory hinge on quarterback Chris Relf's ability to get the Bulldogs' ground game moving. Mississippi State gained a school-record 1,176 total yards in its first two games, but averaged only 267 yards in the last two.
LB Brandon Wilson. Wilson totaled 18 tackles in last week's overtime win against Louisiana Tech -- the most by a Mississippi State player since Titus Brown's 18 against Arkansas in 2004.
Key matchup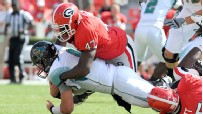 Georgia's outside linebackers
vs. Mississippi State's option game
Georgia's defensive line has controlled the point of attack throughout the season. Shutting down Mississippi State's option runs could come down to Georgia's defensive ends and linebackers holding the edge and preventing big plays. South Carolina's Marcus Lattimore hurt Georgia in the fourth quarter with runs outside the tackles.
By the numbers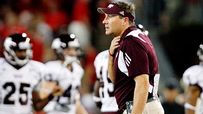 9-for-30: One of the main sources of Mississippi State's recent offensive struggles is its inability to convert on third down. The Bulldogs were 9-for-30 in their last two games and have converted 38.7 percent this season, which ranks ninth in the SEC.

132.5: Georgia freshman Isaiah Crowell has played two SEC games and rushed for 100-plus yards in both of them, averaging 132.5 per game against South Carolina and Ole Miss. His 30 carries last week against the Rebels were the most by a Georgia back since 2007.

14-0: Mississippi State is 14-0 under coach Dan Mullen when it wins the turnover battle, as it did last year against Georgia. Mississippi State is 2-13 under Mullen when it is tied on turnovers or has a negative margin.

David Ching covers University of Georgia sports for DawgNation. He can be reached at davidchingespn@gmail.com.