ATHENS, Ga. -- Public perception has Georgia on a hot streak and Florida in a slump, but Bulldogs coach Mark Richt pointed out some truth earlier this week.

Yes, the Gators have lost three in a row, but those losses were to top-ranked LSU, No. 2 Alabama and at defending national champion Auburn. Georgia has won five in a row, but those wins came against teams that are a combined 16-19.

"I know there's a perception that Georgia is on a roll and Florida is struggling, but flip those schedules and I'm not sure it wouldn't be a whole lot different story for us and for them as far as winning," Richt said.

The Bulldogs (5-2, 4-1 SEC) and Gators (4-3, 2-3) will take a big step in determining how the rest of the season will go when they square off Saturday in Jacksonville.

The Gators have won three in a row over the Bulldogs and 18 of the last 21, but uncertainty at quarterback during their recent slump makes them the betting underdog for the first time since 2005.

Meanwhile, Georgia must overcome the psychological hurdles they typically struggle to clear in Jacksonville. Its chances to win the SEC East very well might hinge on the outcome of this game.

"We're not even talking about the whole 'they beat us this many times,' and I don't think that really matters," Georgia quarterback Aaron Murray said. "In college, guys are graduating, guys are coming in, we have a whole bunch of freshmen playing. It's not like we've lost those 18 games. Since I've been here, I've been a part of two losses, but that's not 18 or 21 or whatever it is.

"So you've just got to put that behind you. Nobody here is really talking about that at all. We're just focusing on this is us, that's them, let's go out there and play ball now."
Three storylines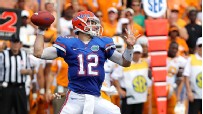 1. Will he or won't he? The discussion all week has been about whether Florida senior quarterback John Brantley will return from the ankle injury that kept him out of the Gators' last two games. Florida unquestionably has a more capable offense with Brantley in the game than with freshman alternatives Jacoby Brissett and Jeff Driskel, as the Gators won their first four games, but have lost three in a row since Brantley went down in the second quarter against Alabama.
2. Returning Bulldogs. Georgia's improved defense should get a boost from inside linebacker Alec Ogletree's return from a six-week absence caused by a broken foot. Ogletree's coaches expected a breakout season from the sophomore before he went down in the first quarter of the season-opening loss to Boise State. The Bulldogs also get outside linebacker Cornelius Washington back from a two-game suspension for a DUI and speeding arrest. Washington is second on the team with 3.5 sacks and has the speed to keep Florida's running backs from reaching the corner on outside runs.
3. Turnover battle. While Georgia has at times shot itself in the foot with untimely giveaways, Florida is the worst team in the league when it comes to turnover margin. The Gators have turned the ball over 14 times but have only seven takeaways. Turnovers played a huge role in last year's Georgia-Florida game, as Murray's three interceptions -- including one in overtime -- helped Florida win 34-31.
Dawgs to watch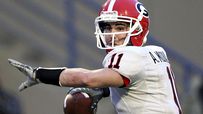 1. Murray. The Tampa native admits he was too pumped up last year when he took the field in his home state for the first time as a college player. The result was a subpar first half that helped the Gators build an early lead. Then a redshirt freshman, Murray rallied the Bulldogs back in the second half before making a key mistake in overtime. He hopes to have gotten the jitters out of his system last year and play a smoother game against the Gators.
2. RB Isaiah Crowell. The freshman didn't play like himself in Georgia's last two games, rushing for 58 yards against Tennessee and 35 against Vanderbilt after going for 100-plus in each of his first three SEC games. Crowell was plagued by a wrist injury in those games and also sat out the first quarter of the Vanderbilt game for undisclosed disciplinary reasons. The Bulldogs need him to play like the Crowell who totaled 158 yards and two touchdowns against South Carolina.
3. Ogletree. Georgia defensive coordinator Todd Grantham was excited about sophomore Ogletree's shift from safety to inside linebacker during the offseason, but he has been able to witness Ogletree play the position only for a couple of drives as he went down early against Boise State with a broken foot. The former five-star recruit is back on the field, and Grantham said he's moving around like he did pre-injury.
Gators to watch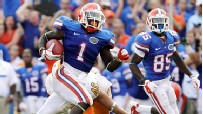 1. Quarterbacks. Many observers say Florida's only chance for victory is with Brantley under center, and it's difficult to argue with that logic. The Gators have scored only 17 points in the 10 quarters he has been out of the lineup -- the worst offensive performance over that length of time for a Florida offense since 1988.
2. LB Jonathan Bostic. Florida ranks among the better all-around defenses in the SEC, and Bostic is its centerpiece. The junior middle linebacker leads the Gators and is 10th in the SEC with 51 tackles and is ninth in the league with three sacks.
3. RB Chris Rainey. The speedy back can beat you in a lot of ways. He's eighth in the SEC with 500 rushing yards and fourth in the league with 130.7 all-purpose yards per game. Rainey has 275 receiving yards, 67 yards on punt returns and 73 on kickoffs, so expect to see the Gators get the ball into his hands.
Key matchup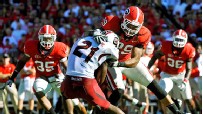 Georgia's defensive front
vs. Florida's offensive line
No matter whether it's Brantley or Brissett or Driskel under center, Florida knows protecting the quarterback will be of the utmost importance to its sputtering offense. Georgia is sure to send heavy pressure whether it's a gimpy veteran at quarterback or one of the rookies, but Florida has protected fairly well. The Gators have allowed 11 sacks, which is the second-best total in the SEC.
By the numbers
15-4 -- This marks the 20th time Florida has had a bye week prior to the Georgia game, including 15 of the last 18 years. The Gators are 15-4 in those games. Georgia is 3-3 against Florida coming off a bye week. Prior to 2007 -- the last time Georgia beat the Gators -- the Bulldogs had not taken a week off prior to the Florida game since 1991.

5 -- Georgia enters the Florida game on a five-game winning streak. The last time the Bulldogs won at least that many games in a row in a season was 2007, when Georgia won seven in a row en route to a No. 2 final national ranking. Of course, the most notable win during that stretch was its 2007 victory over Florida, when a team-wide end-zone celebration in the first quarter launched the Bulldogs to an emotional 42-30 win.

7-- Number of years it has been since Georgia was favored to beat Florida, as it is this year. The Bulldogs actually were favored three years in a row, from 2002-04. They won only the 2004 game.

David Ching covers University of Georgia sports for DawgNation. He can be reached at davidchingespn@gmail.com.