ATHENS, Ga. -- If Georgia was without a way to make this weekend's homecoming game against New Mexico State interesting, it got one on Tuesday when it announced that tailbacks Isaiah Crowell, Carlton Thomas and Ken Malcome are suspended and that tailback Richard Samuel is out for at least four weeks after undergoing ankle surgery.

Down to a crew of largely inexperienced backs and players who could contribute on both offense and defense, perhaps the most intriguing aspect of the game will be determining who totes the rock.

Former walk-on Brandon Harton appears to be the most likely candidate.

"By the time we got through with a couple [spring] scrimmages, he had made some plays for us, so we were very encouraged by him," Georgia coach Mark Richt said. "Matter of fact, I awarded him a scholarship right before the season began. I felt like he could really help us, so he's going to get the opportunity to do that along with Kyle [Karempelis]."

That is not the only compelling part of the matchup. New Mexico State (3-5) has a potent passing offense that could prevent the Aggies from becoming the standard variety homecoming patsy.

"I watched the tape and they've got athletes," Georgia defensive coordinator Todd Grantham said. "They've got guys that can move, guys that can throw the ball, they've got good passing concepts, so we've got to be ready to play."

While the Aggies' passing attack and kickoff return team have weapons that present some threat, their program has never beaten an SEC opponent and is a 32-point underdog against a Georgia team (6-2) that is ranked 18th nationally and that remains in the thick of the SEC East race.
Three storylines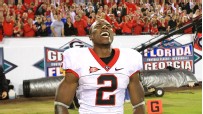 1. Who runs the ball? With tailbacks Samuel, Crowell, Thomas and Malcome all out this week, Georgia will have to get creative with how it moves the ball on the ground. Former walk-on Harton and current walk-on Karempelis could get the bulk of the carries, but don't be surprised to see Georgia turn to some wild cards off the defense such as Brandon Boykin, Branden Smith or Nick Marshall in some specialty situations.

2. Aggies' aerial attack. New Mexico State quarterback Matt Christian has been solid since entering the starting lineup -- he passed for 432 yards last week in a loss to Nevada -- but enters the game with a sore shoulder. That, combined with an effective Georgia pass rush, could combine to help the Bulldogs slow down an Aggies passing attack that averages 297 yards per game, good for 16th in the nation.

3. Special teams struggling. Georgia has struggled on special teams throughout the season, whether it's covering punts and kickoffs or kicker Blair Walsh's season-long slump. New Mexico State is 11th in the nation in kickoff returns at 25.49 yards per attempt, and Taveon Rogers -- who is second in the nation with 200 all-purpose yards per game -- already has two kickoff returns for touchdowns this year. The Bulldogs can't afford to be sloppy on kick coverage this week.
Dawgs to watch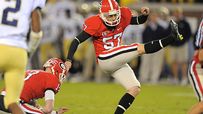 1. Whoever plays running back. Georgia's coaches said Harton and Karempelis are the leaders to start at tailback, but smart money says they won't be the only players who carry the ball. Harton will probably get the bulk of the carries, though.

2. S Bacarri Rambo. New Mexico State is sure to put the ball in the air plenty, so Georgia's secondary will get a workout. Keep an eye on Rambo -- tied for third in the nation with five interceptions -- to see if he accounts for another momentum-swinging takeaway.

3. K Blair Walsh. This probably won't be an especially close game, so it will be a good time for Walsh to break out of his recent funk without the pressure of an SEC game. The Bulldogs' kicker made his first field goal last week against Florida, which ran his string of consecutive made attempts to four -- his longest streak of the season -- but then he missed two more. Georgia needs him to regain his form down the stretch.
Aggies to watch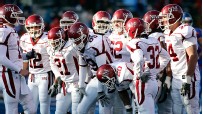 1. QB Matt Christian. The Aggies' quarterback can run and pass -- he threw for 296 yards and four touchdowns and ran for 101 and a score in NMSU's win against New Mexico -- and has led the Aggies to a 2-3 record since entering the starting lineup.

2. WR Taveon Rogers. The senior has kickoff return touchdowns of 100 and 97 yards this season and has 669 receiving yards and eight scores. Only Oregon's LaMichael James averages more all-purpose yards per game than the Aggies speedster.

3. RB Kenny Turner. Not only does Turner lead the Aggies with 593 rushing yards, the converted receiver is also tied with Rogers for the team lead in receptions with 32 and is third on the team with 337 receiving yards.
Key matchup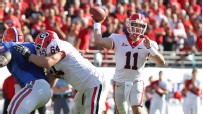 Georgia's offensive line
vs. New Mexico State's defensive front
With new ball-carriers stepping into the offensive scheme, Georgia will lean on its offensive line even more than usual. The Bulldogs will have a decided size advantage over New Mexico State's four-man front that averages 267 pounds per starter.
By the numbers
0-13 -- New Mexico State is winless in 13 appearances against SEC opponents, including 0-3 against Georgia. In three previous games against the Bulldogs, the Aggies lost by a combined 118-23 margin.

3 -- Oddly enough, New Mexico State actually lists three Georgians on its roster: safety Jesse Forte of Atlanta, 6-foot-8 receiver Joe Cordova of Marietta and defensive lineman Lance Cooley of Decatur.

51 -- Years since New Mexico State last appeared in a bowl game, in 1960 when it beat Utah State 20-13 in the Sun Bowl. The Aggies have played in only three bowl games in program history -- all Sun Bowls, with the others being 1935 against Hardin-Simmons and 1959 against North Texas.

David Ching covers University of Georgia sports for DawgNation. He can be reached at davidchingespn@gmail.com.