ATHENS, Ga. -- While Georgia and LSU fans could make a reasonable argument as to which team's offense and defense is superior, there is no question that top-ranked LSU has enjoyed greater success on special teams this season.
The Tigers (12-0) have been sound kicking and in both returning kickoffs and covering them -- in the few times the Tigers have been challenged this year, the game often turned on big special-teams plays that went in LSU's favor -- while Georgia (10-2) has struggled in every aspect of special teams at points.
One could even claim that a special teams miscue was a culprit in one of Georgia's two losses. The Bulldogs lost to South Carolina by three points, 45-42. They lost the lead just before halftime when they allowed Gamecocks defensive end Melvin Ingram to ramble 68 yards for a touchdown on a fake punt.
Let's take a look at how the teams have fared in each segment of special teams:
Field goals
LSU
Georgia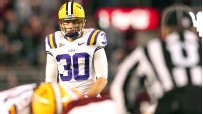 Before the season, most SEC observers would have predicted that kicking was an advantage for Georgia.
Senior Blair Walsh entered the season as an All-SEC honoree and a former finalist for the Lou Groza Award. But Walsh struggled quite a bit, losing the starting spot to Brandon Bogotay after missing 10 of his first 23 field goal tries.
Quietly closing on the SEC career scoring record -- his 400 career points are nine behind former Georgia kicker Billy Bennett's school and career record -- Walsh regained the job against Kentucky and has hit five of six field goals since then.
LSU's Drew Alleman is instead the kicker in this game who has ranked among the nation's best this season.
The junior was a Groza Award semifinalist and leads the SEC in field goal percentage at 88.9 percent (16-for-18). Included in those field goals are a 3-for-3 effort in a win against Alabama -- most prominently the 25-yard kick in overtime that secured the Tigers' 9-6 upset victory in Tuscaloosa.
Punting
LSU
Georgia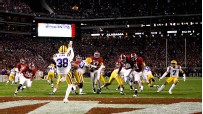 Again, this is an area where Georgia appeared to have the preseason advantage, but LSU's punter actually earned more attention -- although that's partially because the Australian-born Brad Wing celebrated a bit too much as he sailed into the end zone on a 44-yard fake-punt touchdown run against Florida.
Wing was flagged for taunting on the play and became the first victim of a new rule in college football where a touchdown could be negated because of an unsportsmanlike conduct penalty.
Otherwise, Wing has functioned beautifully with his punt coverage team. The Tigers have surrendered a miniscule 6 total yards to opposing punt returners on 13 returns this season. The longest return any opponent has mustered was 8 yards.
Georgia's Drew Butler entered the season with one of the SEC's top career punting averages, but the former Ray Guy Award winner's average is down slightly this season. Butler is averaging 43 yards per punt, which places him fourth in the SEC, a mere fraction ahead of Wing.
The difference is that Georgia's punt coverage unit has not guarded against big returns as successfully as LSU's. The Bulldogs are 112th in the nation in punt return defense, allowing opponents to return punts 14.3 yards per attempt -- including an 84-yard return for a touchdown against Ole Miss. LSU's average of 0.46 yards per return ranks third nationally.
Kickoff return
LSU
Georgia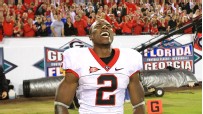 Kickoff return is an area that can be considered something of a draw between Georgia and LSU. The Bulldogs hold a slight edge with a 22.97-yard average on kickoff returns to LSU's 22.43.
The Bulldogs also have one of the top kickoff returners in SEC history in Brandon Boykin. The speedy senior is second all-time in the conference with a 24.69-yard career average and has four touchdowns -- three that covered 100 yards -- in his career.
Boykin hasn't sprung a huge return this season, although he broke a runback 60 yards last week, which represents his longest of the season.
Morris Claiborne has handled the majority of LSU's kickoff returns, and he has handled the responsibility well. His average of 27.5 yards per return ranks second in the SEC and 15th nationally.
Claiborne's 99-yard kickoff return against West Virginia was the longest by an LSU player since Eric Martin took one 100 yards against Kentucky in 1981.
After struggling mightily at defending kickoffs earlier in the season, the Bulldogs have made big strides in the last few games. In the four games since a comeback win against Florida -- when the Gators got a 99-yard kickoff return touchdown from Jeff Demps and a field goal following a 63-yard kickoff return by Andre Debose -- the longest runback the Bulldogs have allowed was a 30-yard return by New Mexico State's Taveon Rogers.
LSU has defended its kickoff coverage scheme well. The Tigers rarely kick the ball into the end zone, which allows for returns -- they rank ninth in the SEC with a 43.7-yard net average -- but rarely has an opponent broken one of those runbacks too far down the field.
The Tigers are allowing only 20 yards per return, with the long being a 73-yard runback by Western Kentucky's Antonio Andrews.
Punt return
LSU
Georgia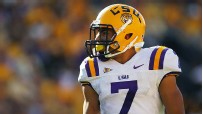 LSU's Tyrann Mathieu certainly ranks among college football's most exciting players, and part of that status stems from his dynamic ability as a punt returner.
Mathieu turned last weekend's win against Arkansas with a 92-yard return for a touchdown -- and the Tigers started the play in a "punt safe" alignment, where they weren't even trying to set up a return.
Mathieu ranks second in the SEC with an average of 13.7 yards per return, while Georgia's duo of Boykin and Branden Smith -- who split punt return duties -- have rarely enjoyed much space to maneuver.
Boykin handled punt-return duties for most of the second half of the season, but his 22-yard return against Kentucky that set up a field goal drive deep in Wildcats territory is the team's only significant punt return in two months.
David Ching covers University of Georgia sports for DawgNation. He can be reached at davidchingespn@gmail.com.