ANN ARBOR, Mich. -- For the sake of the future, Michigan needs to start moving on.
The Wolverines are less than 72 hours removed from the end of the Zack Novak-Stu Douglass era, one which had the Wolverines go from a program without an NCAA tournament berth for a decade to one with three in four seasons.
But what happens with the Wolverines over the next six months is as critical as anything that might happen next season. In those six months is when much of whatever will occur during the 2012-13 season will take shape.
While the future looks good for Michigan -- the school is bringing in John Beilein's best recruiting class and a pair of immediate difference-makers in forwards Glenn Robinson III and Mitch McGary -- there is room for a fall.
Actually, there are three areas Michigan needs to spend the next six months shoring up for it to have the success that is possible next season.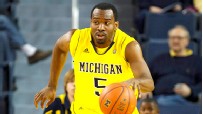 1. Find a backup point guard
When Michigan offered Trey Burke a scholarship, the coaching staff envisioned he would be a backup this season. Darius Morris had struggled through his freshman season, and while he had potential, the jump he made was unexpected.
What Morris' departure did was leave Michigan with Burke as its only true point guard -- the same situation the Wolverines will be in next season. However, Douglass was able to pick up minutes at the point when Burke needed a rest or was in foul trouble. Next season, Michigan won't have that option right away.
So it needs to look at these options as potential players to give Burke a breather: senior walk-on Eso Akunne, senior walk-on Josh Bartelstein, sophomore Carlton Brundidge or incoming freshman Nick Stauskas.
None of the four options is a pure point guard. Of the four, Akunne has the most experience. His season-ending foot injury in January was actually a fairly devastating loss, because Beilein had gone to him for a few minutes of rest for Burke in the first halves of games -- something that proved critical as Burke appeared to tire in stretches over the final six games of the season.
Now, with Burke taking on a stronger leadership role, Michigan could use someone to ease the point guard burden off the Columbus, Ohio, native.
Look for Akunne to get the first look here, unless Brundidge makes great leaps in the offseason. Akunne has spent his career on the fringe of breaking into the rotation before being ineligible the second semester of his freshman season or the foot injury this year.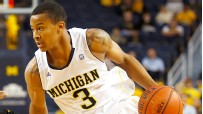 2. Discover a leader
The Douglass-Novak-Corey Person departures leave Michigan with a huge leadership void next season. From pregame -- Person's purview -- to on-court calm -- Douglass' spot -- to the emotional catalyst -- Novak -- the Wolverines have gaping holes.
The obvious replacement is Burke, who displayed some leadership capabilities as a freshman and likely will ease into Douglass' on-court demeanor well. But can Burke handle all of it? That's a major question. Michigan is lacking a returning player with the fire of Novak -- Tim Hardaway Jr. plays with great intensity but would need to step up in the leadership department for it to be channeled to the team -- and it is tough to see who might replace the little things Person did well.
Michigan saw what happened when C.J. Lee and David Merritt departed and left a team with lofty expectations but no true leaders behind for the 2009-10 season as Novak was still developing that part of his game. That dropoff shouldn't happen this season -- Burke is the key there -- but Michigan will need to find someone else besides the point guard to step in.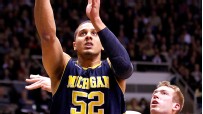 3. Keep the interior guys happy
After years of being deep on the perimeter and thin inside, Michigan is reversing it next season. Two of next season's starting spots are almost definitely set with Burke at point guard and Hardaway Jr. on the wing or second guard spot, depending on what happens in a Robinson III-Stauskas-Brundidge-Matt Vogrich competition for a starting guard spot.
But on the interior, everything is open. Robinson III could play the four if necessary, and Michigan has McGary coming in to join Evan Smotrycz, Jordan Morgan and Jon Horford in the rotation for two spots. The group gives Michigan a ton of versatility -- and the option to play two bigs at once for the first time in Beilein's tenure if necessary -- but the divvying up of minutes between the high-impact freshman, the established returners and the X-factor of Horford could be the Wolverines' greatest challenge. Do it correctly and Michigan could be in line for its best season since the days of Steve Fisher.