ANN ARBOR, Mich. -- Michigan enters November with a chance to reach the Big Ten championship game and to make its first Rose Bowl since 2006 -- something that hasn't been able to be said in Ann Arbor for the past few years.

The first step in that comes at Iowa on Saturday, a place the Wolverines have had success in the past, going 5-2 since 1990. This game, though, is the beginning of a brutal four-game season-ending stretch followed by a game at Illinois and then closing with home games against Nebraska and Ohio State.

Picking up this one is critical to Michigan's chances at playing in Indianapolis in December. So what do the Wolverines need to do to win? Here are four keys:
Rothstein's Front Four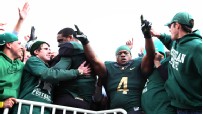 1. Deal with the road. br>
The last time Michigan went on the road in an actual hostile environment -- at Spartan Stadium on Oct. 15 -- it didn't go so well. The Wolverines were outplayed in every way. While Iowa is not the team Michigan State is, Kinnick Stadium is a raucous atmosphere, and all week the players and coaches have talked about how close the Iowa fans are to the field.

While it might not seem like a big deal, for a team that hasn't won in a true road environment this season -- sorry, Northwestern, it was a neutral-site game at best -- this is a major key.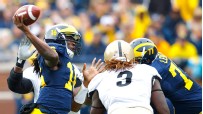 2. Use the passing game. br>
Minnesota did a good job mixing up short and long throws and was able to find holes in Iowa's secondary when needed. It is something Michigan, if it follows a similar gameplan to what it had against Purdue, might be able to do as well.

Quarterback Denard Robinson has shown the ability to be extremely accurate on slants and small seam routes over the middle to Kevin Koger. Don't be surprised if the Wolverines try to do that early to pull some of Iowa's defensive front out of the box to give Fitzgerald Toussaint and Robinson room to run. It was a strategy that worked for the Gophers.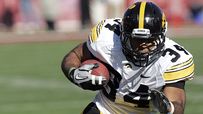 3. Contain Coker. br>
This is actually not a terrible matchup for Michigan. Marcus Coker is a very strong, bruising runner -- but he doesn't have top-end speed and against Minnesota seemed to like to run between the tackles. Considering the Wolverines have struggled more with perimeter tackling than bottling up the middle, this could play into Michigan's hands.

Still, the Wolverines have to make solid contact on Coker, because he'll rarely go down with the first hit.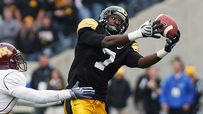 4. Keep track of McNutt. br>
He might not have the name recognition of Notre Dame's Michael Floyd or Michigan State's B.J. Cunningham, but Iowa's Marvin McNutt is perhaps the most underrated receiver the Wolverines will see this season. He's already caught 48 passes for 858 yards and nine touchdowns. He averages 17.9 yards a catch and 107.2 yards a game.

He is really good on fade routes -- almost unstoppable -- and is Iowa's career touchdown receptions leader. Michigan has did a nice job against Cunningham (four catches, 39 yards) but was torched by Floyd (13 catches, 159 yards). But, neither scored a touchdown. If the Wolverines hold McNutt scoreless, they have a good chance of leaving Iowa with a win.

Michael Rothstein covers University of Michigan sports for WolverineNation. He can be reached at michaelrothsteinespn@gmail.com or on Twitter @mikerothstein.