ANN ARBOR, Mich. -- Save for some tightly cropped video shots, not much has been seen from the Michigan football team during spring practice. Workouts have been closed to the media and the general public, which makes Saturday's spring scrimmage even more intriguing.
The Wolverines have many questions before they open the season in September against defending national champion Alabama, and this will be the last time until August the coaching staff and public can try and sift through for any answers.
That said, here are five things to pay attention to on offense Saturday when Michigan takes the field: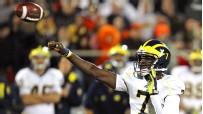 1. Where is Devin Gardner?
Much has been made about where Gardner will play this fall. Will he be exclusively at quarterback, or possibly be seen some plays at wide receiver? For now, offensive coordinator Al Borges has said Gardner is the No. 2 quarterback, and he will try to continue to find a role for him in the offense. While it is unlikely Michigan shows too much of what it plans to do in the scrimmage, if Gardner lines up at all at wide receiver it could be a sign of things to come for the 6-foot-4, 205-pound quarterback whose athleticism is unquestioned.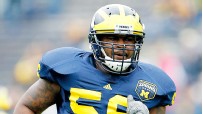 2. How the snapping goes
Replacing David Molk has always been an issue for Michigan. While the Wolverines like to say the "expectation is for the position," the reality is replacing Molk -- the Rimington Award winner -- goes beyond any expectation that is reasonable on a yearly basis. So far, fifth-year senior Ricky Barnum has held down the center role over redshirt freshman Jack Miller, but it will be interesting to see how in sync he is with quarterback Denard Robinson. Over the past three years, any time anyone other than Molk had snapped the ball, it had been an adventure. This time around, there is no Molk to fall back on.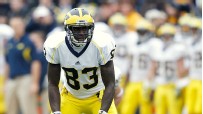 3. Jerald Robinson
The redshirt sophomore wide receiver was selected in our anonymous survey of seniors as the guy most likely to break out next season. His coaches also seem impressed by him, and there is ample room for playing time with only Roy Roundtree and Jeremy Gallon as established pass catchers. Robinson, at 6-1, 206 pounds, has been compared to Junior Hemingway in build and what he does well. If he is able to show some of that promise and skill, he could make his way into the rotation.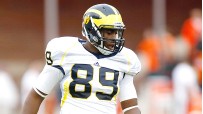 4. The battle behind Brandon Moore at tight end
Yes, Moore seems to be pushing to be the starter here, but Michigan is going to have to play more than one tight end this season and these two relatively unknown guys are going to have a shot. Saturday is their last chance to make an impression before Devin Funchess and A.J. Williams arrive, adding to a tight competition. Neither Ricardo Miller nor Mike Kwiatkowski has caught a pass in a game, so it could be the last portion of an audition to see who will enter the fall as the No. 2 tight end. This will be one position on offense that will probably see a bunch of changes throughout the year. Chris Eddins and Jordan Paskorz have also competed there.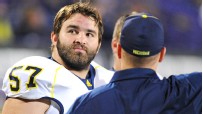 5. What Elliott Mealer does
The fifth-year senior seems to be the coaches' favorite at left guard. How he holds up against a rebuilding Michigan defensive line -- and how he plays next to Barnum in situations where they might have to tandem block -- should give some insight to whether Mealer will be able to hold onto the job once the incoming freshman class arrives at Michigan. If Mealer looks good, Michigan all of a sudden has a very experienced offensive line grouping with Taylor Lewan at left tackle, Mealer, Barnum at center, Patrick Omameh at right guard and Michael Schofield at right tackle. That could become a formidable group.