ANN ARBOR, Mich. -- Save for some tightly cropped video shots, not much has been seen from the Michigan football team during spring practice. Workouts have been closed to the media and the general public, which makes Saturday's spring scrimmage even more intriguing.
The Wolverines have many questions before they open the season in September against defending national champion Alabama and this will be the last time until August the coaching staff and public can try and sift through to get any answers.
The defense, though, has many more questions than the offense as it essentially has an entire defensive line playing either new positions or being required to play more for the first time.
That said, here are five things to pay attention to on defense and special teams on Saturday when Michigan takes the field: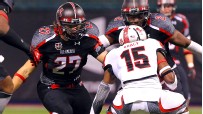 1. Joe Bolden
The early enrollee linebacker has made a good impression in his first spring practice and it wouldn't be surprising to see him push for time this fall. Of the three early enrollees, he and safety Jarrod Wilson could end up on the two-deep. Michigan coach Brady Hoke mentioned this week he wanted to see how guys reacted when they played in front of a crowd inside Michigan Stadium. That's the next test for Bolden, who could end up being a player this fall.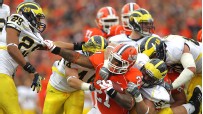 2. Whatever happens on the line
While reports have been positive thus far about the progression of the new-look Michigan defensive line, there are still a lot of questions and doubts. Only one of the four likely starters -- Craig Roh, Will Campbell, Jibreel Black and either Brennen Beyer or Frank Clark -- has seen significant playing time and is a known commodity. Michigan knows what it will likely get out of Roh. The other three slots, however, are a major mystery as to how productive they will actually be and how ready they will be by Sept. 1. Depth there, which will likely be shown off during the Saturday's scrimmage, is also something to watch as the Wolverines have very little of it on the line.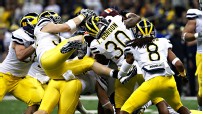 3. Wilson's play
As a follow to the Bolden thought above, Wilson is another guy who could be really interesting to see Saturday. He has impressed the coaches throughout the spring. Josh Furman's suspension opened up a spot in the two deep and an immediate chance to compete for playing time at safety, and Wilson is another player who could end up making more of an impact than a typical freshman. It'll be really interesting to see how he handles what will happen when Denard Robinson takes off.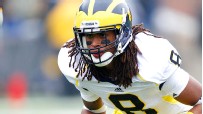 4. What the cornerback rotation looks like
Terrence Talbott has been making a push for playing time, but Michigan has two established players at its deepest position in fifth-year senior J.T. Floyd and sophomore Blake Countess. While it is expected those two will still start, how the Michigan coaches handle a rotation among Raymon Taylor, Courtney Avery, Delonte Hollowell and Talbott behind them -- or even with them -- will be interesting to see. Curious to see, too, how they handle covering Jeremy Gallon as he is the fastest receiver Michigan has and could give a clue into how the Wolverines might attack Alabama's speed.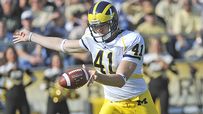 5. How Michigan punts
One of the more underrated battles of the spring is how Will Hagerup and Matt Wile have been competing for the starting punting job. Considering how much Hagerup thrived as a freshman and struggled as a sophomore, it will be interesting to see if Hagerup has solved his problems. If he has, it'll be a good competition. If not, Wile might pass him. But if neither punter looks good, it could be cause for concern, especially with a young defense that could use opponents in as poor of field position as possible.