ANN ARBOR, Mich. -- After months of waiting, speculating and prognosticating, Michigan finally begins fall camp this week. It is a team with fewer questions than a season ago, when everything was new under first-year coach Brady Hoke, but still one with issues that need to be addressed and holes that need to be filled if the Wolverines want to contend for the Big Ten title.

WolverineNation writers Michael Rothstein and Chantel Jennings spent some time this week dissecting five key questions for Michigan entering fall camp, with less than a month to go until the Wolverines face defending national champion Alabama in Arlington, Texas.
Five Burning Questions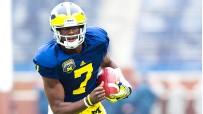 1. How much wide receiver should Devin Gardner play?
Michael Rothstein: I'd say about 20 percent of the offensive snaps. The coaches wouldn't be making this move if they didn't believe he would at least be a contributor there and would also see the field fairly fast at a position group sorely needing a game-breaker. He doesn't have the experience at the position to become a starter -- so I doubt he supplants Roy Roundtree or Jeremy Gallon -- but considering Michigan's lack of depth and experience at the position, he could easily be the fourth wide receiver.

Chantel Jennings: That's a hard question to answer because we haven't really seen him at wide receiver. It would be like saying how much should Jibreel Black play at defensive tackle. Well, we have only seen him at linebacker in game situations, so he should play as much as he deserves. However, in my opinion, with his sheer athleticism and to the level that I believe he has the potential to play, I think he could make the Michigan offense much more dynamic. I think he could be a playmaker in the open field for the Wolverines, but only time will tell how much he should play.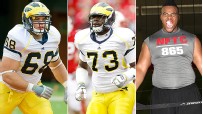 2. Will Will Campbell really make the jump to productive every-down player?
MR: I might end up being very, very wrong here but I'm going to say ... no. Sure, he has had talented players like Mike Martin and Ryan Van Bergen in front of him for the majority of his career, and he has been shifted around from defensive line to offensive line and back, but considering all of the hype around him currently, I don't think he lives up to it. Does he start? Yes. Does he play and play exceedingly well at times? Yes. But I just don't see him becoming consistently good, in part because there are questions everywhere else on the defensive line and in part because in three years he has shown little to lead to a conclusion he will have a massively good year.

CJ: I think he will. He seemed much more reflective and mature this spring when we had the chance to talk to him. I think something comes with being a senior and understanding this is your last chance and making the most of it. Now, when I say I think he'll be productive, I think he'll be like a Will Heininger-type reliable player, not like a Martin playmaker.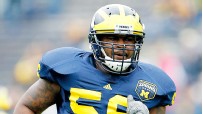 3. Can Michigan's offensive line withstand the loss of David Molk at center?
MR: If Ricky Barnum can stay healthy, yes. While Taylor Lewan and Patrick Omameh will be the leaders of the Michigan offensive line and have the requisite experience to do so, a lot of what Al Borges likes to do offensively relies on the knowledge and experience of the center. Barnum, a fifth-year senior, has that.

CJ: It will be interesting. I think they will struggle early in the season because of it. Other than being a great player, Molk was a great leader, and I think he held that line together really well. With him gone, there will be some bumps in the road, and unfortunately Denard Robinson will be a player who suffers a bit because of that. And the fact Michigan is starting with Alabama, well … shoot. I think as the season wears on and by the time the Wolverines reach conference play they will have an offensive line that is solid. Not great, but solid.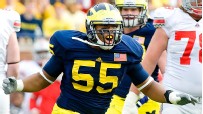 4. Who will be the player that surprises everyone, like Jeremy Gallon last season?
MR: There are a lot of potential easy answers here, but I'm going to go with a guy few are really discussing: defensive tackle Jibreel Black. He's going to be undersized, but he has a great tutor in his brother, Indiana tackle Larry Black Jr., and has the speed and agility to be successful on the end. That can only intensify as he moves in the middle against beefier -- but slower -- guards and centers. If he has a breakout year, it could make Campbell look really good as well. But I'm tabbing Black as a difference-maker.

CJ: I'm going to go out on a limb and give three freshman names. Anytime a freshman steps on the field for Michigan, he must be pretty good, but I think linebacker Joe Bolden, offensive lineman Kyle Kalis or wide receiver Jehu Chesson all have the ability to surprise some people this season. I really do believe that if those three see the field this year they'll turn some heads, and by their junior seasons, they could be top players in the Big Ten.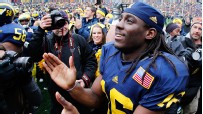 5. How much better will Denard Robinson be?
MR: He'll be better, but not as much as you think. He will be hamstrung by a lack of experienced talent at tight end and depth at wide receiver -- not every bad throw he has had is his fault -- but what could really make a difference for him is not having Molk leading the line. That helped open up many holes for Robinson to run through and also to bought him time to step into throws and make correct decisions. Robinson has worked a lot on his footwork, accuracy and decision-making, but if he doesn't have the time to really do that, it won't matter. Robinson will have a good season, however, and while better than his junior season, it won't be a revelatory senior year.

CJ: If past be present with Al Borges then Robinson has the potential to be much, much better. He's in the best shape he has been. This is kind of scary, but I think he might even be a bit faster. And looking at his mistakes last season, several can be boiled down to two major issues. He threw several of his poor passes off his back foot. He's aware of this and while it isn't the easiest aspect to fix, I think Borges can. And the other problem was he made the wrong reads sometimes, but he said he focused on watching game film in the offseason to help himself get more acquainted to the offense. So, if he really did get a tad bit faster, focuses on his footwork and gets in the film room, I think he could be significantly better. Am I expecting Tom Brady? No. But I am expecting a much-improved Robinson.