Overview: Linebackers galore, then what?
STATE COLLEGE, Pa. -- Imagine creating a team consisting solely of Penn State greats. Which All-America tailback would you choose? Which defensive tackle? Better yet, what about those linebackers?
These aren't easy questions to answer -- but you won't have to imagine for much longer. NittanyNation organized a 24-round Nittany Lions fantasy draft to see whom five experts would choose head-to-head.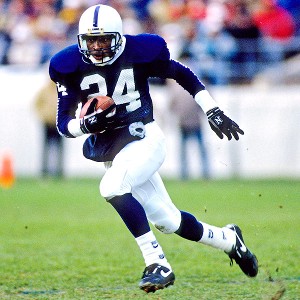 USA TODAY SportsFormer Lions star WR O.J. McDuffie took running backs with his first two picks in the Penn State all-time fantasy draft.
The mission: Draft players forming a 4-3 defense, take a starting offensive lineup -- including one RB, two wideouts, a tight end and a "flex" position -- along with a kicker and punter. NittanyNation's Josh Moyer organized the draft and participated, along with:
• O.J. McDuffie. If this name doesn't ring a bell, your Penn State fan card is revoked. McDuffie is one of PSU's greatest wideouts and sits fifth in the school record books for career receptions (125). He and Bobby Engram also held the single-season receptions record (63) until Allen Robinson broke it last season. McDuffie was a first-round NFL draft pick who hauled in 415 catches over eight seasons with the Miami Dolphins.
• Lou Prato. He literally wrote the encyclopedia on Penn State football, and one would be hard-pressed to find a person who knows more about the Nittany Lions than him. He's the director of the Penn State All-Sports Museum and is a noted author and historian.
• Stephon Morris. The speedy cornerback was the most experienced player in the secondary last season and is currently a DB for the New England Patriots. He was one of PSU's senior leaders who helped keep the team together during the sanctions and really took this draft seriously. He called up several former players, pored over player bios, consulted with his father, etc. His competitive nature on the field carried over to the fantasy draft.
• Bob McClellan. The editor of NittanyNation, BuckeyeNation and WolverineNation and a Big Ten grad, Bob has been a sports editor and sports writer in newspapers and online for 25-plus years. Prato was a professor of his in graduate school at Northwestern.
This isn't supposed to be the be-all and end-all of who the greatest PSU players are. But it's definitely a great starting point to the conversation. Each participant came in with a different strategy -- somewhat unsurprisingly, for example, Morris focused on defense early to control field position -- and each drafter brought something new to the table.
The best players weren't always picked first -- especially if drafters thought they could get away with waiting to snag the better, possibly lesser-known players later on. (Who's better: Greg Buttle or 1906 captain W.T. Dunn?) That didn't always work out and led to some lighthearted name-calling during the draft, along with some continued ribbing a few days later.
Every participant left the draft feeling as if he had pieced together the best team. Would you have done anything different? Did one of us drop the ball? Were more recent players overvalued?
Which PSU player went No. 1 overall? Which 15 linebackers were taken, and in what order?
Our draft order went like this:
1. Prato
2. McClellan
3. Morris
4. Moyer
5. McDuffie

The complete draft results, as well as team by team (with round in parentheses) and position by position (with overall selection in parentheses), are at right. For an analysis from each of our participants, read below.
ESPN Staff Writer
Covers Penn State and Big Ten.
Joined ESPN in 2012.
Graduate of Penn State University and Columbia University.
Prato: King of old school
By
Lou Prato
| Special to NittanyNation
My overall strategy was to try to pick a legitimate all-time team dating from 1887.
With my years of research on the entire history of Penn State football, I knew there were many players of the pre-World War II era who were outstanding players and would be available to me, beyond the first-team All-Americans and College Football Hall of Famers. Thus, I knew my team would include many of Penn State's greatest players. What surprised me was the knowledge of my competitors about some of those players.
That came through quickly in the early rounds of the draft, and I was quite impressed by Stephon Morris taking Bobby Engram and John Cappelletti among his first five selections. Engram and Cappy are two of my favorite players, and I had hoped go get both of them. I had decided to build my team around defense, but when Engram, Cappy, Keith Dorney, Mike Munchak, Steve Wisnewski, Ted Kwalick and Jeff Hartings were selected early, I had to revise my thinking.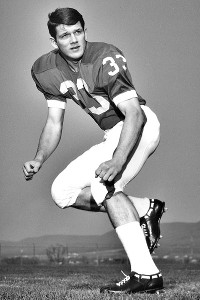 AP Photo/NFL PhotosJack Ham stands out even among the litany of great Nittany LBs.
What player, or players, did you have to get?

I aimed for Lenny Moore, Jack Ham and Mike Reid early, and I knew I wanted Dave Robinson and Michael Robinson.
Why did you take Lenny Moore as No. 1 overall?

I saw Lenny play, took a class with him as a freshman and have become a friend of his. I "studied" his college and NFL career; I knew how good he was. The only reason he is not in the College HOF is because he was never a first-team All-American. Penn State was not considered an elite program when he and Rosey Grier played, so they were overlooked by the media. He was as great on defense as on offense and was a premier kick return man. Rip Engle never took advantage of his receiving ability, but that talent emerged in the NFL.
Who were you most disappointed to miss out on?

I was disappointed in missing out on a lot of players. As the draft continued, I realized I was being outdrafted in offensive tackles and cornerbacks. I wasn't as concerned about cornerbacks because I knew I had "Light Horse" Harry Wilson and Richie Lucas as possible defensive backs. I was sort of holding Grier to pair with Reid at defensive tackle, but I also wanted to draft Steve Smear, an underrated DT because he played alongside Reid.
Who was your best sleeper, or best value, pick?

Michael Robinson. He is one of my favorite players of the last decade, and an incredible talent and individual. I think he could play any position and do well. He is a great leader.
Why did you take Chuck Fusina over, say, a Tony Sacca?

Fusina is Penn State's most underrated quarterback of all time, all because his team lost the national championship game to Alabama in the 1979 Sugar Bowl. He was a close second in the Heisman that year. I wonder how many people would rate Kerry Collins so high if the 1994 Lions had lost the Rose Bowl that season.
Who got overlooked?

I must have been asleep during part of the draft. I thought Gregg Garrity had been taken. Otherwise, I would have made him my first selection of wide receivers. I can't see how we left him off our list.
McClellan: Have to corner the market
By
Bob McClellan
| NittanyNation
When I volunteered to help Josh Moyer out with the Penn State fantasy draft as the NittanyNation editor, I asked him who he had approached.
"I've got a guy, he's the Penn State football historian, Lou Prato," Moyer said.
Cigar-chomping, bespectacled, cantankerous old guy? "Yeah, that's him."
Small world gets smaller. I'm in the Nittany Lions all-time fantasy draft against a guy who was a graduate school professor of mine at Northwestern 25 years ago. In fact, when my nine-person journalism class was finishing up, he gave us all Penn State shot glasses.
So my strategy -- in addition to the usual fantasy strategies of take loaded positions late (linebacker, running back), thin positions early (cornerback) and specialists dead last -- became: Beat Prato. Tall order, but I figured if I could do it, I'd have as good a team as anybody in this draft.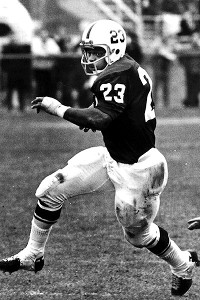 Collegiate Images/Getty ImagesLegendary RB Lydell Mitchell slipped through the cracks till he was snagged in the latter rounds.
What player, or players, did you have to get?

I got the top player on my board at CB, OT and OG as well as two of my top four RBs and DEs. So I felt like I was sitting pretty, until there was a run on wide receivers. Through six rounds only one WR, Bobby Engram, had been selected. But before I could grab my first, four more went on consecutive picks to end the seventh round and start the eighth round. Still, one of the ones I coveted most because of his consistency, ability to catch in traffic and knack for yards after the catch made it to me in the eighth round, at No. 42 overall. Hello, Joe Jurevicius, second only to Engram in career 100-yard receiving games.
Why didn't you take Kerry Collins?

I strongly considered Collins, but I felt like I had to go cornerback, given the dearth of great corners in PSU history. Miller was a three-time All-Big Ten first-team selection. Here's what WR teammate Freddie Scott told the Daily Collegian in 1995 about facing Miller every day in practice: "Usually when you go against Miller, the pass has to be perfect and the route has to be perfect because if you make any type of mistake in your pattern, it's either intercepted or deflected."
Who were you most disappointed to miss out on?

Jack Ham. Not only am I a lifelong Steelers fan, but I consider Ham the best coverage linebacker in the history of football. It stung even worse that Prato got him.
Who was your best value pick?

I got Lydell Mitchell in the 20th round. I have no idea how everybody else whiffed on him. They should be ashamed. Mr. Mitchell, my team has big plans for you.
What position had the most leftovers?

You've heard a lot about the dearth at corner, and you know there is an embarrassment of riches at linebacker. But the Nittany Lions run deep at -- well -- running back. Left undrafted were Blair Thomas, Tony Hunt, D.J. Dozier and Evan Royster, all of whom any school would be happy to claim.
How do you feel about your team overall?

My team has a two great running backs, a great offensive line and a quarterback who makes smart decisions. We'd control the clock and convert in the red zone. Yes, Moyer's team has a flashy, pass-happy offense, but my D-line would keep it grounded by putting Collins on the ground.
Morris: Go for what you know
By
Stephon Morris
| Special to NittanyNation
I know the history.
I've been in it for the past four years, and I walked past the All-America wall all the time. You see the captains, and I know so many people who are in the record books.
And ... I did my research.
The hardest part was when the guys on my board were taken and I had to go to Plan B and Plan C. But I thought it was really cool. I enjoyed myself a lot.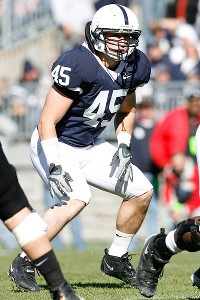 Craig Melvin/USA TODAY SportsThe leadership skills and work ethic of LB Sean Lee landed him a first-round nod from Stephon Morris.
What player, or players, did you have to get?

That had to be Sean Lee, myself and Matt Millen. Coach Paterno always spoke highly about Millen. He was an All-American, and he was an NFL player. He impressed me when he came and talked to us before a game. We have great defensive players and great defensive linemen, and they always speak highly of Matt Millen. He's usually the first person they talk about, so I had to get him.
Who were you most disappointed to miss out on?

I really wanted to get Steve Wisniewski, the old-school two-time All-American. I was disappointed in not getting him ... and Jack Ham and Darren Perry. I was disappointed a lot; my guys just kept falling off the board.
Why did you take Sean Lee in the first round?

I wanted to go with someone that I felt comfortable with, somebody that I played with, someone that I knew. So I told myself that's what I'd do with my first pick. I didn't play with Ham and Millen and guys like that, who are outstanding men and great players. But I played with Sean Lee, and he was one of those guys we all looked up to. He gave 100 percent in every practice, every game. He was one of those types of guys where you knew, if you went to war with him, you'd be successful.
Who were your best sleeper, or best value, picks?

I would have to say NaVorro Bowman and Chafie Fields. NaVorro had a great Penn State career. He's been arguably one of the best linebackers in Penn State history -- especially if he came back another year. When they went to the Rose Bowl, he was one of those top guys on defense. And with Chafie Fields, a lot of people forget about him because he's an NFL agent and he doesn't come around that much. But he came in as a true freshman and lit it up and had a great career at Penn State. People forget about him because you have great guys like Joe Jurevicius, Kenny Jackson and Bobby Engram, but he's in the top 10 in a lot of the receiving records.
Why take a kicker so early?

I feel like if you need someone to get you easy points, you need a kicker. The way I drafted, I went defense first, so I was always thinking about field position. So I knew, too, when I took a kicker that Chris Bahr would be my guy.
How do you feel about your team?

I'm very, very happy with it.
Moyer: Top QB easy choice at No. 4
To me, the most difficult part of drafting a team of PSU greats was weighing someone like W.T. Dunn, PSU's first All-American who captained the 1906 team, against LaVar Arrington or Jack Ham.
My mentality was to see how the players were viewed in their respective generations and compare them that way. If John Hufnagel threw for only 15 TDs in 1972 but that number eclipsed nearly every other passer and thrust him into the Heisman mix, isn't that a better season than Daryll Clark had when he tossed 24 scores in 2009?
I thought it was. And I think that's a big reason why nearly all my players ended up being All-Americans -- because they were considered the best of their generations.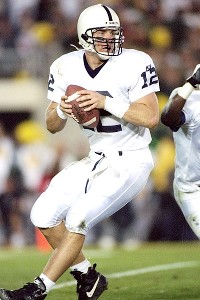 Mike Powell/Getty ImagesThe powerful right arm of Kerry Collins made him the first QB taken.
What player, or players, did you have to get?

I was overjoyed when Kerry Collins fell to me at No. 4. That was a total no-brainer in my opinion. I also wanted to get safety Mark Robinson and fullback Pete Mauthe.
Why did you take W.T. "Mother" Dunn as your first linebacker?

Honestly, I thought the other guys would still be there later on. If I didn't take Dunn, I thought Lou would grab him. I don't know for sure who I'd rank higher, Greg Buttle or W.T. Dunn, but I thought I could wind up with both if I took Dunn first. It was less about who I thought was better and more about strategy. And I took Dunn in the first place because he was a fast guy who helped his defense hold opponents to 10 points in 10 games. That's just crazy.
Who were you most disappointed to miss out on?

Without a doubt, Lydell Mitchell. I just wasn't thinking clearly there. I waited so long to take a tailback because everyone else had already taken one -- and I totally forgot about the flex positions. So I figured Mitchell would have to be there until the last round. That was my biggest mistake of the draft; I should've held off on Mauthe. I also really wanted Lenny Moore -- he was my top RB -- but I couldn't be too upset since he went No. 1 overall.
Who was your best sleeper, or best value, pick?

I thought picking up safety Jack Sherry in the 20th round and then getting linebacker Ed O'Neil in the final round was pretty spectacular. O'Neil was an All-American, while Sherry was a two-sport star who had eight picks in 1952.
What was the hardest position to draft?

Without a doubt, that had to be cornerback. The list of great PSU CBs is slim, so I felt as if you had to give those guys added value. I took Alan Zemaitis and Justin King, so I think I did OK there. But pickings were definitely the slimmest at cornerback.
How do you feel about your team overall?

I'm feeling pretty good here. Maybe I didn't get the tailback I wanted, but Curtis Enis is no slouch. And while our other participants are going to call their teams the best, too, I think it's beyond argument that I have the best passing attack out of the draft. Ted Kwalick, O.J. McDuffie, Kenny Jackson, Kerry Collins? C'mon, it's not even close. I think that combination gives me quite a leg up.
ESPN Staff Writer
Covers Penn State and Big Ten.
Joined ESPN in 2012.
Graduate of Penn State University and Columbia University.
McDuffie: Back-to-back backs made sense
By
O.J. McDuffie
| Special to NittanyNation
The reason I did this is because I'm unbelievably Penn State proud. That's my school, and I really enjoy the history of our university and all the great athletes and people who have come out of there.
So if nothing else, I wanted to take part just to see who everybody else picked. My strategy was to go along the guidelines you use in a regular draft -- get your good running backs first and then feel out what everybody else is doing.
Even though it was a three-hour draft, it didn't feel that long. Everybody had a good time, no doubt.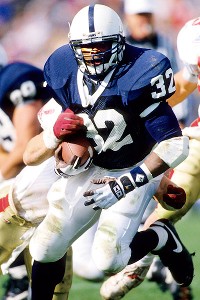 USA TODAY SportsKi-Jana Carter could have topped the 2,000-yard single-season mark, says former teammate O.J. McDuffie.
What player, or players, did you have to get?

I wanted Bobby Engram badly (but Stephon Morris took him third overall). I didn't know how long it was going to go before anyone was going to go wide receiver, and I wanted Bobby. Obviously I wanted my running backs -- it was easy to get them back to back in a snake draft -- but I really wanted Bobby. He's a good friend of mine. He went through a lot in life, and he's a great player. I recruited him to come to Penn State. He's like my little brother, and I really wanted my little brother on my team.
Who were you most disappointed to miss out on?

I'm upset I missed out on myself. I was just about to get myself, but it was hype to see my name go off the board. I didn't want to take myself in the first round; you've got to wait.
Why did you take Ki-Jana Carter and Larry Johnson as back-to-back picks?

In a fantasy draft, a lot of times running backs are a hot commodity. LJ had more than 2,000 yards in a season and was a beast. And I went with Ki-Jana, who I thought was the best running back in Penn State history and didn't get the opportunity a lot of guys did because the team was so good. Ki-Jana played two and a half, three quarters some games when he could've easily had probably 2,500 yards some seasons. You know Joe; he wasn't going to run any scores up. I thought those were the two best running backs that went through Penn State -- even though Penn State had some good ones.
Who were your best sleeper, or best value, picks?

There were a couple guys, but it's a little hard to say since a lot of the guys were ones I played with. That's kind of the easiest way to go because I knew what they could do. I was happy to get a guy like Darren Perry at the safety position, and I loved getting Rich McKenzie -- even if there was a little controversy with it. They were great football players and guys I know in life personally. And, like Lou Benfatti, he got everything out of his body and was an All-American. I thought that was a good value pick.
PSU lists McKenzie as a linebacker, so why did we allow you to get away with taking him as a defensive end anyway?

He's a guy who rushed the quarterback; that's really what he did. He didn't drop into coverage; his job was to get a quarterback. He got down in a three-point stance and maybe, sometimes, a two-point stance. He was one of those where, coming from Florida, it was tough for him to learn under Joe's ways, but the man was just a super athlete and a super person. He did everything he could to help the university.
How do you feel about your team overall?

I think I have a solid team. From top to bottom, I have some great guys. And the best part about doing a Penn State fantasy draft is that you can't go wrong. We've had so many really good players come through here, and I think I got a good mix of young and older players. I grabbed a couple young players, like Matt McGloin, and I think that's a great pick. Numbers don't lie; that's what I like to say. There's so many people you could choose at Penn State, and there was a lot I was happy to get.
B1G All-Time Fantasy Drafts
Michigan: WolverineNation


Former running back Chris Howard and former tight end Bennie Joppru participated in the all-time Michigan fantasy draft. Check out the results and analysis here
• @WolverineNation
Ohio State: BuckeyeNation


Former wide receiver Bam Childress participated in the all-time Ohio State fantasy draft. Check out the results and analysis here
• @ESPNOhioState
Penn State: NittanyNation

Former wide receiver O.J. McDuffie and former cornerback Stephon Morris participated in the all-time Penn State fantasy draft. Check out the results and analysis here
• @ESPNPennState
Penn State fantasy draft: Full results
Round 1: RB Lenny Moore, CB Brian Miller, LB Sean Lee, QB Kerry Collins, RB Ki-Jana Carter

Round 2: Flex Larry Johnson, S Mark Robinson, LB LaVar Arrington, RB Curt Warner, LB Jack Ham

Round 3: DT Mike Reid, OT Keith Dorney, WR Bobby Engram, OT Levi Brown, OG Steve Wisniewski

Round 4: OG Jeff Hartings, OG Sean Farrell, DT Matt Millen, OG Mike Munchak, DE Courtney Brown

Round 5: C Glenn Ressler, DE Michael Haynes, RB John Cappelletti, TE Ted Kwalick, S Darren Perry

Round 6: LB Andre Collins, DT Bruce Clark, TE Kyle Brady, S Neal Smith, OG Marco Rivera

Round 7: S Mike Zordich, DE Tamba Hali, C A.Q. Shipley, WR O.J. McDuffie, WR Bryant Johnson

Round 8: WR Deon Butler, WR Kenny Jackson, S Kim Herring, WR Joe Jurevicius, Flex Michael Robinson

Round 9: WR Jack Curry, WR Jordan Norwood, OT Bill Dugan, CB Alan Zemaitis, DT Lou Benfatti

Round 10: LB Brandon Short, DT Randy Crowder, K Chris Bahr, DT Jared Odrick, LB Dave Robinson

Round 11: TE Bob Higgins, TE Mickey Shuler Sr., LB NaVorro Bowman, C Stefen Wisniewski, LB Reggie Givens

Round 12: TE Troy Drayton, OG Joe Bedenk, CB David Macklin, QB Daryll Clark, LB Shane Conlan

Round 13: S Pete Harris, LB Paul Posluszny, CB Stephon Morris, DE Mike Hartenstine, C Roger Duffy

Round 14: S Sherrod Rainge, LB W.T. "Mother" Dunn, DT Devon Still, LB Dan Connor, QB Chuck Fusina

Round 15: OG Tom Rafferty, OG Steve Suhey, DE Aaron Maybin, OT John Nessel, QB Matt McGloin

Round 16: K Matt Bahr, DE Walker Lee Ashley, S Anthony Scirrotto, LB Dennis Onkotz, Chuck Cherundolo

Round 17: CB Richie Lucas, OT Irv Pankey, WR Chafie Fields, CB Justin King, CB Eddie Johnson

Round 18: DE Bob White, LB Greg Buttle, DE Tim Johnson, CB Paul Lankford, WR Jimmy Cefalo

Round 19: CB Harry Wilson, S Calvin Lowry, QB Todd Blackledge, Flex Pete Mauthe, OT Ron Heller

Round 20: OT Todd Rucci, S Jack Sherry, OT Mike Farrell, Flex Lydell Mitchell, DT Steve Smear

Round 21: OT Rosey Grier, DT Tyoka Jackson, Flex Derrick Williams, RB Curtis Enis, P Doug Helkowski

Round 22: DE Rich McKenzie, K Travis Forney, P Jeremy Kapinos, K Brett Conway, P Joe Colone

Round 23: K Massimo Manca, P Ralph Giacomarro, OG Johnnie Troutman, P Jeremy Boone, DT Jordan Hill

Round 24: CB Bryan Scott, LB Ed O'Neil, OG Rich Ohrnberger, C Lou Palazzi, OT Lloyd Engle

Team Prato

Penn State football historian Lou Prato had the first overall pick.
Offense
QB: Chuck Fusina (14)
RB: Lenny Moore (1)
WR: Jack Curry (9)
WR: Jimmy Cefalo (18)
TE: Bob Higgins (11)
OT: Lloyd Engle (24)
OG: Marco Rivera (6)
C: Glenn Ressler (5)
OG: Tom Rafferty (15)
OT: Rosey Grier (21)
Flex: Michael Robinson (8)
K: Massimo Manca (23)

Defense
DE: Courtney Brown (4)
DT: Mike Reid (3)
DT: Steve Smear (20)
DE: Dave Robinson (10)
LB: Jack Ham (2)
LB: Shane Conlan (12)
LB: Chuck Cherundolo (16)
CB: Richie Lucas (17)
CB: Harry Wilson (19)
S: Mike Zordich (7)
S: Pete Harris (13)
P: Joe Colone (22)

Team McClellan

NittanyNation editor Bob McClellan had the second overall pick.
Offense
QB: Daryll Clark (12)
RB: Curt Warner (2)
WR: Joe Jurevicius (8)
WR: Jordan Norwood (9)
TE: Mickey Shuler Sr. (11)
OT: Keith Dorney (3)
OG: Mike Munchak (4)
C: Lou Palazzi (24)
OG: Steve Suhey (15)
OT: Irv Pankey (17)
Flex: Lydell Mitchell (20)
K: Brett Conway (22)

Defense
DE: Michael Haynes (5)
DT: Jared Odrick (10)
DT: Tyoka Jackson (21)
DE: Tamba Hali (7)
LB: Dan Connor (14)
LB: Paul Posluszny (13)
LB: Dennis Onkotz (16)
CB: Brian Miller (1)
CB: Paul Lankford (18)
S: Neal Smith (6)
S: Calvin Lowry (19)
P: Ralph Giacomarro (23)

Team Morris

Former Penn State CB and current New England Patriot Stephon Morris had the third overall pick.
Offense
QB: Todd Blackledge (19)
RB: John Cappelletti (5)
WR: Bobby Engram (3)
WR: Chafie Fields (17)
TE: Kyle Brady (6)
OT: Bill Dugan (9)
OG: Johnnie Troutman (23)
C: A.Q. Shipley (7)
OG: Rich Ohrnberger (24)
OT: Mike Farrell (20)
Flex: Derrick Williams (21)
K: Chris Bahr (10)

Defense
DE: Aaron Maybin (15)
DT: Matt Millen (4)
DT: Devon Still (14)
DE: Tim Johnson (18)
LB: LaVar Arrington (2)
LB: Sean Lee (1)
LB: NaVorro Bowman (11)
CB: Stephon Morris (13)
CB: David Macklin (12)
S: Kim Herring (8)
S: Anthony Scirrotto (16)
P: Jeremy Kapinos (22)

Team Moyer

NittanyNation beat writer Josh Moyer had the fourth overall pick.
Offense
QB: Kerry Collins (1)
RB: Curtis Enis (21)
WR: O.J. McDuffie (7)
WR: Kenny Jackson (8)
TE: Ted Kwalick (5)
OT: Levi Brown (3)
OG: Sean Farrell (4)
C: Stefen Wisniewski (11)
OG: Joe Bedenk (12)
OT: John Nessel (15)
Flex: Pete Mauthe (19)
K: Travis Forney (22)

Defense
DE: Mike Hartenstine (13)
DT: Randy Crowder (10)
DT: Bruce Clark (6)
DE: Walker Lee Ashley (16)
LB: W.T. "Mother" Dunn (14)
LB: Greg Buttle (18)
LB: Ed O'Neil (24)
CB: Alan Zemaitis (9)
CB: Justin King (17)
S: Mark Robinson (2)
S: Jack Sherry (20)
P: Jeremy Boone (23)

Team McDuffie

Former Penn State WR O.J. McDuffie had the fifth overall pick.
Offense
QB: Matt McGloin (15)
RB: Ki-Jana Carter (1)
WR: Bryant Johnson (7)
WR: Deon Butler (8)
TE: Troy Drayton (12)
OT: Ron Heller (19)
OG: Steve Wisniewski (3)
C: Roger Duffy (13)
OG: Jeff Hartings (4)
OT: Todd Rucci (20)
Flex: Larry Johnson (2)
K: Matt Bahr (16)

Defense
DE: Bob White (18)
DT: Lou Benfatti (9)
DT: Jordan Hill (23)
DE: Rich McKenzie (22)
LB: Andre Collins (6)
LB: Brandon Short (10)
LB: Reggie Givens (11)
CB: Eddie Johnson (17)
CB: Bryan Scott (24)
S: Darren Perry (5)
S: Sherrod Rainge (14)
P: Doug Helkowski (21)

Results by position: Offense
Quarterback
1. Kerry Collins (4)
2. Daryll Clark (59)
3. Chuck Fusina (70)
4. Matt McGloin (75)
5. Todd Blackledge (93)

Running back
1. Lenny Moore (1)
2. Ki-Jana Carter (5)
3. Curt Warner (9)
4. John Cappelletti (23)
5. Curtis Enis (104)

Flex
1. Larry Johnson (6)
2. Michael Robinson (40)
3. Pete Mauthe (94)
4. Lydell Mitchell (99)
5. Derrick Williams (103)

Wide receiver
1. Bobby Engram (13)
2. O.J. McDuffie (34)
3. Bryant Johnson (35)
4. Deon Butler (36)
5. Kenny Jackson (37)
6. Joe Jurevicius (39)
7. Jack Curry (41)
8. Jordan Norwood (42)
9. Chafie Fields (83)
10. Jimmy Cefalo (90)

Tight end
1. Ted Kwalick (24)
2. Kyle Brady (28)
3. Bob Higgins (51)
4. Mickey Shuler Sr. (52)
5. Troy Drayton (56)

Tackle
1. Keith Dorney (12)
2. Levi Brown (14)
3. Bill Dugan (43)
4. John Nessel (74)
5. Irv Pankey (82)
6. Ron Heller (95)
7. Todd Rucci (96)
8. Mike Farrell (98)
9. Rosey Grier (101)
10. Lloyd Engle (120)

Guard
1. Steve Wisniewski (15)
2. Jeff Hartings (16)
3. Sean Farrell (17)
4. Mike Munchak (19)
5. Marco Rivera (30)
6. Joe Bedenk (57)
7. Tom Rafferty (71)
8. Steve Suhey (72)
9. Johnnie Troutman (113)
10. Rich Ohrnberger (118)

Center
1. Glenn Ressler (21)
2. A.Q. Shipley (33)
3. Stefen Wisniewski (54)
4. Roger Duffy (65)
5. Lou Palazzi (119)

Kicker
1. Chris Bahr (48)
2. Matt Bahr (76)
3. Travis Forney (107)
4. Brett Conway (109)
5. Massimo Manca (111)

Results by position: Defense
End
1. Courtney Brown (20)
2. Michael Haynes (22)
3. Tamba Hali (32)
4. Dave Robinson (50)
5. Mike Hartenstine (64)
6. Aaron Maybin (73)
7. Walker Lee Ashley (77)
8. Bob White (86)
9. Tim Johnson (88)
10. Rich McKenzie (106)

Tackle
1. Mike Reid (11)
2. Matt Millen (18)
3. Bruce Clark (27)
4. Lou Benfatti (45)
5. Randy Crowder (47)
6. Jared Odrick (49)
7. Devon Still (68)
8. Steve Smear (100)
9. Tyoka Jackson (102)
10. Jordan Hill (115)

Linebacker
1. Sean Lee (3)
2. LaVar Arrington (8)
3. Jack Ham (10)
4. Andre Collins (26)
5. Brandon Short (46)
6. NaVorro Bowman (53)
7. Reggie Givens (55)
8. Shane Conlan (60)
9. Paul Posluszny (62)
10. W.T. "Mother" Dunn (67)
11. Dan Connor (69)
12. Dennis Onkotz (79)
13. Chuck Cherundolo (80)
14. Greg Buttle (87)
15. Ed O'Neil (117)

Cornerback
1. Brian Miller (2)
2. Alan Zemaitis (44)
3. David Macklin (58)
4. Stephon Morris (63)
5. Richie Lucas (81)
6. Justin King (84)
7. Eddie Johnson (85)
8. Paul Lankford (89)
9. Harry Wilson (91)
10. Bryan Scott (116)

Safety
1. Mark Robinson (7)
2. Darren Perry (25)
3. Neal Smith (29)
4. Mike Zordich (31)
5. Kim Herring (38)
6. Pete Harris (61)
7. Sherrod Rainge (66)
8. Anthony Scirrotto
9. Calvin Lowry (92)
10. Jack Sherry (97)

Punter
1. Doug Helkowski (105)
2. Jeremy Kapinos (108)
3. Joe Colone (110)
4. Ralph Giacomarro (112)
5. Jeremy Boone (114)