All-time USC draft overview
WeAreSC staff members recently got together to hold a draft of all-time USC greats. Each staff member selected a starter at all 22 offensive and defensive positions, along with a kicker, punter and a head coach for a total of 25 picks each. The four staff members -- Garry Paskwietz, Johnny Curren, Steve Bisheff and Greg Katz -- have more than 150 combined years of watching USC football, so there was a good breadth of experience in picking the teams.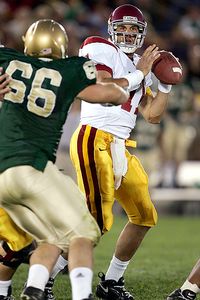 Jonathan Daniel/Getty Images A 37-2 record and a Heisman Trophy added up to the first overall pick in the USC all-time draft for Matt Leinart.
As you can see, the draft strategies provided by each staff member varied. Some went offense early, some went defense. One even went with a head coach in the first round. The initial rounds are filled with names that will be familiar to any USC fan reading, but some of the later picks could surprise, as some positions were harder to fill than others.
Thats what makes a draft like this interesting. When youre going through the annals of USC football, there are some amazing names competing for draft spots. Some will naturally make the list, some will surprise and some will be left out altogether.
Draft order:
No. 1: Johnny Curren
No. 2: Garry Paskwietz
No. 3: Greg Katz
No. 4: Steve Bisheff
First-round picks:
No. 1: QB Matt Leinart
No. 2: TB Charles White
No. 3: Coach John McKay
No. 4: TB Marcus Allen

View the complete draft order below and check out each team on the right.
Publisher, WeAreSC.com
Founder of WeAreSC.com
Has covered USC since 1997
Graduated from USC
Roundtable: General Managers On Draft
1. What was the strategy behind your first pick?
Johnny Curren: I went with Matt Leinart on the first pick, and it wasn't a very tough selection for me. A 37-2 record as a starter, two national titles, a Heisman Trophy. He was just an all-around winner at the college level.
Garry Paskwietz: I went with Charles White as my first pick. USC is Tailback U, and in my opinion, when you put the ball in White's hands, that was as good as it got. The most physical USC tailback, pound for pound, that I've ever seen, and the final drive against Ohio State in the 1980 Rose Bowl can be argued as one of the definitive drives in USC history. Along with his Heisman Trophy, White still owns the Pac-12 career rushing record.
Greg Katz: There wouldn't be a Tailback U without John McKay, so I went with the legendary silver fox. McKay would know what to do with the type of team I picked -- the man had four national titles, numerous Rose Bowl games and a pair of Heisman winners. USC recently opened the John McKay Center, and I think that pretty much sums it up.
Steve Bisheff: I went with Marcus Allen. In my mind, he is the best pure football player in the history of USC and could have been an All-American at three positions. He played fullback for Charles White and did a great job, and then moved to tailback and became the first one to go for more than 2,000 yards in one season. Just a marvelous football player -- could block, could catch, could do anything he wanted.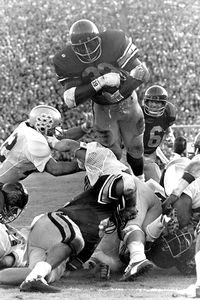 USC athletics Can you imagine a backfield with Sam Cunningham (above) and O.J. Simpson? One of our GMs made it a reality.
2. What's the strength of your team?
Curren: The secondary, in particular the safety spot with Ronnie Lott and Troy Polamalu. Lott is arguably the game's best safety ever, and you can make a case for Polamalu as one of USC's greatest. At corner I had ball hawks in Dennis Thurman and Danny Reece, who had 18 career interceptions, No. 2 on USC's all-time list.
Paskwietz: My strongest group is the offensive line. I went very heavy there early in the draft because Tailback U was built on the strength of the O-line. My two tackles are Tony Boselli and Matt Kalil, and I think those speak for themselves. I look at my two guards with Brad Budde and Bruce Matthews, and I think that's as good an interior duo as you will find. At center, I went with Ryan Kalil, and he's a heck of a choice to anchor this group.
Katz: It's hard to argue with my backfield. O.J. Simpson is the greatest runner in USC history. Can you imagine Sam Cunningham blocking for him? If you've got Lott and Polamalu coming up to fill the hole, I can't imagine someone I want blocking for the tailback more than Cunningham. At quarterback, the underrated Paul McDonald put up limited numbers because he was in a run-dominated offense. McDonald was sensational, an intelligent QB who's perfect for this type of offense.
Bisheff: My skill players are the strength. Marcus Allen and Ricky Bell, with Marcus at tailback and Ricky at fullback. The two best receivers in USC history, in my opinion, with Lynn Swann and Marqise Lee along with Fred Davis at tight end. I think that group is pretty tough to beat. The quarterback, in my mind, is the most underrated player in USC history in Pete Beathard. He won the first national championship for McKay and would be a terror in these offenses.
3. What was the toughest group to pick?
Curren: The kicker position. I wanted to take Quin Rodriguez, but Garry snatched him up. In the end, I went with a sentimental choice in Mario Danelo, a fellow South Bay guy. He came from San Pedro as a walk-on, a hard-working guy who showed what it was to be a Trojan.
Paskwietz: My toughest spot was at corner. I waited on my safety choices until the middle rounds, but to get Dennis Smith and Tim McDonald, I don't think there's anything wrong with those two. At corner, you just didn't see many high-profile guys, but there were still some pretty good players. I went with Willie Brown -- known more as a tailback but a terrific athlete who also played corner -- and Chris Hale, a quick and athletic corner who was part of some very good teams in the late '80s.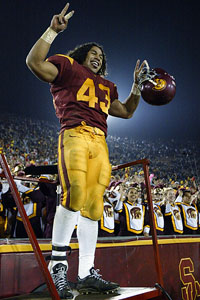 Stephen Dunn/Getty ImagesTroy Polamalu was a player all of the WeAreSC general managers wanted on their teams.
Katz: I agree with Garry because the secondary was a little thin at corner. I was comfortable with Willie Wood, who later had an outstanding career with the Green Bay Packers. Will Poole was probably a surprise, but I thought he probably was the best corner of the Pete Carroll era, even though he played for only one year at USC.
Bisheff: In doing the research, I found that center was the most shallow position. I ended up with the fourth center pick of the group and went with Khaled Holmes, one of the best centers and best leaders in recent years.
4. Who was the player you targeted that got away?
Curren: The guy I really targeted was Sam Cunningham. He went the exact round ahead of when I was going to take him.
Paskwietz: For me, it was Freddy Davis at tight end. I was getting ready to take him and then Steve grabbed him two picks ahead of me.
Katz: I think turnaround is fair play for me and Johnny Curren. I took Cunningham, but I also really wanted to take Polamalu. Not that I'm displeased with the safeties I got, but there's only one Polamalu.
Bisheff: I hate to be redundant, but Polamalu was a player I really wanted, too. Johnny just moved before Greg or I could grab him.
Complete Draft Order
TITLE
| Round (Overall Pick) | Selection | General Manager |
| --- | --- | --- |
| 1 (1) | QB Matt Leinart | Johnny Curren |
| 1 (2) | TB Charles White | Garry Paskwietz |
| 1 (3) | Coach John McKay | Greg Katz |
| 1 (4) | TB Marcus Allen | Steve Bisheff |
| 2 (5) | Coach Pete Carroll | Steve Bisheff |
| 2 (6) | TB O.J. Simpson | Greg Katz |
| 2 (7) | QB Carson Palmer | Garry Paskwietz |
| 2 (8) | S Ronnie Lott | Johnny Curren |
| 3 (9) | LB Junior Seau | Johnny Curren |
| 3 (10) | OG Brad Budde | Garry Paskwietz |
| 3 (11) | QB Paul McDonald | Greg Katz |
| 3 (12) | LB Richard Wood | Steve Bisheff |
| 4 (13) | WR Marqise Lee | Steve Bisheff |
| 4 (14) | LB Chris Claiborne | Greg Katz |
| 4 (15) | OG Bruce Matthews | Garry Paskwietz |
| 4 (16) | Coach John Robinson | Johnny Curren |
| 5 (17) | S Troy Polamalu | Johnny Curren |
| 5 (18) | OT Tony Boselli | Garry Paskwietz |
| 5 (19) | OT Ron Yary | Greg Katz |
| 5 (20) | OT Anthony Munoz | Steve Bisheff |
| 6 (21) | DT Jimmy Gunn | Steve Bisheff |
| 6 (22) | OT Marvin Powell | Greg Katz |
| 6 (23) | OT Matt Kalil | Garry Paskwietz |
| 6 (24) | C Don Mosebar | Johnny Curren |
| 7 (25) | CB Dennis Thurman | Johnny Curren |
| 7 (26) | C Ryan Kalil | Garry Paskwietz |
| 7 (27) | FB Sam Cunningham | Greg Katz |
| 7 (28) | S Mark Carrier | Steve Bisheff |
| 8 (29) | S Joey Browner | Steve Bisheff |
| 8 (30) | C Tony Slaton | Greg Katz |
| 8 (31) | DT Shaun Cody | Garry Paskwietz |
| 8 (32) | OT Keith Van Horne | Johnny Curren |
| 9 (33) | WR Mike Williams | Johnny Curren |
| 9 (34) | WR Keyshawn Johnson | Garry Paskwietz |
| 9 (35) | TE Charles Young | Greg Katz |
| 9 (36) | WR Lynn Swann | Steve Bisheff |
| 10 (37) | OT Marv Montgomery | Steve Bisheff |
| 10 (38) | OG Roy Foster | Greg Katz |
| 10 (39) | DT Tim Ryan | Garry Paskwietz |
| 10 (40) | DT Gary Jeter | Johnny Curren |
| 11 (41) | DT Darrell Russell | Johnny Curren |
| 11 (42) | DE Willie McGinest | Garry Paskwietz |
| 11 (43) | DE Kenechi Udeze | Greg Katz |
| 11 (44) | DT Mike Patterson | Steve Bisheff |
| 12 (45) | LB Jack Del Rio | Steve Bisheff |
| 12 (46) | LB Clay Matthews III | Greg Katz |
| 12 (47) | S Tim McDonald | Garry Paskwietz |
| 12 (48) | DE Tim Rossovich | Johnny Curren |
| 13 (49) | LB Brian Cushing | Johnny Curren |
| 13 (50) | S Dennis Smith | Garry Paskwietz |
| 13 (51) | LB Clay Matthews Jr. | Greg Katz |
| 13 (52) | TE Fred Davis | Steve Bisheff |
| 14 (53) | FB Ricky Bell | Steve Bisheff |
| 14 (54) | WR Hal Bedsole | Greg Katz |
| 14 (55) | FB Kennedy Polamalu | Garry Paskwietz |
| 14 (56) | OT Tyron Smith | Johnny Curren |
| 15 (57) | OG Travis Claridge | Johnny Curren |
| 15 (58) | LB Duane Bickett | Garry Paskwietz |
| 15 (59) | OG Pat Howell | Greg Katz |
| 15 (60) | OG Mike McKeever | Steve Bisheff |
| 16 (61) | DE Al Cowlings | Steve Bisheff |
| 16 (62) | WR Curtis Conway | Greg Katz |
| 16 (63) | LB Rey Maualuga | Garry Paskwietz |
| 16 (64) | WR Keary Colbert | Johnny Curren |
| 17 (65) | FB Stanley Havili | Johnny Curren |
| 17 (66) | LB Chip Banks | Garry Paskwietz |
| 17 (67) | OG Mike Ryan | Greg Katz |
| 17 (68) | CB Daylon McCutcheon | Steve Bisheff |
| 18 (69) | DE Charlie Weaver | Steve Bisheff |
| 18 (70) | DT Rich Dimler | Greg Katz |
| 18 (71) | CB Willie Brown | Garry Paskwietz |
| 18 (72) | TE Hoby Brenner | Johnny Curren |
| 19 (73) | LB Lofa Tatupu | Johnny Curren |
| 19 (74) | WR John Jackson | Garry Paskwietz |
| 19 (75) | S Charles Phillips | Greg Katz |
| 19 (76) | CB Artimus Parker | Steve Bisheff |
| 20 (77) | LB Matt Grootegoed | Steve Bisheff |
| 20 (78) | S Mike Battle | Greg Katz |
| 20 (79) | CB Chris Hale | Garry Paskwietz |
| 20 (80) | OG Deuce Lutui | Johnny Curren |
| 21 (81) | DE Dan Owens | Johnny Curren |
| 21 (82) | TE Alex Holmes | Garry Paskwietz |
| 21 (83) | CB Willie Wood | Greg Katz |
| 21 (84) | C Khaled Holmes | Steve Bisheff |
| 22 (85) | QB Pete Beathard | Steve Bisheff |
| 22 (86) | CB Will Poole | Greg Katz |
| 22 (87) | K Quin Rodriguez | Garry Paskwietz |
| 22 (88) | CB Danny Reece | Johnny Curren |
| 23 (89) | P Tom Malone | Johnny Curren |
| 23 (90) | P Jim Hardy | Garry Paskwietz |
| 23 (91) | P John Stonehouse | Greg Katz |
| 23 (92) | P Ernie Jones | Steve Bisheff |
| 24 (93) | OG Jeff Bregel | Steve Bisheff |
| 24 (94) | DT John Grant | Greg Katz |
| 24 (95) | DE Nick Perry | Garry Paskwietz |
| 24 (96) | K Mario Danelo | Johnny Curren |
| 25 (97) | TB Reggie Bush | Johnny Curren |
| 25 (98) | Coach Howard Jones | Garry Paskwietz |
| 25 (99) | K David Buehler | Greg Katz |
| 25 (100) | K Ron Ayala | Steve Bisheff |
Johnny Curren's Team
Offense
QB: Matt Leinart, 2001-05
TB: Reggie Bush, 2003-05
FB: Stanley Havili, 2006-10
WR: Mike Williams, 2003-04
WR: Keary Colbert, 2000-03
TE: Hoby Brenner, 1977-80
OT: Keith Van Horne, 1977-80
OG: Deuce Lutui, 2004-05
C: Don Mosebar, 1979-82
OG: Travis Claridge, 1996-99
OT: Tyron Smith, 2008-10


Defense
DE: Tim Rossovich, 1964-67
DT: Gary Jeter, 1974-77
DT: Darrell Russell, 1994-96
DE: Dan Owens, 1986-89
LB: Junior Seau, 1988-89
LB: Brian Cushing, 2005-08
LB: Lofa Tatupu, 2005-06
CB: Dennis Thurman, 1974-77
CB: Danny Reece, 1973-75
S: Ronnie Lott, 1977-80
S: Troy Polamalu, 1999-02


Special Teams
K: Mario Danelo, 2003-06
P: Tom Malone, 2002-05

Coach
John Robinson, 1976-1982, 1993-97
Garry Paskwietz's Team
Offense
QB: Carson Palmer, 1999-02
TB: Charles White, 1976-79
FB: Kennedy Polamalu, 1982-85
WR: Keyshawn Johnson, 1994-95
WR: John Jackson, 1986-89
TE: Alex Holmes, 2000-04
OT: Tony Boselli, 1991-94
OG: Brad Budde, 1976-79
C: Ryan Kalil, 2003-06
OG: Bruce Matthews, 1980-82
OT: Matt Kalil, 2008-11


Defense
DE: Nick Perry, 2008-11
DT: Shaun Cody, 2001-04
DT: Tim Ryan, 1986-89
DE: Willie McGinest, 1990-93
LB: Duane Bickett, 1982-84
LB: Rey Maualuga, 2005-08
LB: Chip Banks, 2005-06
CB: Willie Brown, 1961-63
CB: Chris Hale, 1987-88
S: Dennis Smith, 1977-80
S: Tim McDonald, 1984-86


Special Teams
K: Quin Rodriguez, 1987-90
P: Jim Hardy, 1942-45

Coach
Howard Jones, 1925-40
Greg Katz's Team
Offense
QB: Paul McDonald, 1976-79
TB: O.J. Simpson, 1967-68
FB: Sam Cunningham, 1970-72
WR: Hal Bedsole, 1961-63
WR: Curtis Conway, 1990-92
TE: Charles Young, 1970-72
OT: Ron Yary, 1965-67
OG: Pat Howell, 1976-78
C: Tony Slaton, 1980-83
OG: Roy Foster, 1979-81
OT: Marvin Powell, 1974-76


Defense
DE: Kenechi Udeze, 2000-03
DT: Rich Dimler, 1976-78
DT: Mike Ryan, 1970-72
DE: John Grant, 1970-72
LB: Chris Claiborne, 1996-98
LB: Clay Matthews Jr., 1974-77
LB: Clay Matthews III, 2004-08
CB: Willie Wood, 1957-59
CB: Will Poole, 2003
S: Charles Phillips, 1972-74
S: Mike Battle, 1966-68


Special Teams
K: David Buehler, 2006-08
P: John Stonehouse, 1993-95

Coach
John McKay, 1960-75
Steve Bisheff's Team
Offense
QB: Pete Beathard, 1961-63
TB: Marcus Allen, 1978-81
FB: Ricky Bell, 1974-76
WR: Lynn Swann, 1971-73
WR: Marqise Lee, 2011-Present
TE: Fred Davis, 2004-07
OT: Anthony Munoz, 1977-79
OG: Mike McKeever, 1958-60
C: Khaled Holmes, 2009-12
OG: Jeff Bregel, 1983-86
OT: Marv Montgomery, 1969-70


Defense
DE: Al Cowlings, 1968-69
DT: Jimmy Gunn, 1967-69
DT: Mike Patterson, 2001-04
DE: Charlie Weaver, 1969-70
LB: Jack Del Rio, 1981-84
LB: Richard Wood, 1972-74
LB: Matt Grootegoed, 2000-04
CB: Daylon McCutcheon, 1995-98
CB: Artimus Parker, 1971-73
S: Mark Carrier, 1987-89
S: Joey Browner, 1979-82


Special Teams
K: Ron Ayala, 1968-70
P: Ernie Jones, 1961-63

Coach
Pete Carroll, 2001-09