THESE MAVS CAN WIN IT ALL

By Jeff "Skin" Wade
ESPNDallas.com
"Ben & Skin Show"
The Mavericks are good enough to make it to the NBA Finals, but nobody will buy it because of their recent history. That's what happens when you get bounced in the first round of the playoffs in three of the past four seasons. You're knee-deep in nonbelievers. Fine, the Mavs earned it.
But this Mavericks team is deep enough and experienced enough, and it matches up well with the Lakers and Spurs -- generally considered the favorites in the Western Conference. The divide between those two teams and Dallas is far less than most following the league are willing to acknowledge.
The Lakers are the champs until they ain't. Fair enough.
But winning three championships in a row is the stuff of legendary teams. I don't see this team in those terms. The Lakers have two dudes who are blood, sweat and tears every night. Unfortunately, those guys are ancient Derek Fisher and, of course, Kobe Bryant. The others? Reality stars, loose cannons and injury risks. They also currently have a one-man bench. They're the champs, but they don't look the part. They're too good and too talented to take lightly, but I don't see them repping the West this season; these dudes are well fed.
The Spurs are playing at a ridiculously high level and have a chance to win 50 before March gets here. They've been very impressive. They have the second-highest differential between offensive and defensive efficiency, behind only Miami at 8.5 (actually double the seventh-ranked Mavs). And they've been fortunate. Of their top seven scorers, only George Hill has missed any games (six out of 55). Sounds formidable.
But they're also a team Dallas doesn't fear. The Mavs have won two playoff series against the Spurs in the past five years as the lower seed. And the two games the Spurs beat Dallas this season, no Dirk Nowitzki. When both teams were at full strength in November, Dallas ended the Spurs' 12-game win streak in San Antonio.
And this Mavericks team is just scratching the surface. It still plays D with Tyson Chandler protecting the rim and dudes like Shawn Marion and DeShawn Stevenson chasing wing scorers. The bench scores in waves. The Mavs are so deep they'll be able to get their key older players like Jason Kidd and Jason Terry plenty of rest before the playoffs. They're big and athletic along the front line.
They also are just now carving out a role for Peja Stojakovic, and they're about to unleash arguably their most dynamic scoring threat in Roddy B. And then, of course, let's not forget their MVP candidate: Nowitzki. Throw in that they've got a chip on their shoulder because nobody besides them thinks they can do it, and you have the makings of a contender.
You've heard our takes; now give us yours. DISCUSS
THESE MAVS DON'T STAND A CHANCE

By Ian Fitzsimmons
ESPNDallas.com
"Galloway & Company"
With the return of Roddy B to the Mavericks, fans are gathered around the water cooler wondering whether this collection of players finally can do what the 2005-06 squad did and win the Wild West and play for the NBA title. Let me save you some time so you can get back to work and have a productive day. The answer is no. No chance. No shot. Not gonna happen.
Now, for those of you who are screaming that I am an idiot, you are partly correct; just ask my wife. But there are three simple reasons I don't see the Mavericks winning the West.
That team out in L.A. known as the Lakers still has some dude wearing No. 24 and still is the two-time -- I said two-time -- reigning champion. The Lakers have proved what happens during the late winter and early spring months of an NBA season doesn't really matter to them. Don't believe me? Look back to last season. During March, they had not one, but two stretches in which they lost at least three of four games, including, ironically, a 15-point loss at Charlotte (see Monday night's 20-point loss there). They also got trucked in Atlanta by 17, and the naysayers and second-guessers were wondering back then whether the champs could repeat. How did that work out for them? Point being, the Lakers still are the team to beat as long as Kobe Bryant, Pau Gasol, Lamar Odom & Co. are on the floor.


The hated San Antonio Spurs are rolling, and who was that squad that eliminated the Mavs in embarrassing fashion last year? Yup. Those same Spurs, who are better this season and battle tested in the postseason. As much as this pains Mavs fans, Gregg Popovich has the team loaded and ready for the playoffs. The Spurs can score (fourth in the West) and defend (also fourth in the West). But more importantly, when it comes to playoff basketball, they don't believe they can win; they know they can win. That is a mental state the Mavs have had once in the past decade.


The last and maybe most important reason is the one I just stated. The Mavs have had 10 straight 50-win seasons and have escaped the Western Conference playoffs with one championship banner. During the regular season, they can throw up great numbers, but once it gets to survive-and-advance time in April, they die and go home. History has proved this to be true, and until they start winning when it counts, I'll take those other two outfits over the Mavericks.
Now, I know a lot of you are pointing to Tyson Chandler as an aspect that previous Dallas teams did not have, and I agree with you. He is the No. 1 surprise of the season. The Mavs are a much deeper team, but in the postseason, you are looking at an eight-man rotation -- not 10. That depth should help you during the regular season in saving your about-to-be-38-year-old point guard's legs. That hasn't even happened.
If the Mavs are going to jump over the Lakers and the Spurs, they might need a miracle. That miracle could be the return of Caron Butler. Miracles do happen ... but until then, stop wasting your time and get back to work.
LISTEN LIVE!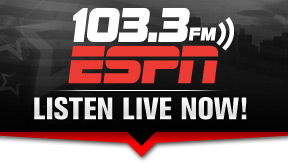 Want to sound off on today's Hot Button topic? Give us a call at 214-787-1033. Listen Live »