IT'S ALL ABOUT DOLLARS

By Tim MacMahon
ESPNDallas.com
Archive
Let's look at this through Jerry Jones' designer shades. Does it make dollars? Then it makes sense.
Jerry took that theory too far during last season's training camp odyssey, when the team practiced at three sites and played preseason games in three stadiums during a month-long marathon. The focus should always been on football first and foremost, not T-shirt sales and marketing opportunities.
There's no reason spending a couple of weeks in San Antonio should be a problem as the Cowboys prepare for this season.
If anything, a two-week training camp crash course should be beneficial to the Cowboys. They can focus on football without the distractions of family before returning home for the Aug. 11 preseason opener.
Please take my esteemed colleague Calvin Watkins' argument against training camp with a boulder of salt. He'll always be bitter about training camps after developing a nasty case of gout during the Cowboys' stay in Oxnard, Calif., last summer.
It would be a foolish financial move for the Cowboys to spend training camp at Valley Ranch and their $1.2 billion stadium. Feel free to criticize Jerry's football decisions, but the man doesn't make foolish financial ones.
The Cowboys can complete their five-year contract with San Antonio, which remains a hotbed for America's Team despite the closer proximity of the Houston Texans, by spending a couple of weeks practicing in the room-temperature Alamodome.
Nothing against the Alamo City, but it's a safe bet that Jerry is eager to get out of that contract. Maybe he gets an even sweeter deal from San Antonio. Maybe he agrees to return to Southern California for a few summers, where the Cowboys can practice in 70-degree weather with the sun shining and real grass underneath their feet. (Hopefully, he won't follow through on going back to a split camp set-up.)
For now, there's no decent reason the Cowboys shouldn't make the drive down Interstate 35 next week.
Get your chips and guacamole ready.
JUST SAY NO TO SAN ANTONIO

By Calvin Watkins
ESPNDallas.com
Archive
We know the Cowboys are going to San Antonio but I don't believe this is a good move. While the team might be doing it just to finish out its five-year contract with the city, cramming two weeks of work under the new practice rules of the CBA isn't good. Yes, Jerry Jones wants to sell some T-shirts, hats and such, and Tim MacMahon wants to beef up his Marriott Rewards points, but the Cowboys need to stay home for training camp.
Last year's training camp led to the 0-2 start which eventually got coach Wade Phillips fired after a 1-8 record. The Cowboys were tired from traveling to various cities -- Canton, Ohio; Houston; San Diego; Dallas -- all for training camp. It was too much for the team to handle. Under these complex conditions, the Cowboys should practice at Valley Ranch in the morning and then Cowboys Stadium in the afternoon, if necessary. Several NFL teams, including the Giants, Rams, Ravens, Jets and Bills, have decided to hold training camp practices at their team facilities. Why force-feed your players to camp sites, when doing it at home would be easier?
You want to make Jason Garrett's first full-season as the head coach go as smooth as possible. The Cowboys shouldn't send their team to the Riverwalk. Keep the team in Dallas. If that means extending your contract with San Antonio one more year, so be it. The mental well-being of your team is a bigger issue.
Garrett is trying to build a physical team so when it plays within the NFC East in December it's prepared. Adding the trip to the Riverwalk could alter what he wants to do. Why travel and have his team stay two weeks in a hotel and grind on them, when they could stay at home? He would have fresher legs and a mentally sharper group with which to deal. It's too late to change up now, but remember if the Cowboys start off slow again, think about how training camp went.
You've heard our takes; now give us yours. DISCUSS
LISTEN LIVE!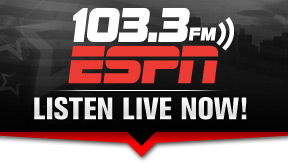 Want to sound off on today's Hot Button topic? Give us a call at 214-787-1033. Listen Live »