THE COWBOYS CAN CONTEND

By Tim MacMahon
ESPNDallas.com
Archive
This is not a prediction that the Cowboys will play in Super Bowl XLVI. That's a long shot at best for a team trying to bounce back from a 6-10 season that has to be considered the most disappointing campaign in NFL history.
But it's not like Jason Garrett took over a team with a bare cupboard. There aren't many teams with more talented cores than the Cowboys.
The primary playmakers from a team that went 11-5 and won the NFC East two seasons ago still report to work at Valley Ranch. Quarterback Tony Romo, tight end Jason Witten, receiver Miles Austin, outside linebacker DeMarcus Ware and nose tackle Jay Ratliff are expected to perform at a Pro Bowl level. Cornerbacks Terence Newman and Mike Jenkins struggled last season, but they are also recent Pro Bowlers.
The Cowboys have also added a couple of potential major impact players since their last division crown. Receiver Dez Bryant and rookie right tackle Tyron Smith are first-round picks with phenomenal athleticism who have the potential to quickly develop into elite players at their positions.
The Cowboys had plenty of problems last season: production, health, attitude, effort, accountability, coaching, etc. Talent ranked way, way down the list, and they should be able to upgrade the positions at which ability was the primary issue (free safety and right tackle).
This team could go from catastrophe to contender if a few key players who underachieved last season play to their potential. Three recent first-rounders who have shown flashes of brilliance come to mind: Jenkins, running back Felix Jones and outside linebacker Anthony Spencer.
Those are some big ifs -- and the front office still has some holes to fill in free agency -- but the vast majority of NFL franchises wouldn't hesitate to trade rosters with the Cowboys.
THE COWBOYS CAN'T CONTEND

By Calvin Watkins
ESPNDallas.com
Archive
The Cowboys' window to win a championship is open now, and it's very small.
It's hard to believe a team with as many holes as this one could be considered a Super Bowl contender. The inside linebackers are in their 30s and coming off leg injuries. One of the starting cornerbacks will be 33 when the season opens against the New York Jets. It's hasn't been determined who will play safety. Gerald Sensabaugh is testing the market, and the other safety was so bad he's being moved back to cornerback.
The offensive line is old, with only LT Doug Free under 30. Andre Gurode is still a Pro Bowl-quality center, but he's coming off leg surgery that isn't considered serious. As for the rest of the offensive line, it's literally a work in progress. We know RG Leonard Davis won't return, and RT Marc Colombo's status is still up in the air. LG Kyle Kosier, while good, is slowing down. And you have a rookie (Tyron Smith) to add to the mix.
There is nothing wrong with some of the skill position players on offense, but Dez Bryant -- who will be pushed into a starting job after Roy Williams is cut -- needs to master the playbook, and it's not known whether he will in 2011. And while Miles Austin is a good wide receiver, he's not at an elite level -- yet.
The Cowboys' front seven has quality players in linebacker DeMarcus Ware and nose tackle Jay Ratliff. After that, it remains to be seen if Stephen Bowen or Marcus Spears will be retained at end.
What does all this mean? The Cowboys have too many issues to overcome, at least right now, to be considered Super Bowl contenders. While the Cowboys are a sexy pick every season, don't be fooled: Go for substance.
You've heard our takes; now give us yours. DISCUSS
LISTEN LIVE!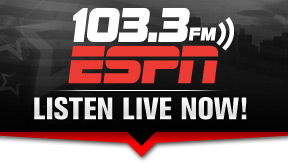 Want to sound off on today's Hot Button topic? Give us a call at 214-787-1033. Listen Live »