PUT DEION IN THE RING

By Ben Rogers
ESPN 103.3 FM
Archive
Deion Sanders should absolutely be in the Cowboys' Ring of Honor. To be fair, there are clearly others Jerry Jones needs to let in as well, including Harvey Martin, Drew Pearson, Larry Allen, Charles Haley and Darren Woodson -- to name only a few. But let's just focus on "Prime Time" for now.
First, he won a Super Bowl ring with the Cowboys -- and was one of the best players on his team that season. That's a good place to start.
Furthermore, we're talking about a top-three player all-time at his position. Some even argue that he was the best cornerback of all time. A defensive weapon who took away half of the field just by lacing up his cleats. An electric return man who was a threat to take the ball to the house every single time he touched it. If he picked off a pass, he was likely gone. If he picked up a fumble, track meet. If you punted him the ball, curtains. If he returned a kickoff, see you later. He was the definition of dangerous.
And when the Cowboys realized this unique game-changer wasn't getting enough opportunities to touch the ball, they got creative.
In 1996, Sanders played regularly on both sides of the ball, becoming the league's first two-way starter since Chuck Bednarik did it in the early 1960s. He caught 36 passes for 475 yards.
Those who make a case against Sanders will say that five years here wasn't enough, or that he's not thought of "as a Cowboy." Free agency has changed the loyalty landscape. Not many players stay with one team for their entire career. That argument's time has come and gone.
Is Bill Bates more deserving of the Ring of Honor than Charles Haley just because he was a career Cowboy? No. Haley hand-delivered three Super Bowls in his five years in Dallas. And if Charles can get in with his five years of service here, then so can Deion.
For what it's worth, I think Jerry Jones might already be tipping his hand. On his private jet, there are giant action photographs of four very important former Cowboys. Just four. Aikman, Irvin, Emmitt … and Deion.
Sanders revolutionized free agency because he was so coveted as a difference-maker. He revolutionized the cornerback position because he was so incredibly amazing at it. He blazed new trails while wearing the star.
And, again, he won a Super Bowl ring in the process. Deion is in.
DON'T PUT DEION IN THE RING

By Todd Archer
ESPNDallas.com
Archive
Deion Sanders is one of the greatest cornerbacks in NFL history, but he is not one of the greatest Cowboys.
When Jerry Jones took over the Cowboys, Tex Schramm told him to keep the Ring of Honor as exclusive as possible. Jones has done that, much to the dismay of many Cowboys fans pining to see the likes of Drew Pearson, Ed "Too Tall" Jones or Charlie Waters in the ring.
Sanders played 63 games over five seasons with the Cowboys. He was one of the most dynamic punt returners in the league and was a decent receiver, too. He was named to the Pro Bowl four times. The Cowboys won a Super Bowl in his first season.
He intercepted 14 passes, and he was so good that quarterbacks would not look his way.
Unlike baseball's Hall of Fame, players do not go into the Pro Football Hall of Fame representing one team. There is no decision to be made on what logo will be on the wall. For Sanders, that's a good thing.
Is he a Cowboy? To me, he's more a member of the Atlanta Falcons. He also played for San Francisco, Washington and Baltimore. Sanders came around at the proper time, when unrestricted free agency was allowed for the first time.
But he played only 63 games for the Cowboys.
The average length of a Ring of Honor member's time with the Cowboys is nearly 12 seasons. Lee Roy Jordan, Randy White, Mel Renfro and Bob Lilly played 14 seasons. The only players in the Ring with fewer than 10 seasons as a Cowboy are Don Meredith (nine) and Don Perkins (eight).
The NFL's history cannot be written without Sanders, as proved by his upcoming induction into the Pro Football Hall of Fame. But in the Cowboys' history, Sanders' chapter would come near the end of the book.
You've heard our takes; now give us yours. DISCUSS
LISTEN LIVE!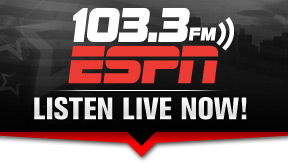 Want to sound off on today's Hot Button topic? Give us a call at 214-787-1033. Listen Live »