TIME TO RELEASE BROOKING

By Bryan Broaddus
ESPN 103.3 FM
Archive
One of the most difficult decisions an organization has to make is when it's time to release a veteran player. I was on the staff with the Cowboys when Jerry Jones had to make the call on Emmitt Smith.
When Smith broke Walter Payton's career rushing record, it was the only bright spot on a season of disappointments and failures. Smith was a player who had given so much to this franchise, but clearly his most productive games were behind him. It was time to move on, but it was a painful decision for Jones to make.
In 2010, the Cowboys tried to get one more season out of tackle Marc Colombo when it was clear the injuries of 2009 had robbed him of his ability to play on a high level consistently. We saw this in training camp. Colombo was another veteran player who had given the Cowboys everything he had, but it took a season for the club to realize a change needed to be made. Thus entered first-round selection Tyron Smith.
This brings me to Keith Brooking. I have nothing but respect for Brooking and what a credit he is to the game, but his injury in the opening stages of camp led me to this thought: Has the wear and tear that Brooking has put his body through made him an injury risk? To his credit, he was asked to play too many snaps last year because Sean Lee had his own struggles. But with Lee back and getting all the work with Bradie James, do the Cowboys just go ahead and name Lee the starter and let Brooking go? I say they should.
This decision might have been even easier if we could have seen Bruce Carter practice. Behind Lee and James, there are young players Kenwin Cummings and Orie Lemon who have been steady in camp. Cummings and Lemon are both physical players who can be factors on special teams as well, which Brooking no longer does.
One of the biggest fears of this front office is the veteran player on the roster who struggles with injuries. You drafted Lee to be a starter. The time is now to put him in that role full time instead of trying to steal another year from a player who is at that wall.
You've heard our takes; now give us yours. DISCUSS
CAN'T AFFORD TO RELEASE BROOKING

By Tim MacMahon
ESPNDallas.com
Archive
The Cowboys have enough holes on the roster without creating another one.
That's exactly what cutting Keith Brooking would do. Dallas simply doesn't have the depth at inside linebacker for that move to make sense.
The Cowboys hope their past two second-round picks will form the starting inside linebacker tandem for the foreseeable future, perhaps starting as soon as next season. However, Sean Lee and Bruce Carter both have huge question marks in the durability department.
Lee, who slipped into the late second round in 2010 because of a torn ACL, had his development delayed by quadriceps, hamstring, shoulder and head injuries during his rookie season. He's healthy and appears primed to be an impact player this season, but Carter is recovering from a torn ACL and the timetable for his pro practice debut is uncertain.
Brooking isn't a luxury. The Cowboys need at least three inside linebackers they have confidence putting on the field.
Maybe this will be it for Brooking. He's a 14-year veteran in the final season of his three-year, $6 million contract. But he can still play, having ranked second on the team with 151 tackles despite gutting it out on a painful foot injury for the second half on the season.
That's not to say that Brooking, who has been sidelined since the second day of camp by a strained hamstring but hasn't missed a game since his second NFL season, needs to continue playing every snap. That clearly isn't the case.
Brooking would probably be more effective with a reduced workload, and Lee needs to play a significant role in the defense. The mentor and pupil should split time, with Bradie James also getting more snaps off than in the recent past, particularly in the nickel and dime packages.
The ability of Brooking to contribute on the field isn't the only good reason he needs to be on the roster this season. The Cowboys couldn't ask for a better role model to help groom the young inside linebackers.
"The guy for me is the pinnacle of what I'd like to be as a football player," said Lee, who picks Brooking's brain on topics ranging from film study to diet. "From a talent perspective, from a knowledge perspective and from just how professional he is. That's why I'm excited to have him around, because he's helped me every chance he's got."
Brooking can continue to help the Cowboys in various ways this season, so there's no reason to create a hole by releasing him.
LISTEN LIVE!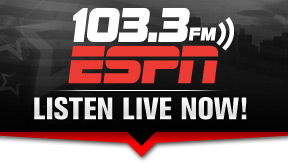 Want to sound off on today's Hot Button topic? Give us a call at 214-787-1033. Listen Live »