ROMO IS THE BETTER QB

By Todd Archer
ESPNDallas.com
Archive
We're splitting hairs because the Philadelphia Eagles and the Cowboys can win with either quarterback. But if you're asking who is the better quarterback right now, I don't believe it's a sure thing that Michael Vick takes home the award over Tony Romo.
What's funny is we completely dismiss the Giants' Eli Manning -- the only quarterback in the division with a Super Bowl win. But outside of Giants fans, coaches and the Manning family, I don't believe Eli would crack the top two on other lists either.
Maybe I just have Vick's preseason performance against Pittsburgh in my head. He forced throws. He wasn't accurate. He looked off. He looked more like the Vick from his Atlanta days.
Vick was tremendous in 2010. He had his first 3,000-yard passing season. He completed more than 60 percent of his passes for the first time. He had a career-high 21 touchdown passes and a career-low six interceptions in his 372 pass attempts.
Most importantly, the Eagles were 8-3 with Vick as the starter.
But Romo, who -- like Vick -- is entering his sixth season as a starter, has two 4,000-yard seasons and a 3,000-yard season. He has completed 64.1 percent of his passes in his career. He has thrown at least 26 touchdown passes three times. His career low in picks was nine in 2009 and came on 550 attempts.
The knock on Romo is his playoff performances. Until he can win consistently in the postseason, that will be the case. But Vick is 2-3 in the playoffs and was rather unspectacular in the Eagles' loss at home to Green Bay in the divisional round.
Vick was not blessed with the most gifted wide receivers when he was in Atlanta so his passing numbers are skewed. Plus, he's the most gifted runner the NFL has ever seen at quarterback. Sorry, Randall Cunningham and Steve Young.
Romo has been blessed with guys like Jason Witten, Terrell Owens (cursed?), Terry Glenn, Miles Austin, Patrick Crayton and Dez Bryant around him and has put up some of the best numbers in Dallas history.
But Vick -- with DeSean Jackson, Jeremy Maclin, Steve Smith, Jason Avant and Brent Celek -- now has much better weapons than he's ever had, so we'll see if he can replicate in 2011 what he did in 2010.
If he does, maybe I'll change my mind. For now, however, Romo is the better overall quarterback.
VICK IS THE BETTER QB

By Calvin Watkins
ESPNDallas.com
Archive
Tony Romo is a wonderful quarterback. He's accomplished a playoff win and a division title, suffered heartbreaking losses and is considered one of the best at the position.
He's not Tom Brady. He's no Peyton Manning. He might not be that much better than Philip Rivers. He's not even the best quarterback in the NFC East.
The guy in Philly is.
There's nothing wrong with coming in second to Michael Vick, who can beat you with his strong left arm or those elusive legs. When facing the Eagles, a large percentage of the Cowboys' defensive players talk about stopping Vick.
DeSean Jackson plays for the Eagles. So does Jeremy Maclin. But Vick is the man.
In four career games against the Cowboys, Vick has completed 58.1 percent of his passes with seven touchdowns and three interceptions.
And while Romo is respected, when that question is flipped, most Eagles defenders target tight end Jason Witten and wide receivers Miles Austin and Dez Bryant as the Cowboys' offensive weapons.
Not Romo. He's good, but he's no Vick.
He's not the playmaker Vick is. He doesn't scare defensive coordinators the way Vick does.
Vick has twice beaten the Cowboys in his career -- once with the Eagles and once with Atlanta, when he completed just four passes.
As he's gotten older, Vick turned into more of a pocket passer who has a better understanding of the West Coast offense. Vick is not trying to force throws as much as he did when he played for the Falcons. He's patient and now knows he doesn't have to win games by himself.
His durability is a question, as it often is for somebody who is just 6 feet tall and weighs 215 pounds. But there's no debating how Vick beats you.
While Romo can still throw on the run and connect, Vick does it too. His running ability frustrates defenders to no end.
So remember, when the Cowboys play the Eagles this season, the first question you'll hear posed to Cowboys defenders will be about stopping Vick. Not Maclin. Not Jackson.
Vick.
You've heard our takes; now give us yours. DISCUSS
LISTEN LIVE!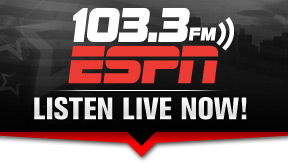 Want to sound off on today's Hot Button topic? Give us a call at 214-787-1033. Listen Live »