THE COWBOYS ARE REBUILDING

By Jeff "Skin" Wade
ESPNDallas.com
"Ben & Skin Show"
The Dallas Cowboys are a team in transition. They're moving away from the bloated, overrated 6-10 disaster that they were last season to a top-notch contender. They just won't reach that status this season. The gulf between the Boys and the really good teams in the NFC is too vast.
The 2011 season is about being excellent in 2012. It's the price they have to pay for their recent history of misevaluating free agents and making fruitless draft picks. They still have plenty of great weapons in Dez, Miles and Witten and one of the better quarterbacks in the NFC to get them the ball. Because of that they'll be competitive. But they have two massive concerns that will prevent them from being a really good team.
The first is an overhauled offensive line that has three new starters, including two rookies and a second-year undrafted free agent in Phil Costa, who logged one start in his four games played in 2010. That may not even be a step back from an offensive line that woefully underperformed last season, but it's doubtful this inexperienced crew will excel.
Costa wasn't able to force his way into the starting lineup on a line last year that screamed mediocrity, but he apparently made leaps and bounds during the lockout away from the guidance of his coaches. Either that or Gurode was truly terrible -- no longer unplayable. And Costa is hurt right now, too. Says a lot about Gurode. I'm a true believer that No. 9 pick Tyron Smith will be a baller. I just think he'll take his lumps this year. Have no idea what to expect from seventh-round pick Bill Nagy as a starter, but I'm not expecting miracles. If these dudes end up being good NFL players, I believe that's way more likely to manifest itself more in the future than in the now.
I'm also of the belief that one of the league's worst defenses in 2010 has a serious deficit of "playmakers." This was a problem that new defensive coordinator Rob Ryan was supposed to be able to rectify with his multiple schemes and looks designed to bring the heat and pressure the quarterback into mistakes.
Problem is the players haven't had time to absorb it.
This explains why Ryan was taking the blame for putting "too much in right now" after the Chargers loss. The defense didn't look good against the Vikings, either. I believe Ryan will eventually have a positive impact here -- it's just going to take time. But time is actually what lowered expectations has afforded this team. The Cowboys won't be contenders and shouldn't be expected to be. They'll be competitive, but their shortcomings will render them average as they spend 2011 transitioning to the team that finally distances itself from a disappointing recent history. They'll miss the playoffs this season, but ideally 2011 will show them that 2012 will be great.
You've heard our takes; now give us yours. DISCUSS
THE COWBOYS ARE NOT REBUILDING

By Tim MacMahon
ESPNDallas.com
Archive
Head coach/interior decorator Jason Garrett has really spruced up the area around the Cowboys' locker and meeting rooms at Valley Ranch.
There are massive digital clocks to make sure that everyone knows the exact time. There are large photographic shrines to the franchise's five Super Bowl champions to make sure everyone is well aware of the Cowboys' proud history.
But, believe it or not, a thorough search of the area didn't turn up a single white flag.
Nor should there be. Can we take a break from all this rebuilding talk to remind folks that the Cowboys had a 5-3 record with Garrett in charge last season? The three losses were by a total of seven points. And that was with a backup quarterback.
Suddenly, with a healthy Tony Romo, this team doesn't have a chance to be competitive? C'mon.
There are maybe a dozen franchise quarterbacks in the NFL. No team that has one is eliminated from playoff contention in August. Romo is a franchise quarterback -- at least during the regular season -- and he's surrounded by one of the league's best arsenals of playmakers.
Tight end Jason Witten is a potential Hall of Famer in his prime. So is outside linebacker DeMarcus Ware.
It isn't acceptable for a team with that kind of talent to be playoff spectators. Let's not act as if a .500 season would be some sort of accomplishment for the Cowboys.
Yes, this team has holes, or at least some huge question marks. The defense was dreadful last season, but that's attributable to underachieving, not a lack of talent. The core remains from the unit that allowed the fewest points in the NFC two seasons ago. Can cornerback Mike Jenkins and outside linebacker Anthony Spencer return to 2009 form? If so, it'll be amazing how this defense morphs from awful to above average.
Oh, and about that baby-faced offensive line: They can't be much worse than the guys they are replacing. Andre Gurode, Leonard Davis and Marc Colombo all gave the Cowboys some good years, but they were big parts of the problem last season. At least the line will be more athletic with unproven youngsters Tyron Smith, Bill Nagy and Phil Costa.
Funny, we haven't heard any rebuilding talk coming from Philadelphia despite the Eagles starting a couple of rookies on the offensive line.
OK, these Cowboys aren't a Dream Team. But their fans aren't doomed to looking forward to the draft by Halloween, either.
LISTEN LIVE!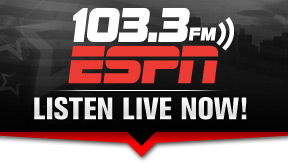 Want to sound off on today's Hot Button topic? Give us a call at 214-787-1033. Listen Live »