DEZ SHOULD RETURN PUNTS

By Tim MacMahon
ESPNDallas.com
Archive
It was a silly second guess by Jerry Jones in the heat of the moment after a gut-wrenching loss.
It makes no sense to hint that it'd be in the Cowboys' best interests to keep Dez Bryant from returning punts.
So Bryant bruised his quad on a punt return in the fourth quarter Sunday night. Big deal. Bumps, bruises and, yes, even broken ankles happen in football. That doesn't mean one of the NFL's most electrifying return men should be put in bubble wrap on fourth downs.
Bryant doesn't excel as much on kickoff returns. Those also are more dangerous plays than punt returns, as evidenced by the ankle fracture that ended his rookie season four games early. So it's reasonable to keep him off kickoff returns.
But Bryant belongs back there returning punts, at least on a situational basis.
"He has so much ability in that area, you just don't want to take him off it completely," Jason Garrett said.
Jerry knows this as well as anybody. It just took him a day or two to come to his senses.
There was Jerry during his Tuesday radio appearance on KRLD-FM, reminiscing about when he put together a highlight reel of Deion Sanders returns to convince Barry Switzer to use the Hall of Fame cornerback as a special teams weapon.
The same logic applies to Bryant, except that he isn't an established superstar yet.
"When it's important enough, in my mind, he should be used," Jerry said. "But it has to be judiciously done."
"Prime Time," of course, was one of the all-time elite punt returners. Guess what? Bryant must be even better.
Don't believe me? The numbers don't lie, baby.
Sanders scored on six of 212 punt returns in his career, averaging 10.4 yards per pop. Bryant has averaged 14.2 yards on 16 punt returns, two of which he's taken to the house.
You don't deny a dynamic threat such as that a chance to change games. That'd be playing scared and plain stupid.
DEZ SHOULD NOT RETURN PUNTS

By Todd Archer
ESPNDallas.com
Archive
If Dez Bryant is going to return punts, DeMarcus Ware should be on the punt block team because of his speed off the edge or Felix Jones should return kickoffs.
If you're going to throw somebody as important as Bryant on punts, it's only fair the Cowboys use all their best players on special teams.
Now, I'm not opposed to using Bryant on a punt return. Here is the only scenario: The Cowboys are down by a touchdown late in the fourth quarter and they need to score or set up field position. How's that?
Other than that, I'm letting somebody else do it. Dwayne Harris was dangerous doing it at East Carolina. I'll give him a chance. Bryan McCann returned a punt 97 yards for a touchdown last year off a heads-up play. Patrick Crayton, who is not as gifted athletically as Bryant, returned two for scores in 2009. If he ever gets healthy enough, Terence Newman can help out as well.
Bryant is too valuable to the offense. Whether he got hurt on the punt return Sunday versus the New York Jets or not, he was not the same player after he bruised his quadriceps.
He lost his edge. He was off to a magnificent start, and it didn't matter whether Darrelle Revis was defending him. Bryant will have the athletic advantage on every cornerback he faces this season. Take him out of the offense, and the field shrinks. Life gets harder for Tony Romo, Jason Witten, Miles Austin and the young offensive line.
I'd rather have Bryant for 60 offensive snaps. When (or if, I guess, because I don't want to get the great Drew Pearson mad at me for anointing him) the Cowboys sign him to a contract extension, it will be because of his skills as a wide receiver.
It's just not worth it for him to return punts.
You've heard our takes; now give us yours. DISCUSS
LISTEN LIVE!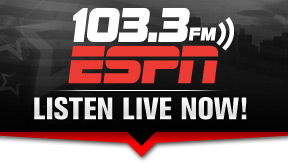 Want to sound off on today's Hot Button topic? Give us a call at 214-787-1033. Listen Live »