THE COWBOYS NEED TWO KICKERS

By Calvin Watkins
ESPNDallas.com
Archive
When David Buehler returns from his groin injury against the New England Patriots, he should go back to handling kickoff duties.
No, there's nothing wrong with Dan Bailey, who replaced Buehler the last two games. Bailey was terrific, making his last 11 field goal attempts and nine of his 13 kickoffs went into the end zone (five were touchbacks).
Before Buehler was injured, seven of his eight kickoffs made the end zone and five were touchbacks.
Bailey is still trying to find a groove on kickoffs, and he might not get there until next season. He hasn't handled kickoff duties on a consistent basis since his sophomore year at Oklahoma State.
So Buehler's experience -- he's got 56 touchbacks in his three-year career, the most in Cowboys history -- is enough to keep him on this team. He's also athletic enough to run downfield and make a tackle -- one of the reasons he was an attractive fifth-round draft pick in 2009.
Bailey has a good leg, but not enough for a potential game-winning 50- or 51-yard field goal. Buehler can do this.
The Cowboys have kept two kickers for a while, but things went haywire for Buehler last season.
It's uncertain if Bailey is the guy. He's a rookie. And while the Cowboys had success with a rookie kicker in the past (see, Nick Folk), you can't depend on that when wins are so precious. And, besides, the Cowboys wanted Kai Forbath over Bailey anyway.
The Cowboys have not lost any games because of the kicker spot. If anything, Bailey won games against the 49ers and Redskins.
So we've seen Bailey make pressure kicks in September. We need to see more. If called upon, can he make a big one in New England next week? How about one in Philadelphia?
We're not sure.
Holding a roster spot for Buehler isn't hurting anything. Sure, the Cowboys could maybe use it for another corner or inside linebacker, but the addition of Frank Walker and the expected debut of Bruce Carter will only help.
Having Buehler and Bailey on the roster is a good thing, for right now, until somebody fails.
THE COWBOYS DON'T NEED TWO KICKERS

By Todd Archer
ESPNDallas.com
Archive
The Cowboys' decision to keep two kickers at the beginning of the season was curious. That they are continuing to keep two kickers is testing logic.
David Buehler has missed the last two games with a groin injury and Dan Bailey has handled the kickoff duties. He has touchbacks on five of his 11 attempts.
Buehler had five touchbacks on 10 kickoffs.
Is keeping two kickers really worth it?
Buehler understands the business. He said Tuesday he has to hurry back to reclaim his job. He knows he is a luxury and he has to make himself a necessity. Fast. And if he doesn't, then he will not have a job.
There is no doubting Buehler's leg strength. If he displayed more accuracy during training camp, the Cowboys would have cut Bailey.
If Buehler was automatic on touchbacks, then maybe I would think a little differently. If the Cowboys had a large number of cold-weather games in the last month of the season, then maybe I would reconsider. But they don't. The only guaranteed cold-weather game is Jan. 2 at the New York Giants. They play at Washington on Nov. 20, but it is possible they get a nice afternoon as well. But the other November and December games are at Cowboys Stadium, Arizona and Tampa Bay.
The Cowboys have suffered a number of injuries in the first month of the season and have not yet needed a roster spot. But they are playing with fire and if they keep going down this road, they will get burned.
Maybe we can compromise here, Calvin.
Don't get rid of him. Just put him on injured reserve.
Happy?
You've heard our takes; now give us yours. DISCUSS
LISTEN LIVE!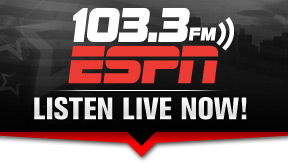 Want to sound off on today's Hot Button topic? Give us a call at 214-787-1033. Listen Live »