ROMO IS BEST SUITED TO HOLD

By Calvin Watkins
ESPNDallas.com
Archive
This isn't a complicated issue.
Until Mat McBriar returns healthy from nerve damage in his left foot, Tony Romo should be the holder for kicks. He doesn't like doing it -- the fumbled snap in the 2006 playoff loss to Seattle might have something to do with that. But Romo is the best man for the job.
Romo had to be reminded to return to the huddle and get ready to hold a few times in Sunday's victory over Seattle. It was pretty funny. But it's no laughing matter when it comes to the coaching staff's failure to get a backup ready for McBriar.
The coaching staff needed to have David Buehler, the kickoff specialists, or Jon Kitna, the backup quarterback, ready to replace McBriar if necessary. We know Buehler and Kitna will be active every week during the season. So if something happened to McBriar during a game, the Cowboys have somebody else other than Romo who could hold. If that happens, Romo can relax on the sidelines during field goals and point-after attempts.
It's pretty simple really, but the coaching staff has made this an issue.
Romo will be fine doing it, he just needs to be reminded. Besides, this isn't like making an audible at the line of scrimmage with 60,000 people screaming in your ear. We're not saying holding is an easy thing -- just look at what happened in that playoff game. You're challenged with high snaps, low snaps and short hops. You might have to get up and throw a pass under duress. All sorts of bad things can happen when you're the holder. It could turn into a good thing if the Cowboys fake a kick now that they have a legit threat who can throw the ball to someone.
Having Romo as the holder isn't the end of the world. It's a temporary thing that can only benefit the Cowboys.
ROMO HAS TOO MANY OTHER DUTIES

By Todd Archer
ESPNDallas.com
Archive
Think about everything Tony Romo has to do for the Dallas Cowboys: get the play call from Jason Garrett, recite the play to the offense in the huddle, invariably have to line up a wide receiver or running back or tight end, point out the Mike linebacker on defense, communicate that to the offensive line so the protection is correct, read the secondary before the snap, send a player in motion, look at the play clock, and, if in shotgun, catch the snap.
All of that happens within seconds.
And that's on a good play. As we've seen more than a few times, Romo has had to do more than what is just listed above.
So now let's make sure he's the holder for kicker Dan Bailey. Good grief.
No wonder Romo forgot just about every time he had to hold for Bailey in Sunday's win over the Seattle Seahawks.
There has to be somebody else on the roster who can do it. Jason Garrett keeps talking about candidates on the roster but the only person he named is Jon Kitna, and the veteran has not been a holder in a career that dates to the AFL. Stephen McGee was active last week. He could have done it.
And if he hasn't practiced the job, then that's a mark against the coaches. During training camp, I saw rookie wide receiver Dwayne Harris handle some snaps off the side before practices. I never saw him do it with a full team. It was just Mat McBriar and Chris Jones.
McBriar was inactive last week because of a nerve problem that affects his foot. Jones was active but he didn't hold. Why?
It's not that Romo can't do that job, although I can hear those snickering about the 2006 playoff game at Seattle. It's that he shouldn't do the job.
You've heard our takes; now give us yours. DISCUSS
LISTEN LIVE!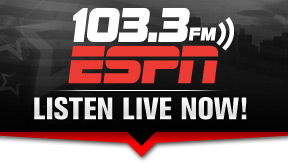 Want to sound off on today's Hot Button topic? Give us a call at 214-787-1033. Listen Live »