DEMARCO MURRAY WILL WIN HONOR

By Tim MacMahon
ESPNDallas.com
Archive
The NFL Offensive Rookie of the Year award is clearly No. 1 overall pick Cam Newton's to lose. And losing is something he's doing a lot lately with the 2-7 Carolina Panthers.
If Carolina keeps losing and the Dallas Cowboys ride third-round running back DeMarco Murray to a division title, the rookie of the year voters will have a difficult decision to make.
That isn't a difficult scenario to envision.
It's certainly a stretch to think that Murray will continue to average 150 rushing yards per game, as he did while setting a franchise record for rushing yards in a four-game span during Felix Jones' absence. Let's try to be a little more realistic and project Murray to average around 100 yards per game down the stretch.
If that happens, it's a good bet that the Cowboys will beat out the New York Giants for the NFC East crown. It'd also put Murray in the 1,400-rushing-yard neighborhood.
There have been 16 rookie running backs in NFL history to rush for at least 1,300 yards. All but two of those backs earned offensive rookie of the year honors. The exceptions -- Curt Warner in 1983 and Jamal Lewis in 2000 -- were beat out by running backs who put up bigger numbers.
Newton's numbers could end up being unprecedented for a rookie quarterback, but Murray is in the process of putting together a pretty strong statistical case, too.
Murray's numbers should have more weight if his emergence is the key to the Cowboys qualifying for the playoffs.
You've heard our takes; now give us yours. DISCUSS
CAM NEWTON CAN'T BE BEAT

By Calvin Watkins
ESPNDallas.com
Archive
DeMarco Murray is a wonderful story. His 601 rushing yards the last four weeks is a franchise record for that amount of time. Murray has taken over the Dallas Cowboys' offense, with Miles Austin battling a hamstring injury, Dez Bryant's inconsistency and a young offensive line trying to develop.
But Murray is not the lead dog to win offensive rookie of the year.
It should go to Carolina Panthers rookie quarterback Cam Newton.
He's been fantastic for a team that is maybe two years away from playoff contention.
Newton is playing this season after being the No.1 pick in the draft. There were many expectations and much criticism for Newton when he came out of Auburn.
In a short period of time, Newton has proved he will have a strong NFL career.
Newton became the first rookie in league history to pass for more than 400 yards in his first start. He also tied the NFL record for the most passing yards in a game by a rookie. In his first eight games, Newton threw for 2,393 yards, the most by a rookie in that time span in league history.
He is a physical presence who can beat you with his arm and legs. This is what the late Al Davis thought he had in Oakland with JaMarcus Russell, who is now retired in Mobile, Ala.
Newton has struggled at times, most rookie quarterbacks do, but considering there were no offseason workouts for him to develop a chemistry with his receivers and learn the complexities of an NFL offense, he's the best rookie in the league right now.
Yes, Andy Dalton is playing well for the Cincinnati Bengals. Murray is doing good things in Dallas.
But let's be honest, Cam Newton is the best rookie in the league right now.
LISTEN LIVE!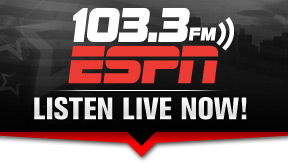 Want to sound off on today's Hot Button topic? Give us a call at 214-787-1033. Listen Live »