THE COWBOYS NEED A PLAYCALLER

By Tim MacMahon
ESPNDallas.com
Archive
Jason Garrett is a better head coach than he is an offensive coordinator. Would he be an even better head coach if he hired a quality offensive coordinator?
Jimmy Johnson certainly thinks so, having expressed that opinion more than once on Fox's pregame show. It's hard to disagree with the man most responsible for building Dallas' last dynasty.
Of course, Jerry Jones might argue that he is most responsible for building the Team of the '90s. And he would definitely argue that Garrett needs to continue calling the offensive plays.
Never mind that two extremely qualified candidates with Cowboys roots could be available this offseason. The Cowboys wouldn't try to hire Norv Turner or Tony Sparano if the Chargers or Dolphins fire their head coach, but it'd make a lot of sense for Garrett to hand over play-calling duties to one of those men.
Turner taught Garrett a lot of what he knows about offense. Sparano had his play-calling duties stripped when the Cowboys hired Garrett, but it's not a coincidence that the season they worked together was Garrett's most successful as an offensive coordinator. Either one would be an outstanding hire, allowing Garrett to focus more on game management and the CEO aspect of being a head coach, although he'd still have his fingerprints all over the game plan.
Jones often says he doesn't want a "walkaround head coach," a term he uses to describe Johnson and Bill Parcells. The Cowboys' owner is convinced that calling plays gives a head coach more "stature" with the team.
Sorry, but I don't recall getting respect from players ever being an issue for Johnson or Parcells.
GARRETT CAN HANDLE DOUBLE DUTY

By Todd Archer
ESPNDallas.com
Archive
We're asking this question because Tony Sparano is coming to town Thursday as Miami's head coach and there are not many people who believe Sparano will be with the Dolphins in 2012. If the Cowboys were playing San Diego, I'd assume we'd have the same question with Norv Turner's status in doubt with the Chargers.
But, no, Garrett should not give up the play-calling duties. He has divvied up the responsibilities of an offensive coordinator during the week to Hudson Houck, who is the running game coordinator, and his brother, John, the passing game coordinator.
On Sunday, Garrett calls the plays.
I'm sure plenty of people believe calling the plays is too much for a head coach to handle with having to think about the entire game. I'm not one of those guys. If you want to name somebody an offensive coordinator that's fine, but Garrett will continue to call the plays. Wade Phillips did not help himself in the eyes of Jerry Jones when he gave coordinator Brian Stewart too much leeway in 2008. Stewart was gone the next year and Phillips called the defenses until he was fired midway through the 2010 season.
Green Bay and New Orleans have won the last two Super Bowls. Mike McCarthy calls the plays for the Packers. Sean Payton does the same for the Saints, when he's not holed up in the press box because of a knee injury he suffered a few weeks ago.
It seems to work pretty well for them. And, like Garrett, they are first-time head coaches.
You've heard our takes; now give us yours. DISCUSS
LISTEN LIVE!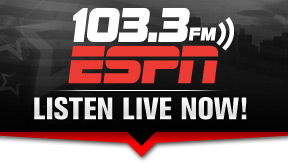 Want to sound off on today's Hot Button topic? Give us a call at 214-787-1033. Listen Live »