GIVE FELIX JONES THE BALL

By Tim MacMahon
ESPNDallas.com
Archive
Felix Jones' high ankle sprain was a blessing in disguise for the Dallas Cowboys. It forced them to find out whether DeMarco Murray could be the backfield's lead horse.
That answer is obvious, based on the fact that the rookie owns franchise records for the most rushing yards in one-, three-, four- and six-game spans.
That doesn't mean that Jones, who was drafted in the 2008 first round to be a complementary back, should be totally phased out of the offense. There's no reason other than injury for Jones to not get a single carry, as was the case in the Thanksgiving win.
"Felix will continue to get himself acclimated back into the offense," coach Jason Garrett said, "and be a big-impact type player for us like he's been in the past."
As fragile as he is, Jones is a proven weapon as a change-of-pace back. Look at his production his first two seasons, when he averaged 6.5 yards per carry in a reserve role. He gained 10 or more yards on 27 of 146 carries in those years.
There's room in the Cowboys' offense for that sort of threat to get between five and 10 carries/catches per game. With his big-play potential, that's a significant role.
The Cowboys also need to be somewhat careful about riding Murray too much. Murray, who slipped into the third round of the draft in large part due to concerns about his durability, has at least 25 touches in five of the last six games. Can he keep up that pace and still be fresh for the playoffs?
There's no need for the Cowboys to find out. They have the luxury of managing Murray's workload by giving the ball to another dynamic back on occasion.
LESSER ROLE FOR FELIX JONES

By Calvin Watkins
ESPNDallas.com
Archive
Felix Jones is a solid performer for the Dallas Cowboys. He's scored on long runs, spectacular plays and grind-it-out, short-yardage plays.
But for right now, he's not the answer. Jones still has a place in the Cowboys' offense, but not as much as DeMarco Murray.
Murray has taken the league by storm and is ranked ninth in rushing and leads all rookies with 834 rushing yards.
He has better vision and displayed a better ability to make defenders miss than Jones. He's turned into a dependable back who can handle a 20-plus-carry game and not scare the Cowboys' coaches into thinking he will get hurt on the next play.
Murray is the hot player in Jason Garrett's offense.
Jones does have a role -- as the main kick returner, where he can spark a dismal unit that's averaging just 20.5 yards per return.
But Jones has never been as explosive as Murray.
Jones knows the plays, understands the blitz pickups and can get a few carries here and there. However, if Thanksgiving Day is any indication of where he stands with the Cowboys, check out this number: Zero.
That's the number of carries Jones had versus the Miami Dolphins. The Cowboys still won, however, thanks to Murray closing out the game.
When Jones was the starter this season, there were always questions about his ability to finish games and stay healthy.
The Cowboys have no issues with Murray doing just that. Going forward, the Cowboys shouldn't change a thing.
You've heard our takes; now give us yours. DISCUSS
LISTEN LIVE!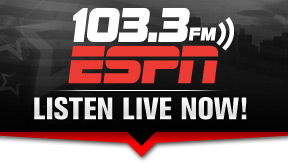 Want to sound off on today's Hot Button topic? Give us a call at 214-787-1033. Listen Live »