COWBOYS NEEDED NNAMDI

By Tim MacMahon
ESPNDallas.com
Archive
It's a matter of time before the Dallas Cowboys replace Terence Newman.
They tried during training camp, no matter how much revisionist history you might hear from the Valley Ranch decision-makers. Newman would have been cut had the Cowboys succeeded in their attempts to sign Nnamdi Asomugha.
The Cowboys just didn't try hard enough despite interrupting training camp drills to hand Jerry Jones' cell phone to defensive coordinator Rob Ryan on the Alamodome sideline. They made a lowball offer of $40 million over four years, which made it easy for Asomugha to accept the Eagles' five-year, $60 million offer.
That's a steep price to pay, but Asomugha would have made arguably the Cowboys' biggest weakness significantly better this season and filled an obvious hole for the future.
Would it have been worth it? Yes, if you take into account that cutting Newman would have created $8 million in salary cap space this season.
As it is, the Cowboys hope a struggling 33-year-old cornerback doesn't continue to get exposed, as Newman has since a solid first half of the season. The Cowboys will have to address cornerback this offseason by investing a high draft pick or overpaying for a free agent.
The 30-year-old Asomugha hasn't been as dominant in Philadelphia this year as he was in the last several seasons for the Raiders, where he was coached by Ryan for a couple of years. However, he's still respected and feared by opposing offenses. He's only been targeted 30 times this season, according to Stats Inc., allowing 15 completions for 276 yards.
By comparison, Newman has allowed 521 yards on 34-of-61 passing when targeted this season.
With Asomugha joining Mike Jenkins, the Cowboys would have had two good corners, which would turned a below-average pass defense into a good one.
That would have been enough to push a team fighting for a playoff berth into serious Super Bowl contention.
COWBOYS DON'T NEED NNAMDI

By Ian Fitzsimmons
ESPNDallas.com
Archive
While yes, the Dallas Cowboys secondary has been stinky this season, they should not have paid to sign Nnamdi Asomugha. Instead, the Cowboys should have tried to sign a front-end pass rusher to help DeMarcus Ware and Jay Ratliff.
Somebody like Cullen Jenkins (six tackles for loss, 5.5 sacks and 21 quarterback hurries), who is having an impact this season with the Eagles. If the pass rush does its job, something the Cowboys' hasn't, then it doesn't really matter who is in the secondary.
The problem with the secondary is the pass rush. If you're not putting the quarterback under duress, you're not doing the job effectively. Asomugha is a fantastic corner, but he's not playing in the right scheme. He's more of a man-to-man player, and while teams didn't throw his way when he played for Oakland, they are coming after him in Philly.
He has three interceptions and eight passes knocked down on the year. He would have been an upgrade over Terence Newman, of course, but it wouldn't have mattered if the Cowboys can't get to the quarterback.
Ware had been an elite player this season and now with his stinger messing with him in the final weeks of the season, another pass rusher would take the pressure off. Please don't give me Anthony Spencer. He's been given chance after chance after chance, with little impact. A player like Jenkins would have made Rob Ryan's job easier.
But it's going to be hard now, especially with the Eagles still in the playoff hunt and Asomugha playing with some confidence. So yeah, the Cowboys secondary could use him, but the team could have also used a better pass rusher and that's where the fun starts.
You've heard our takes; now give us yours. DISCUSS
LISTEN LIVE!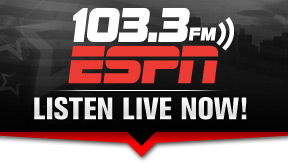 Want to sound off on today's Hot Button topic? Give us a call at 214-787-1033. Listen Live »