I'M TAKING THE UNDER

By Jeff Caplan
ESPNDallas.com
Archive
I picked the defending champion Dallas Mavericks to finish the 66-game regular-season schedule with a respectable 40 wins and 26 losses, and I'm sticking to it.
Fourteen games over .500 might not seem like much for a franchise that has won at least 50 games (in an 82-game schedule) in each of the past 11 seasons and won 57 last season en route to the championship.
This, however, is no ordinary season. Six players from the title team are not on this team. Newcomers Vince Carter, Delonte West and Lamar Odom -- and now throw in Yi Jianlian -- are going to take time to get settled in, and the team as a whole will need time to mesh.
As seen through a 5-5 start, the settling in process at both ends of the floor remains an ongoing process.
I picked 40 wins mainly because of the shortened training camp that dramatically reduced the time available for the team to familiarize, and the toll that this ridiculously compacted schedule will take on the league's oldest team.
We've already seen point guard Jason Kidd tweak his lower back in a sixth game in eight nights. Kidd, 38, will miss more games (three) due to this injury than he missed in any of the past six seasons.
Dallas will play a total of 20 back-to-backs and one back-to-back-to-back. While the Mavs were quite good last season on the second night of back-to-backs, this season is an entirely different dynamic because of so many stretches that cram four games into five nights.
Impressively, the Mavs beat the Oklahoma City Thunder under such conditions, but that figures not to be the norm.
This month, Dallas plays a team-record 18 games with 12 being a part of a back-to-back. In March, 17 games are on the docket, 10 on the road, including a stretch of seven games in nine nights in six cities. Within that stretch, the Mavs will play five games -- at Oklahoma City, at home against New York, at Phoenix, at Sacramento and at Golden State -- over six nights. Brutal.
Owner Mark Cuban has said it and so has Kidd: This season is not about piling up wins. It's about managing minutes and managing health. The goal is to get into the playoffs, whatever the seed, and do it with this team's older legs in as reasonable condition as possible to make a run at a repeat.
It's a recipe for a respectable 40-win season.
You've heard our takes; now give us yours. DISCUSS
GIVE ME THE OVER

By Jeff "Skin" Wade
ESPNDallas.com
"Ben & Skin Show"
In the first few weeks of the season, the Dallas Mavericks have played 10 games and are sitting at a flat 5-5. They are trending upward, however, after getting absolutely thrashed in the first two games of the season. But they still haven't even begun to scratch the surface of what type of team I think they'll be. The question is how long will it take for these guys to play closer to their potential than just sort of floating along and not aggressively asserting themselves, as has been the case here in the early going.
If the Mavs are going to finish with 41 or more wins they'll need to go at least 36-20 the rest of the way. Caplan has given you the sound logic that works against that. Here are some things working in their favor.
The West is down, in general. A few teams are really bad, actually depressing to watch: Sacramento, New Orleans, Houston. A few teams are looking up but they're still not very good: Minnesota, Golden State and Utah (despite their good start). And then there's Phoenix, which isn't good, isn't looking up but still veteran enough to feed off the bad teams to make its record look somewhat respectable. Games against those teams represent about 35 percent of Dallas' remaining schedule.
The Mavericks also have a ridiculously deep team. I'm not talking about several guys who can come off the bench and contribute on a consistent basis. I'm talking about top-level ballers that can flat out win you games. Dallas is at the top in the league in bench scoring and those dudes haven't even come close to hitting their stride yet as a unit. Not even sniffing it.
This will be a tremendous strength when dealing with the demanding schedule that impacts every single team in the league. That brutal stretch Caplan pointed out in March, everybody has those. No getting around it. While I think you should make the argument that young, deep teams such as Portland and Denver are better equipped to deal with those types of issues, I'd say Dallas' high-quality depth puts them just a notch below those types of squads with ample, youthful legs on their side.
The Mavs formula to get that done would be something like this:
Win 75 percent of your games against "bad" West teams -- 15-5
Basically split with strong West teams -- 10-9
Be strong against the East -- 9-6
That last part sounds tough so I figure they'll need to go at least 6-3 at home against East the rest of the way. That means no excuses against the Charlotte, New Jersey and Washington portion of the schedule.
There will be injuries. The question is will dudes miss huge chunks of the schedule. If they do, it becomes a giant hurdle. If they don't, the Mavs should be able to get a 41-win season done.
LISTEN LIVE!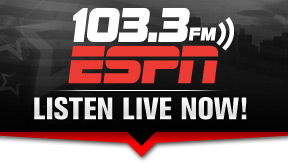 Want to sound off on today's Hot Button topic? Give us a call at 214-787-1033. Listen Live »