MAVS CAN LAND BOTH

By Tim MacMahon
ESPNDallas.com
Archive
The odds of Dallas landing a superstar duo in free agency aren't close to being a Dwight Howard slam dunk. More like a contested 3-pointer by local lad Deron Williams.
So I'm saying there's a chance. And it's much better than the one-in-a-million odds that the "Dumb and Dumber" dude got so excited about, as long as the Orlando Magic don't deal Howard to the New Jersey Nets before the trade deadline.
If Howard and Williams want to form the core of a contender together, they'll basically have two options. They can move to Brooklyn with the Nets or they can come on down to Dallas.
Based purely on basketball, that'd be a no-brainer of a decision because of the presence of Dirk Nowitzki.
The Nets would essentially have to start from scratch around the co-superstars. The Mavs would pair them with a sweet-shooting, 7-foot Hall of Famer who would happily move into a complementary role.
The Mavs also have a major edge in the front office. Mark Cuban and Mikhail Prokhorov are both brash billionaire owners willing to spend big bucks, but only one has proven he can build an NBA contender.
Cuban and president of basketball operations Donnie Nelson are the architects of a franchise that has won 50-plus games in 11 consecutive seasons -- which has happened three times in NBA history and just raised a championship banner. Nets general manager Billy King has helped build a grand total of one 50-win team in a decade and a half of NBA front-office work.
Of course, money might have something to do with the decisions.
The Nets can offer both guys max contracts, no questions asked. It won't be that simple for the Mavs.
The Mavs can realistically strip down their roster other than Dirk -- using the amnesty clause on Brendan Haywood or Shawn Marion, buying out (or better yet paying a trade partner to buy out) Lamar Odom, not picking up the option on Vince Carter and others and trading players to under-the-cap teams for essentially nothing in return -- and probably come close to having enough space for a pair of max-level contracts. But it's unlikely they'll have enough room for two full-max contracts, and the rules forbid them from offering either a five-year deal.
But if Williams and Howard want to win, the Mavs' offer will be awfully enticing. And have we mentioned there's no state income tax in Texas?
You've heard our takes; now give us yours. DISCUSS
DON'T GET YOUR HOPES UP

By Jeff Caplan
ESPNDallas.com
Archive
The question before us is can the Dallas Mavericks reel in both Deron Williams and Dwight Howard? Sure, they can. But the real question is will they actually land the disillusioned duo?
That answer is no.
First and foremost, the Mavs must have both players reach free agency to have a shot at either, and then manufacture further financial flexibility to land both. Among the few teams that boast potential trade bait, Dallas, with its veterans and unproven youngsters, isn't one of them.
Yes, Orlando Magic general manager Otis Smith has said he just might take this thing into the summer as some sort of proof to the fan base that the organization did all it could to keep its big-market-bound big man. That, of course, risks losing Howard for nothing.
An argument from some suggests that getting something isn't always better than nothing under the new CBA, because nothing translates to cap space. And cap space translates to freedom to sign free agents, make trades and make use of the full mid-level exception.
Fine, but how exactly is Orlando better off, for example, by not taking Los Angeles Lakers center Andrew Bynum and other players in a trade if it also affords the Magic a way to rid itself of other cumbersome contacts?
If Howard blows town for nothing, is Orlando going to tell its fan base not to fret, that upcoming free-agent centers Nazr Mohammed, Marcus Camby and Mehmet Okur top its wish list?
It's difficult to seriously buy the wait-it-out game. When the clock strikes 3 (ET) on March 15, the NBA's trade deadline, Howard will not remain a member of the Magic.
As for the unhappy Williams, he's talked of moving to Brooklyn with the Nets if they can land D-12. He's spoken of the tug to play for the hometown Mavs. And just the other day he left the possibility of picking up his $17.8 million option for next season on the table.
But, if the Nets don't think they'll get Dwight and if D-Will doesn't commit, it will be time to make a deal. If Orlando isn't going to play with the Lakers and continue that franchise's amazing run of acquiring the game's best center in every era, then maybe the Nets will ship Williams to Tinseltown. After the Chris Paul debacle and subsequent trade to the Clippers, the Lakers and Williams would make a pretty nice fit.
The bottom line is neither Howard nor Williams is likely to make it to free agency. One might, but two won't and that won't help hopeful Dallas land the disillusioned duo.
LISTEN LIVE!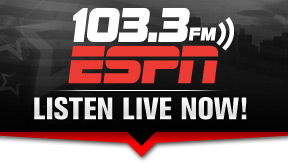 Want to sound off on today's Hot Button topic? Give us a call at 214-787-1033. Listen Live »