HAMILTON'S PERFORMANCE WILL SUFFER

By Tim MacMahon
ESPNDallas.com
Archive
By far the worst season of Josh Hamilton's big league career came after his previous relapse.
Injuries obviously had a lot to do with that. Hamilton was limited to a career-low 89 games in 2009, when his January relapse became public knowledge in August of that season.
However, his numbers were way down across the board. His batting average (.268) was 30 points lower than it's been in any of his other three seasons with the Rangers. Same with his on-base percentage (.315). His slugging percentage (.426) was down more than 100 points.
Maybe the timing of his struggles were coincidental, but there's likely a link to the stress Hamilton was under that season.
Former Cowboys lineman Blaine Nye once explained backup quarterback Clint Longley's spectacular performance in a Thanksgiving comeback win as a "triumph of the uncluttered mind." That's how Hamilton plays his best ball.
He thrives when life is simple, consisting solely of devotion to his faith and family and trips back and forth to the ballpark.
Hamilton's life couldn't be much more complicated right now.
Hamilton has to deal with his personal demons in the public spotlight. He acknowledged during his Friday news conference that his recent drunken actions could damage his relationship to his amazingly supportive and forgiving wife, Katie, the mother of four girls. And the business of baseball looms as he deals with the uncertainty of entering the last season of his contract.
Hamilton has overcome huge obstacles to become one of the best players in the majors. He's about to begin perhaps his most personally trying season since he broke into the big leagues.
You've heard our takes; now give us yours. DISCUSS
HAMILTON'S PERFORMANCE WON'T SUFFER

By Bryan Dolgin
ESPN Dallas 103.3
Archive
Josh Hamilton is a veteran of enduring off-field issues. He's had to stave off the demons of addiction since his return to the game in 2006. He had a known relapse in the past, but on the field he has managed to become a .308 career hitter, have an MVP season, play a key role on two American League championship teams and record 32 game-winning hits the past two seasons -- the most by any AL hitter.
Hamilton's life on and off the field is always under the microscope and is a mainstay in the court of public opinion. That's what happens when you are a professional athlete and especially a five-tool superstar who has endured a well-documented three-year stretch where he did not play due to drug and alcohol addiction/rehabilitation. By the time Opening Day takes place at Rangers Ballpark in Arlington, two months will have passed since the recent relapse. By then, he should have developed a renewed focus on his sobriety and have a new accountability partner.
So, is it the contract situation that will affect him on the field in 2012?
His contract will weigh on his mind if he wonders daily whether his children's children will be financially set for life, or maybe his children's children's children. Hamilton made more than $3 million in 2009, nearly $9 million in 2011 and will make $12 million this year. Honestly, do you think Hamilton will be thinking heavily about his contract when he is playing in 2012?
OK, I take that back. He has four daughters. He might have to pay for four weddings in the future. If they decide to go to college, have you seen how much tuition costs are these days?! What if they go to a private university?! The contract will weigh heavily on his mind ... kidding aside, no it won't. If this was his first chance to make significant "baseball money" then I might be swayed on the contract topic.
The recent relapse and the pending free agency are fuel for another season where everything Hamilton does will be analyzed and thoroughly dissected by all of baseball's critics. However, the outside world is not allowed inside the Rangers' clubhouse, dugout, on-deck circle, batter's box and outfield during games. All of which are part of Hamilton's ultimate baseball comfort zone. Based on the baseball character of Hamilton combined with the makeup of this Rangers clubhouse, I don't foresee any negative vibes of the outside world penetrating Hamilton's baseball bubble.
LISTEN LIVE!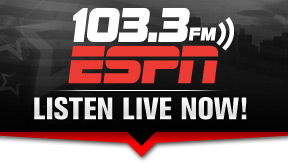 Want to sound off on today's Hot Button topic? Give us a call at 214-787-1033. Listen Live »