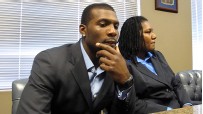 AP Photo/Nomaan Merchant
Time to cut ties
By Ben Rogers
ESPNDallas.com
Archive
The Dallas Cowboys need to part ways with Dez Bryant, much like a person holding a live grenade needs to throw it to avoid injury.
In terms of ticking time bombs, no Cowboy since Pacman Jones has created more balls of nervous sweat on the heads of Valley Ranch officials.
Players with Bryant's rare combination of on-field skill and propensity for off-field danger are easier to stomach when their contributions are a luxury. But when you're relying on them for heavy lifting, you're begging for heartbreak.
Jason Garrett can't effectively overhaul the flawed football culture Jerry Jones has worked so hard to let fester unless all players are held accountable. If Bryant is permitted to operate as a rogue element, free from Garrett's jurisdiction, change is hopeless.
Bryant slipped in the draft for the same reasons we're witnessing now.
Immature behavior off the field is what should have the Cowboys near a breaking point:
Banned from a local mall for saggy pants.
Sued multiple times by jewelers for more than $500,000.
Argument in a Miami nightclub with rapper Lil Wayne.
Multiple sideline outbursts during games.
Fined multiple times by the Cowboys.

And now, we actually have had an arrest. Bryant's mother alleged on a 911 call that her son assaulted her during an argument. She implied it wasn't the first time.

The only people expecting a turnaround in this type of behavior are fooling themselves.

From a personnel standpoint, the incredibly thin and draft-malnourished Cowboys have no choice but to ride out the storm and hope for the best. But as we all know, hope is not a strategy.

Tick, tick, tick.
Cowboys can't afford to lose Dez

By Todd Archer
ESPNDallas.com
Archive
Dez Bryant is signed through 2014. If he does not have another off-field incident between now and then, I expect that to be his final year with the Dallas Cowboys.
Bryant's third season is about to start Sunday in Oxnard, Calif., and he is already at a crossroads in his career. But cutting or trading Bryant would do the Cowboys no good at this time. And that's the key phrase: at this time. My more accurate answer to this question would be, "not yet," which means Bryant gets at least one more chance.
Whether the Dallas district attorney's office goes forward with family violence charges or not, this is a stain on Bryant's résumé. Just as the lawsuits are stains. Just as being late to meetings or missing them altogether are stains.
As I wrote last week, the Cowboys will have to determine whether Bryant is worth all the trouble. If he can have the breakout year some are predicting, then I think the Cowboys show some more patience with him. What would be the magical numbers Bryant would have to hit for it to be considered a breakout year? Certainly better than the 63 catches for 928 yards and nine touchdowns he had last season.
Those are good numbers, but not great, and if you are carrying around the type of baggage Bryant is carrying, they're certainly not good enough to warrant the trouble.
Cutting ties with Bryant now would not be in the best interest of the team, especially if you want to be selfish. Frankly, the Cowboys might not have a No. 3 receiver on the roster, let alone No. 2 (and, yes, I believe Bryant is this team's No. 2 receiver behind Miles Austin, if you're asking).
All offseason we have heard Jason Garrett talk about "the right kind of guys" when discussing the roster, so doesn't this fly in the face of Garrett's motto? Maybe it does, but Garrett was around the Cowboys of the 1990s who won Super Bowls and had off-field incidents -- to put it politely -- as well. Production oftentimes trumps all in professional sports.
Bryant is not a bad kid, but he has to grow up in a hurry. The clock is ticking on what type of player he can be and what kind of generational economic change he can make for his family.
Cutting ties with Bryant now would not help him, nor would it help the Cowboys.
103.3 FM ESPN PODCASTS
Ben & Skin: Jason Garrett Talk
Some Jason Garrett apologists say Jason Garrett is learning on the job. Ben and Skin discuss Garrett's status as the coach of the Cowboys and Skin sounds off on what he thinks of the Cowboys' current situation.
Coop & Nate: Extend Garrett?
Jean-Jacques Taylor wrote a column for ESPNDallas.com that says Jerry Jones should extend Jason Garrett's contract. Say what? Coop and Nate discuss why that is a bad idea.
Ben & Skin: Jean-Jacques Taylor
Ben and Skin challenge Jean-Jacques Taylor on his recent ESPN Dallas column in which he comes to the defense of Jason Garrett.