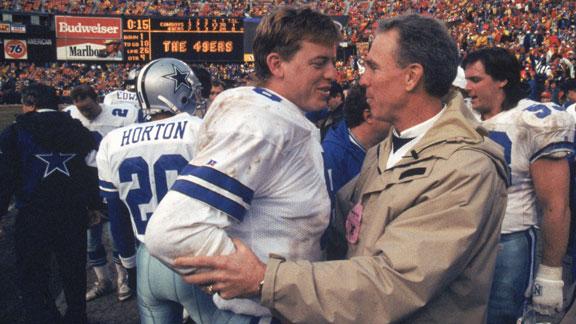 Who is Cowboys' all-time top QB?
TROY AIKMAN
ROGER STAUBACH
One more ring is the thing

By Todd Archer
ESPNDallas.com
Archive
Picking between Roger Staubach and Troy Aikman is an easy decision: Neither Tim nor I will be wrong.
There aren't many places where you can have this either/or debate between such high level quarterbacks. San Francisco comes to mind with Joe Montana and Steve Young. Green Bay is there with Bart Starr, Brett Favre and soon Aaron Rodgers.
Why did I take Aikman?
He never lost a Super Bowl. He has one more title than Staubach.
If the quarterback position is about winning -- and that's all we've heard since Tony Romo became the quarterback here in 2006 -- then Aikman has to be the winner.
Both quarterbacks were doubted. It took Tom Landry some time to get behind Staubach 100 percent. And Jimmy Johnson used a first-round compensatory pick on Steve Walsh. If he really believed Aikman was his guy he wouldn't have done that.
Both were no-doubt Hall of Famers. Both played with no-doubt Hall of Famers.
Aikman's path to Canton, Ohio, however, started with a beating. He went 0-11 as a rookie in 1989. He was pounded so badly on a regular basis that I remember Bill Parcells saying he almost felt sorry for Aikman.
When Staubach took over in 1971, the Cowboys were already one of the best teams in the NFL, even if they couldn't win the big one. They had a legendary coach in Tom Landry and legendary players.
When Aikman took over the Cowboys, the roster was wretched and the team missed the playoffs four times in a five-year stretch. He also had a rookie owner in Jerry Jones and a rookie coach in Johnson.
After that 0-11 record, Aikman went 94-60. He was the MVP of Super Bowl XXVII. He was a six-time Pro Bowler. At the time of his retirement he held or shared 47 of the team's passing records. Romo has since topped Aikman's touchdown mark and in another two years could take his passing-yards mark.
Unlike a lot of quarterbacks of today, Aikman was able to put aside statistics and focus on winning. He could have thrown for more yards and more touchdowns, but the key was winning games. He had Emmitt Smith, the NFL's all-time leading rusher. He had a bulldozing offensive line. He had an opportunistic defense.
Aikman knew if he played it smartly, then the Cowboys would win. And the Cowboys knew with Aikman if they needed him to win games for them, he could do it.
Can't lose with an 85-29 record

By Tim MacMahon
ESPNDallas.com
Archive
Troy Aikman was a tremendous leader. He was an all-time winner among quarterbacks. He played the position with the poise and precision of a fighter pilot.
Roger Staubach was all that and a phenomenal athlete who might have frightened opposing defenses the most when plays broke down for his Dallas Cowboys.
There's no point in picking nits with a pair of first-ballot Hall of Famers who combined to lead the Cowboys to five Super Bowl championships. There aren't many franchises that have ever had a quarterback in Aikman's class, much less better than him.
The Cowboys, however, are one of the exceptions. That's how great Staubach was in the '70s.
Aikman's 94-71 career record as a starting quarterback is impressive. Staubach's 85-29 record is ridiculous. In fact, Tom Brady is the only quarterback since the NFL-AFL merger with a better winning percentage.
It's difficult to compare passing statistics from different eras due to rules changes that progressively favor offenses more and more. (That's part of the reason Tony Romo is in the process of rewriting the passing chapter of the Cowboys' record book.) However, you can compare how quarterbacks stacked up statistically against their peers at the time.
Staubach led the NFL in passer rating four times, yards per attempt twice and touchdowns once. Aikman led NFL quarterbacks in a major statistical category only once, and that was completion percentage.
And ol' Roger The Dodger, as Staubach was called due to his elusiveness, rushed for more than twice as many yards and twice as many touchdowns as Aikman, a prototype pocket passer.
Of course, Aikman has the advantage in the most important stat with his 3-2 edge in Super Bowl rings. It's silly to hold that against Staubach, however.
Just ask Jackie Smith, the tight end whose infamous drop in the end zone ended up being the difference in Super Bowl XIII.
All due respect to Steve Young's San Francisco 49ers, the Cowboys' chief rivals during the '90s dynasty days, but Aikman didn't have to deal with a defense as legendary as the Steel Curtain. Staubach's two Super Bowl losses came against arguably the best NFL team of all time, a Pittsburgh Steelers squad that won four titles that decade.
Aikman's '90s Cowboys would probably have a much better case in the debate about the best team of all time if Jerry Jones and Jimmy Johnson could have just got along, but that's a well-worn discussion for another time.
103.3 FM ESPN PODCASTS
Galloway & Company: Todd Archer
Todd Archer joins Galloway & Company to discuss the Cowboys' latest moves, if the team should extend Tony Romo's contract and much more.
Fitzsimmons & Durrett: John Clayton
John Clayton joins Fitzsimmons & Durrett to discuss the offseason happenings around the NFL and what they mean for the Dallas Cowboys.
Fitzsimmons & Durrett: Ed Werder
Ed Werder joins Fitzsimmons & Durrett to discuss Tony Romo's potential contract extension, the Cowboys' plans for Anthony Spencer and how Joe Flacco's final month of the season impacted the Cowboys' offseason.