Originally Published:
November 8, 2012
When no expectations lead to great ones
When teams are faced with redefining their goals in November, it generally means they had great expectations that were crushed.
[+] Enlarge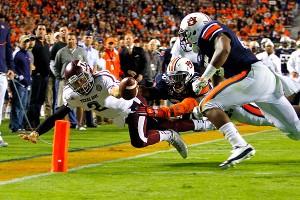 AP Photo/Butch DillRedshirt freshman QB Johnny Manziel has been a revelation for Texas A&M in the Aggies' first season in the SEC.
USC, LSU and Oklahoma are among the teams that have seen their lofty dreams dashed, although the Sooners still could capture a share of their conference championship.
What is left for them to play for? The answer is to play for pride. Play to a standard of excellence as opposed to being defined by circumstances. That will work every time. But getting human beings to do that, especially 18- to 22-year-old males, is a different proposition altogether.
But what about the flip side? What about teams that entered the season with little to no expectations? Sure, they might have given lip service to trying to win a championship, but they were really just focused on making a bowl with a decent swag bag.
All of a sudden, a couple of bounces go the right way, a little-known player turns into a star, and that team takes a peek at the standings and realizes, "Hey, we can do something big!"
Raise your hand if you thought Texas A&M would go to Tuscaloosa this weekend with a chance to win the SEC West. Granted, even if the Aggies beat No. 1 Alabama, any chance of taking the division would require a scenario in which Alabama loses to Auburn. Lloyd Christmas would be hard pressed to give that a chance.
But the Aggies' chances of upsetting the Tide aren't nearly that remote. The spoils of such a victory would include getting thrown into the mix for a BCS at-large bid.
That's heady stuff. (Although I far prefer any scenario which results in Texas A&M playing Texas in the Cotton Bowl. It is an SEC versus Big 12 matchup.)
How about that for changing the dynamic of a season?
After being picked to finish fifth in the SEC West, the Aggies head into their final three games with soaring stakes and heightened expectations, and at least some shot at gigging Texas.
Chief among the reasons the Aggies find themselves in this spot is the exhilarating play of redshirt freshman QB Johnny Manziel. It is true that first-year coach Kevin Sumlin inherited bookend beasts at tackle, Luke Joeckel and Jake Matthews. The Aggies also returned Damontre Moore, one of the most devastating pass-rushers in the game.
But the great unknown was the quarterback. Manziel is no longer just the secret sauce; he has transformed those ingredients into the recipe for a contender.
Sumlin has been masterful in nurturing this team, but his job just became tougher, and not just because he's playing Alabama. When the spotlight intensifies, teams unaccustomed to it often blink. Don't mind the Aggies if they scoff at blinking in the face of pressure. They can rely on one constant against any opponent:
The Ags have Johnny Football and the other team doesn't.
---
UCLA is also among the outperforming stocks. The Bruins lead the Pac-12 South over preseason darlings and Westwood arch-nemesis, USC.
[+] Enlarge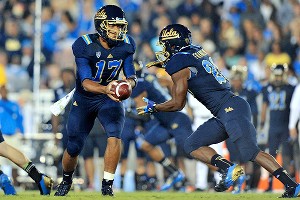 Andrew Fielding/US PresswireLed by freshman QB Brett Hundley and senior RB Johnathan Franklin, UCLA is sitting atop the Pac-12 South standings.
This week, somebody started a fake Twitter account under the name of Bruins freshman defensive back Randall Goforth. The impostor talked a little trash to Trojans wide receiver Robert Woods about the rivalry match coming up in a couple of weeks.
It started a tempest in a Twitter teapot which resulted in Bruins head coach Jim Mora saying the author of the fake Twitter handle should go to jail. Jail! Jail?
Mora might be genetically predisposed to overly emotional reactions (playoffs?!?!), but jail time for phony tweeting strikes me as a bit extreme. In retrospect, he agreed, acknowledging he overreacted in his response.
Maybe it's the pressure that causes such reactions. UCLA was brilliant in dismantling Arizona last week in a 66-10 win, posting a greater margin of victory against the Wildcats than Oregon's 49-0 rout on Sept. 22.
It's enough to cause some to expect a rematch of last season's Pac-12 championship game rather than USC-Oregon Part 2. Although this time, it will be a more deserving and formidable Bruins team arriving in Eugene than last season's squad that advanced to the title game courtesy of USC's postseason ban. There's also a belief rising in some quarters that a UCLA win over USC isn't just possible, it's probable.
Mora knew when he took the job that there were some playmakers at UCLA. Senior Johnathan Franklin is fourth in the nation in rushing. Freshman quarterback Brett Hundley is in the top 25 in passing efficiency and top 20 in total offense.
The problem he faced was instilling a winning culture. He's pretty much accomplished that in only nine games. After a trip to face the fightless Leaches at Washington State, the 7-2 Bruins' schedule finishes with USC and Stanford.
The level of expectation could become oppressive. Before the season, eight wins with a victory over Nebraska would've been seen as a rousing success. Now, if that's all the Bruins get, it will seem like failing to finish.
[+] Enlarge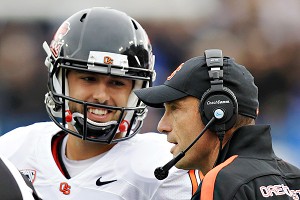 AP Photo/Rick BowmerMike Riley will turn to QB Cody Vaz during Oregon State's pursuit of the Pac-12 North titile.
But Mora has made a lot of believers. Come to think of it, maybe incarcerating over-the-top tweeters isn't such a bad idea.
One of the two teams to beat UCLA this season is Oregon State. Mike Riley's team controls its fate in the Pac-12 North. That's heady stuff for a team that won only three games last year and has spent most of this fall helping In-N-Out Burger's profit margin, Oregon State's victory meal of choice.
They've overcome injuries to stars such as Jordan Poyer and Storm Woods and have changed quarterbacks. Little has slowed them down.
Whether current starter Cody Vaz or former starter Sean Mannion is slinging it, Brandin Cooks and Markus Wheaton have hauled it in, with both ranking in the top 15 in the nation in receiving yards per game.
For two months, Oregon State, which faces a gargantuan trip to Stanford on Saturday, has been a nice rebound story and good fodder for Beavers bandwagon driver David Pollack.
Now, the pressure shifts to proving they're legitimate championship contenders. The giant elephant in the room is a Duck, that is, a Nov. 24 home date with Oregon. Even without beating the Ducks, Oregon State could be under consideration for a BCS bowl if they can handle the heat and arrive at the Civil War with only one loss.
The realistic possibilities have changed for Riley's team. His chore is to make sure the performances don't. That starts Saturday with a pressure-cooker against the Cardinal.
---
There is one outlier among these overachieving teams, one that might not wind up bowl-eligible, but is in the hunt for a Big Ten title.
Say hello to your Indiana Hoosiers.
The Leaders division has two teams ineligible because of probation and two more without a conference win. They should change the name of the division from Leaders to Leftovers. It has been reduced to a match race between the Hoosiers and Wisconsin.
Indiana assumes control of the division by beating the Badgers on Saturday. Should the Hoosiers win, they could potentially afford another loss in either of their remaining games to Penn State or Purdue, as Wisconsin still has to play undefeated Ohio State next week and closes the regular season with Penn State.
Indiana isn't exactly resurgent with a 4-5 record lowlighted by a five-game tailspin that was bookended by losses to Ball State and Navy. But following their 1-11 season a year ago, just having championship possibilities in November is stunning. Keeping them alive another week would be even more so still.
The Hoosiers are the one surprise team in this mix for whom expectations really haven't changed.
Nobody expects anything from them.
Maybe avoiding that type of pressure puts them in the best seat of all.
GameDay Twitter Kickoff
Editor's note: Rece Davis and ESPN.com's Mark Schlabach traded thoughts about Week 11 over Twitter on Wednesday. The following is their exchange:
Texas A&M-Alabama preview
Blog Network: What to watch
Each week, our bloggers will take a closer look at the storylines you should watch. What's on tap for Week 11?

No one on Florida State's roster has played at Lane Stadium. What can we expect from the Seminoles during their visit to Virginia Tech?
ACC

Bill Snyder sounded optimistic about Collin Klein's injury status, but does that mean we'll see Kansas State's Heisman Trophy candidate take the field against TCU?
Big 12

Pitt needs to shake off last week's crushing loss at Notre Dame. If Ray Graham can replicate last week's performance against the Fighting Irish, the Panthers should be just fine against UConn.
Big East

The wackiness that is the Leaders division will be on display, as Indiana and Wisconsin face off with the winner assuming the driver's seat on the road to Indianapolis for the Big Ten championship game.
Big Ten

From backups to starters, Oregon State's Cody Vaz and Stanford's Kevin Hogan will be under center in Saturday's pivotal Pac-12 showdown.
Pac-12

Georgia and Alabama can clinch their place in the SEC championship with wins over Auburn and Texas A&M, respectively, while Ole Miss and Vanderbilt aim for bowl eligibility.
SEC

Notre Dame needs to get off to a strong, clean start on the road against Boston College. The Fighting Irish don't need a repeat of last week's escape act against Pitt.
Notre Dame
Nickel Package
1. Oregon allowed 51 points last week to USC, but won and kept its national championship hopes alive. In the AP Poll era (since 1936), no team allowed at least 51 points in any game during a season in which it won the national championship. Only one national champion allowed at least 50 in a game. In 2007, LSU lost to Arkansas 50-48, but that game went three overtimes. LSU came back to win the SEC championship game and BCS National Championship Game.
To read the rest of ESPN Stats and Info's Nickel Package, click here.
Richt doesn't win enough?
Fantasy college football
By ESPN Fantasy
Make "GameDay" your game day with three ways to play.


• Pick 'Em: How confident are you?
• College Challenge: Build the best team
• College Showdown: Choose wisely