Elliott Sadler lucky to be alive after Pocono crash

By Terry Blount
ESPN.com
Archive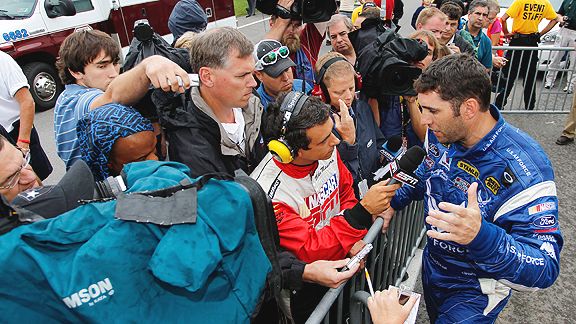 Chris Trotman/Getty Images for NASCARElliott Sadler was the center of attention after getting released from the infield care center Sunday.
Next time you want to criticize the Sprint Cup car, consider the fact that Elliott Sadler is alive today because of it, along with the head-and-neck restraints all drivers use.
And next time there's a NASCAR race at Pocono, hope and pray track officials follow through with planned safety improvements that should have happened long ago.
Sadler is a lucky man to escape serious injury in a terrifying crash in the Cup race at Pocono Raceway on Sunday. The front half of his No. 19 Ford was destroyed in a violent head-on crash into a barrier at the 2.5-mile triangular track.
Sadler slid through the grass at high speed and slammed into a guard rail in front of a dirt berm. It looked like a crash that might have happened 30 years ago -- because the archaic safety devices in place probably were there 30 years ago.
It was the second time this season that drivers luckily have left Pocono uninjured because of car safety, not track safety.
Kasey Kahne made head-on contact with the outside wall in the June race at Pocono. He got into the grass inside the backstretch, causing him to turn up into the wall in front of other cars.
Kahne hit at a spot where there isn't a SAFER barrier. He also hit where there isn't any catch fencing (only large bushes behind the wall), and his car almost went over the wall.
What few people remember about that accident was Marcos Ambrose slamming into the inside barrier at almost the same spot where Sadler hit Sunday. The front of Ambrose's car was destroyed, but he walked away unhurt.
"It's dangerous to have grass next to where you're running 200 miles an hour," Greg Biffle said after winning Sunday. "That's all there is to it. This is a great racetrack. It's so much fun to drive, but Talladega and Daytona had that same issue and they added pavement, like a skid pad or whatever you want to call it, so when the car does get out of control or gets going that direction, you still have some control.
"It feels like you pick up speed when you get in the wet grass. They'll have to look at it. I understand times are tough, but this is two races in a row somebody has been over there."
Drivers have been critical of Pocono's safety problems for years. A few were willing to talk about it Sunday.
"I think the incidents speak for themselves," Jeff Gordon said after the race. "I think there are times where we've got to step up the technology and safety at certain facilities. We've seen two incidents here this year. I think it is going to be a wake-up call for some improvements. It is a great track here at Pocono. We love coming here, but there are definitely some areas where it could be improved."
Pocono Raceway President Brandon Igdalsky had announced earlier that safety improvements are planned for the track before next season, including more catch fencing and additional spots for the SAFER barrier.
But NASCAR officials should have forced Pocono to make these changes years ago. The only reason tragic consequences didn't come out of the Pocono races this year is the car overcame the safety deficiencies of the track.
This car (formerly known as the Car of Tomorrow) is the safest race car ever built. NASCAR officials deserve credit for its bigger, boxier design (and larger driver compartment) that makes it safer.
Sadler's crash illustrates how the car is built to absorb the force of an accident instead of having the driver absorb it. Crush panels in the front of the car enable it to absorb energy and break apart easily.
Some people were shocked to see the engine come out of Sadler's car. That's a good thing, though. The engine staying in one place increases the force of the blow.
Most of the energy of the collision was dissipated in front of the driver compartment, but Sadler still took a huge push forward at impact. It knocked the wind out of him, but might have killed him without his HANS (head and neck support) restraint device.
The helmet is connected to the seat, keeping the neck from violently snapping forward in a head-on crash. The neck snap sometimes resulted in a basilar skull fracture (which caused Dale Earnhardt's death) before these safety advancements.
But Sadler walked away thanks to a car and safety devices inside it that made it possible to overcome a track that's woefully behind the times in safety issues.
• David Newton: This one's for Jack | Racing Live! rewind | Recap | Results
Nationwide Series: Busch rings up win No. 9 in 2010
No driver is unbeatable, but Kyle Busch is about as close as anyone can get right now in the Nationwide Series.
Busch's victory at Iowa Speedway on Saturday was his sixth win in his past seven starts and his ninth of the season.
And it illustrates why NASCAR is considering changes to the rules to limit Cup driver participation in the feeder series.
Cup drivers have won 20 of 21 Nationwide events this season. Justin Allgaier's victory at Bristol in March is the only win for a Nationwide-only driver in 2010.
Camping World Truck Series: Sadler fends off Kahne at Pocono
The first Camping World Truck Series race at Pocono proved you don't need 500 miles to have an exciting event on the 2.5-mile triangle. It also proved Elliott Sadler still knows how to race up front and win.
Sadler's victory was his first in any NASCAR race in almost six years and his first in the Truck series. He became the 21st driver to win at least one race in all three national series -- Truck, Nationwide and Sprint Cup.
The event was only 50 laps (125 miles), but racing was ramped up from the start because the drivers had a sense of urgency.
Terry Blount is a senior writer for ESPN.com. His book, "The Blount Report: NASCAR's Most Overrated and Underrated Drivers, Cars, Teams, and Tracks," was published by Triumph Books and is available in bookstores. Click here to order a copy. Blount can be reached at terry@blountspeak.com.
Racing Resources Says …
Sprint Cup Series

• Greg Biffle won the Pennsylvania 500 at Pocono Raceway. It was his 15th Cup series victory in his 279th start. The win ended a 64-race winless streak, the longest of his career.
• Biffle scored his first top-10 finish in his past nine Pocono races.
• Biffle led three times for 28 laps, including the final 21.
• Roush Fenway Racing posted its 117th series win and its first victory in 2010.
• The top 10 comprised six Chevrolets, two Fords and two Toyotas.
• Ford posted its first win in 2010. It was Ford's first non-restrictor-plate win since California in February 2009.• Tony Stewart (second) scored his fifth straight top-10 finish at Pocono, the longest current streak. It was Stewart's 150th career top-5 finish.
• Carl Edwards (third) extended a four-race streak of top-10 finishes that began at Daytona.
• Points leader Kevin Harvick (fourth) has a 189-point lead over second-place Jeff Gordon.
• Denny Hamlin (fifth) scored his eighth top-10 finish in 10 Pocono races. He had the 350th team top-5 for Joe Gibbs Racing.
• Jeff Burton (eighth) extended a five-race streak of top-15 finishes that began at New Hampshire.
• Ryan Newman (12th) has finished 14th or better in his past five Pocono races.
• Kyle Busch (23rd) has scored just one top-10 finish in his past seven Pocono races.
• Dale Earnhardt Jr. (27th) has scored just two top-10 finishes in his past 13 Pocono races
• Dave Blaney finished 42nd in his 350th series start.
Nationwide Series

• Kyle Busch won the U.S. Cellular 250 at Iowa Speedway. It was his 39th series victory in his 190th start and his ninth win in 2010. He is nine victories behind Mark Martin for the most wins in series history.
• Busch has posted at least nine wins for the third straight season. He was won six of his past seven Nationwide starts.
• It was Busch's first series win at Iowa in his second start.
• Busch led 209 of 250 laps, only the third time he has led more than 200 laps in a race. He led the most laps for the seventh time in 2010.
• Joe Gibbs Racing posted its 53rd Nationwide win and its 11th in 2010 -- the most of all teams.
• Toyota posted its 11th win in 2010.
• Kevin Harvick (second) has finished in the top 10 in 15 of his 17 starts this season.
• Jason Leffler (third) scored his best finish of 2010.
• Brad Keselowski (fourth) has a 231-point lead over Carl Edwards (10th).
• Busch moved to third in points, with starts in just 17 of the 21 races in 2010.
• Trevor Bayne (fifth) finished in the top 10 for the third straight race and the fourth time in six races.
• Steve Wallace (sixth) has top-10 finishes in four of the past six races, including the past three.
• Michael Annett (seventh) got his best finish of the 2010 season and his second top-10 finish.
• Matt DiBenedetto (ninth) scored his best finish in his sixth series start.
Camping World Truck Series

• Elliott Sadler won the inaugural Truck series race at Pocono Raceway. It was his first career series victory in his eighth start. his previous best finish was fifth at Charlotte earlier this year. Sadler, who started on the pole, became the sixth driver to win from the first starting position this season. He is the 21st driver to win in all three major NASCAR series.
• Sadler led three times for 31 laps, including the final six.
• Kevin Harvick Inc. posted its 31st series victory and fifth win in 2010. KHI has won the past three races with different drivers (accomplished the same feat in 2008).
• Chevrolet posted its seventh win in 2010 (Toyota has won the other six).
• Kasey Kahne (second) scored his worst series finish -- he won in his other two starts (Darlington and Homestead in 2004).
• Matt Crafton (third) scored his fourth straight top-5 finish.
• Aric Almirola (fourth) posted his ninth top-10 finish in 2010.
• Justin Lofton (fifth) posted his second career top-5 finish.
• Points leader Todd Bodine spun on Lap 40, restarted 24th on Lap 45 and finished 12th.
• Ron Hornaday finished 29th after being involved in a Lap 51 caution.
-- Racing Resources