Rangers need to get healthy and get ready
The
Texas Rangers
have a comfortable lead in the AL West, but that doesn't mean they're sitting comfortably.
Cliff Lee
is dealing with a strained back muscle and already has missed start.
Josh Hamilton
is going to miss time.
Elvis Andrus
has a tight hamstring, and the wins just aren't coming as easily. How should manager Ron Washington handle this team in the last month of the regular season?
[+] Enlarge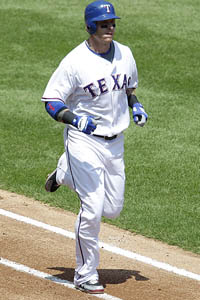 AP Photo/Tony GutierrezJosh Hamilton is just one of a host of ailing Rangers.
With a 6½-game lead, the Rangers can take some time to give their best hitter and pitcher a rest. With a full month before the playoffs start, they have 10 days to two weeks when they can be conservative in their approach to baseball and still have enough games to regain the form that they're going to need to be outstanding competitors in the playoffs. This cushion also allows Washington the opportunity to play the guys he might need in pinch-hit or substitution roles in postseason play. For example,
Jeff Francoeur
, who recently joined the Rangers' roster in a trade with the Mets, will now have more chances to face American League pitching. These extra at-bats will keep him sharp and ready for playoff situations when he might be played in a platoon role or used as a pinch-hitter. It's also nice to have someone with experience getting playing time right now because you never know if injuries or slumps may pop up near playoff time. The real challenge is, once the Rangers' banged-up players get back into the full swing of things, you have to get them in big-game condition so that they're peaking and ready to play playoff baseball once the postseason begins. Hopefully it will not be the calendar that determines when these players are playing again, but when Mother Nature says they're ready. Lee was a true workhorse in Seattle and he's kept up that pace in Texas, so if fatigue caused his back strain then rest is just what the doctor ordered. From everything that I know about Cliff Lee, Texas is going to have to monitor his situation closely because he's going to want to pitch as soon as possible -- and pitching is a catch-22: When he pitches he'll be able to regain his touch for the postseason and his touch is what gives him great command (particularly the ability to get right-handed hitters out on the inside part of the plate). But trying to regain that touch without aggravating your back becomes a difficult line to walk. Just as these individuals have to rehabilitate and get back into competitive modes to be able to perform at their highest levels, the team has to understand that their big lead might take their sense of urgency off the playing field. Ron Washington has to be careful in thinking that he can just turn the switch on when the playoffs begin. A large divisional lead is a blessing that allows your team to rehabilitate injuries, but it can be a curse when it comes to individual and collective competitiveness. And when it's looking like you're going to face either the
New York Yankees
or
Tampa Bay Rays
in the playoffs, you need all the competitive fire you can muster.
Bobby Valentine is an analyst for "Baseball Tonight"
Touch 'Em All

Who went deep? Keep track of all the home runs hit each day on "Baseball Tonight" and the Baseball Tonight Clubhouse page. For more, check out the Home Run Tracker page.
| NAME | HR | OPP | SITUATION | Pitcher |
| --- | --- | --- | --- | --- |
| Ike Davis, NYM | 18 | WAS | Top 1: 1-0, 1 Out. 2 on. | Maya |
| Vladimir Guerrero, TEX | 26 | TOR | Top 4: 0-0, 0 Outs. 1 on. | Marcum |
| Johnny Damon, DET | 8 | CHW | Bot 1: 0-0, 1 Out. 1 on. | Garcia |
| Ben Zobrist, TB | 9 | BOS | Top 3: 0-0, 1 Out. 1 on. | Matsuzaka |
| John Buck, TOR | 17 | TEX | Bot 2: 0-0, 2 Outs. None on. | Feldman |
Wednesday's Best Matchups
Rays at Red Sox, 7:10 p.m. ET, ESPN


Matt Garza pitched well against the Red Sox in his final August start, but walked away with a no-decision after allowing one run over seven innings of a game the Rays ended up winning 3-2. Clay Buchholz, who leads the AL with a 2.25 ERA, pitched well in that game against Garza, and also walked away with a no-decision after giving up two runs over 7⅓ innings.
---
Reds at Rockies, 8:40 p.m. ET


Bronson Arroyo will have the task of trying to get out the Rockies' Carlos Gonzalez. It hasn't been easy for anybody lately. And CarGo's done well against Arroyo so far, going 4-for-8 with a walk. Colorado's Aaron Cook had little trouble with the Rockies earlier this year, tossing seven shutout innings in a win.
---
Dodgers at Padres, 10:05 p.m. ET, ESPN


Chad Billingsley's already faced the Padres three times this year, posting a 1.40 ERA while beating them twice and losing once. Cory Luebke's debut didn't go so well; he gave up four runs, two homers and two walks in five innings in a loss against the Rockies. So he tries again against the Dodgers.
The rest of Wednesday's schedule »
BASEBALL TONIGHT ON THE AIR
WEDNESDAY
Midnight ET on ESPN
Host: Karl Ravech
Analysts: Bobby Valentine, Tim Kurkjian
WEB GEMS LEADERBOARD

This season, "Baseball Tonight" will be tracking Web Gems. Points will be calculated by awarding five points for the night's top defensive play, four points for second, three for third, two for fourth and one for fifth. Scoring will be based on fan voting of the previous night's gems (from the last "Baseball Tonight" each night).
HUNT FOR OCTOBER
NATIONAL LEAGUE EAST
| Team | W-L | GB | POFF |
| --- | --- | --- | --- |
| Philadelphia | 80-60 | -- | 73.7 pct. |
| Atlanta | 79-60 | 8.0 | 82.0 pct. |
TUESDAY'S BEST AND WORST
BEST
Trevor Hoffman, RHP, Brewers

Hoffman
He's no longer the dominant force he used to be, but Hoffman registered his 600th career save with a scoreless ninth inning against the Cardinals in the Brewers' 4-2 win. It was his ninth save of the year.
---
WORST
Daisuke Matsuzaka, RHP, Red Sox

Matsuzaka
Nope, it wasn't a good night for Dice-K against the Rays. He gave up eight hits, eight runs, four walks and two homers over only 4⅔ innings of work in the Red Sox's 14-5 loss. He's given up at least four runs in every start since Aug. 5, a run of five consecutive outings.