Updated:
November 1, 2012, 1:38 AM ET
Hollinger's All-Breakout Team
By John Hollinger
ESPN.com
Lin
Jeremy Lin, Houston Rockets
I find it fascinating that so many people seem to think Lin will be a flash in the pan. He has essentially no track of failure, playing well in his brief stints in the D-League and Golden State before his brief eruption with the Knicks last season. Additionally, he will play in a system that's tailor-made for point guards -- just ask Goran Dragic and Kyle Lowry, both of whom had career-best seasons in Kevin McHale's offense last season.
Yes, Lin has a high turnover rate and isn't a great outside shooter. He also draws fouls in bunches, rebounds unusually well for a point guard, and gets a lot of assists at the rim. Over the course of an 82-game season he may not match the heights of Linsanity -- virtually no player can -- but as long as his knee holds up, he'll be an above-average starting point guard and should average something along the lines of 18 points and seven assists.
---
George
Paul George, Indiana Pacers
Danny Granger's knee injury is bad news for the Pacers, but it may be great news for George, who finally can play his natural small forward position and undoubtedly will get more touches until Granger is back in the lineup. He's the same age, size and position as Hayward (and coincidentally plays in Hayward's hometown), but unlike Hayward, George didn't show much in-season growth last season. Instead, his progress came in the offseason between his first and second campaigns.
Similarly, I'd look for another step forward from George in Season 3. He shot 38.5 percent on 3s last season and has some excellent ball skills but tends to fade in and out of games and struggled at times with his decision-making. Granger's absence will force him to stay engaged offensively, and with his size and shooting ability, he should be able to ramp up his usage with little decline in efficiency.
Check out the rest of Hollinger's All-Breakout team at ESPN Insider

NBA Talking Points In 2012-13
By ESPN.com
Asik
What do you do in the NBA if you can't recruit a superstar?
Kevin Arnovitz: The Moneyball principle was never about putting data ahead of scouting. It was about identifying an undervalued commodity in a sport and finding bargains in players who bring that commodity to a roster.
Individual defense -- loosely defined -- is probably that undervalued commodity at the moment, largely because we have a hard time defining it statistically. Players have traditionally been paid based on their offensive stats. You can jump up and down about this guy being a top-five defender (think Tony Allen) and that defense is 50 percent of the game, but we rarely see defensive specialists score the kind of contracts that one-way offensive players like Monta Ellis do.
That's what made Houston's three-year, $25.2 million deal for Omer Asik so interesting. That's a significant investment in a guy whom most people around the league would regard as a one-way defensive player. Some thought it was an outlandish offer, but would anyone raise an eyebrow if a top-20 offensive player landed the same contract?
Beckley Mason: Let's just say Asik has a better chance of being worth $8 million a year than Charlie Villanueva.
Read more conversation starters at TrueHoop, ESPN.com's NBA blog »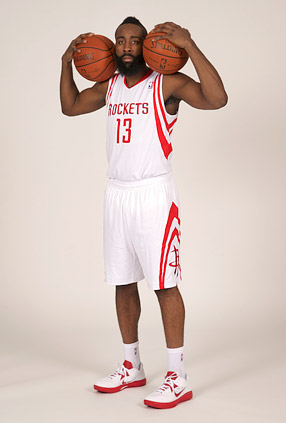 Bill Baptist/Getty Images
James Harden had 37 points and 12 assists in an impressive debut for Houston, helping the Rockets to a 105-96 victory over the Detroit Pistons.
By Kevin Arnovitz
ESPN.com
Curry
LOS ANGELES -- Would you look at Eddy Curry? Wrestling Pau Gasol down on the right block, taking him middle after a massive drop step, then deking him with an up-and-under move?
Eddy Curry?
"I was just trying to get Pau off his feet a little bit," Curry said with a sheepish smile. "It worked. I got him out of position, and I was able to stand between him and the basket and bank it off the glass."
As Curry toweled off at his locker, Mavericks owner Mark Cuban stood outside in the concourse snarling, "The Curri-nator!"
"Eddy was a beast," Cuban said. "He still has a long way to go defensively, but underneath and in the post, he's not afraid of anybody."