Updated:
November 21, 2010, 2:55 AM ET

Paul
"Like I've said, this was a crazy summer. But I tell people all the time that I wasn't thinking this summer about all the rumors and stuff. My biggest thing was my [surgically repaired left] knee. I was questioning if I'd ever be able to be me again.
"I'm still a work in progress, but I'm just glad that I can play. There were times this summer where I was like, 'Man, is my knee ever going to let me play basketball again?' That's what I was worried about. I wasn't worried about the rumors."
Hornets guard Chris Paul, candidly addressing some of his innermost offseason ruminations after Monday's loss in Dallas halted New Orleans' unbeaten start to the season.
I'm sure you'd rather know more about what Paul is really thinking in terms of his future and that purported desire to team up with a couple Team USA teammates in a bigger market that sparked "all the rumors." Or maybe you're starting to wonder just how many wins would it take for the Hornets, who took a still-sparkly 9-1 record into the weekend, to get CP3 to start weighing the idea of (gasp) signing an extension in New Orleans as opposed contemplating exit strategies?
I'm right there with you.
But I'd also say that this stuff about his knee, pulled from my Monday night game report, was pretty revealing. It didn't initially generate much follow-up discussion -- probably because of all the fretting in Portland and even nationally about the deteriorating state of Brandon Roy's and Greg Oden's knees that commanded much of the week's spotlight -- but some very interesting (and chilling) parallels drawn recently between Roy and Paul by Professor Hollinger convinced me to resubmit these quotes for re-examination.
The biggest difference, however, is the cautious optimism bubbling on Bourbon Street thanks to team's scorching start, Paul's MVP-level return to work and his belief, as Paul went on to convey, that he won't have to wear that bulky brace on his left knee all season. Even before they heard about Oden's latest crushing setback, Blazermaniacs had forgotten what the word optimism sounds like after hearing last week that Roy's knees have worn down to the point that he can't even benefit from further surgery.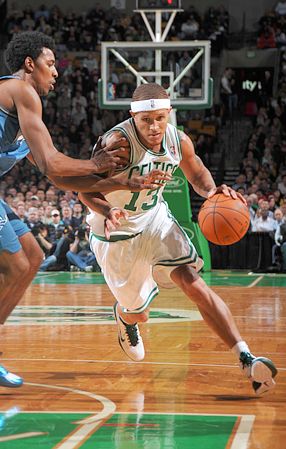 Brian Babineau/Getty Images
Delonte West's return has Doc Rivers excited about the C's '10-11 outlook. (See Box 7)

One source with knowledge of the Hornets' thinking maintains that the long-stalled sale of the franchise from George Shinn to minority partner Gary Chouest will still happen by the end of the year.
There have been fears for months that the British Petroleum oil-spill disaster in April -- and the subsequent collateral impact it had on companies like Chouest's (Edison Chouest Offshore) in the offshore oil and gas industries -- could end hopes of a transfer of ownership control from Shinn to Chouest.
And rival teams, as long as Shinn stays in power, will continue to believe that they can ultimately pry Paul away from the Hornets, based on the premise that Shinn will never spend enough to secure a long-term commitment from Paul, who is scheduled to be a free agent in the summer of 2012.
The Hornets, however, would counter with the claim that the team's high trade activity since the arrival of Dell Demps as general manager and the recent approval from ownership to completely revamp the team's practice facility in nearby Westwego, La., are signs that Paul's bosses do intend to spend more than their rivals expect.
---
Some numbers of note in the West this week:
3: There are only three players currently averaging at least 40 minutes per game and two of them are in the West: Oklahoma City's Kevin Durant (40.5 mpg) and Memphis' Rudy Gay (42.1). Boston's Rajon Rondo is the other (40.1).
32.6: Minnesota's Michael Beasley, is in the condition of his life, hotter with his jumper than ever before -- even better than at Kansas State -- and heads into the weekend averaging 32.6 points over his past five games.
3: Only three players this season are averaging at least 20 points, five assists and five rebounds ... and two of them are in the West: Oklahoma City's Russell Westbrook and the Lakers' Kobe Bryant. Miami's LeBron James is the third.
2: Just two active players have more games with at least 15 points and 15 rebounds than San Antonio's Tim Duncan, who at 34 recorded his 202nd career 15-and-15 with 16 points and 18 boards in the Spurs' win over Chicago on Wednesday. Celtics teammates Shaquille O'Neal (235) and Kevin Garnett (204) are the duo ahead of Duncan, who stunningly was held below 10 points in each of San Antonio's previous three games for the first time in his career. At 13.7 points per game, Duncan is carrying the lowest scoring average of his career ... but that hasn't stopped the Spurs from capitalizing on an admittedly favorable stretch of schedule to match the best 10-game start in franchise history at 9-1.
49: The $450 million paid by a group headed by Joe Lacob and Peter Guber to purchase the Golden State Warriors from the highly unpopular Chris Cohan is $49 million more than the previous high paid for an NBA franchise: Robert Sarver's $401 million purchase of the Phoenix Suns in 2004. Dan Gilbert's purchase of the Cleveland Cavaliers in 2005 is third all-time at a value of $375 million, followed by the sale of the Boston Celtics to a group headed by Wyc Grousbeck in 2002 for $360 million.

Not surprised at all that Delonte West played 21 minutes Wednesday night in his season debut for the Celtics after completing his 10-game suspension (weapons charges) to start the season.
The blowout nature of Boston's win over Washington obviously helped West stay on the floor. But when I saw Doc Rivers earlier this month in Dallas, after one of Boston's only two losses thus far on the second night of a back-to-back following a win in Oklahoma City, West's name was the first Rivers threw out to make himself feel better after the L.
Translation: The Celtics' successful start was even more pleasing to the coach when he remembered that West -- one of the biggest additions to Boston's bench because of his perimeter defensive prowess -- and Kendrick Perkins (who's still recovering from offseason knee surgery) hadn't even played yet.
Rivers' excitement then about West's return, which was still more than a week away at the time, also basically reconfirmed that West's recent scuffle with teammate Von Wafer was never really going to endanger his roster spot, as some suggested.
---
Some numbers of note in the East this week:
9: Rajon Rondo has dished out at least 10 assists for the Celtics in nine consecutive games. Only three active players have had a streak that long in any single season: Utah's Deron Williams (six), Phoenix's Steve Nash (five) and New Orleans' Chris Paul (one).
6: Chicago's Derrick Rose is just the sixth player in the past 20 seasons to average at least 25 points and eight assists through the season's first 10 games. Rose's predecessors: LeBron James (2007-08 with Cleveland), Dwyane Wade (2005-06), Baron Davis (2003-04 with New Orleans); Gary Payton (2001-02 with Seattle) and Michael Adams (1991-92 with Washington).
5: Orlando's Dwight Howard is one of just five players in history to record at least 6,000 rebounds (6,310) and 1,000 blocked shots (1,071) in his first 500 career games. The others: Tim Duncan (6,177/1,261), Dikembe Mutombo (6,065/1,855), Hakeem Olajuwon (6,273/1,698) and Shaquille O'Neal (6,175/1,353). The NBA began tracking blocked shots starting with the 1973-74 season.
54: Cleveland's bench posted its third 50-point output of the season with 54 points in Tuesday's home win over Philadelphia, matching the total of three 50-point games from the Cavs' reserves for the whole 2009-10 season.
23: Orlando still holds the single-game record for 3-pointers (with 23) after Phoenix fell one shy with its 22 triples in the Suns' victory last weekend in Los Angeles over the Lakers.

Love
ESPN Research furnished me with a comprehensive list of Greg Oden's many injuries over the past five years, but it was simply too depressing -- especially when combined with the increasing dread and helplessness in Portland regarding Brandon Roy's own ever-worsening knees -- to print.
The decision was thus taken to rewind a full week and give Oregon-raised Kevin Love some additional list-y spotlight for the eye-popping 31 points and 31 rebounds he racked up last Friday night against New York.
You've surely heard by now that it was the first 30/30 game in the NBA for 28 years. You're also undoubtedly aware that Wilt Chamberlain used to rumble for 30 and 30 all the time -- 24 times alone in Wilt's rookie season of 1959-60 -- but the rarity of the achievement over the past few decades compelled us to run a full review of the league's last five 30/30 games:
The 30-30 Club
| Player | Year | Foe | Pt-RB |
| --- | --- | --- | --- |
| Kevin Love, MIN | '10-11 | Knicks | 31-31 |
| M. Malone, HOU | '81-82 | Sonics | 38-32 |
| R. Parish, GS | '78-79 | Knicks | 30-32 |
| M. Malone, HOU | '78-79 | Jazz | 33-37 |
| K. A-Jabbar, LAL | '77-78 | Nets | 37-30 |
P.S. -- Of even greater significance for the Wolves, of course, are the signals that Love and coach Kurt Rambis have achieved a measure of détente in their long-standing clash over playing time that went fully national on opening night, when Love logged just 24 minutes and watched Anthony Tolliver take his spot in crunch time in Minnesota's 117-116 home loss to Sacramento.
Rambis has made it clear that Love, for all of his rebounding and passing prowess, won't be promised so much as 30 minutes per game because of his defensive deficiencies. Given Love's prominence in the organization after Al Jefferson was traded away -- largely because Jefferson's own defensive deficiencies prompted the Wolves to deem them incompatible -- it's a stance most league insiders see as downright shocking. But Love appears to have accepted it and responded.
It also doesn't hurt that Michael Beasley and Love are suddenly clicking together better than Love and Jefferson ever did, which might finally give the Wolves something resembling a core to build around. (You'll recall that Big Al was initially billed as Sota's new face of the franchise when the Kevin Garnett trade was swung way back in July 2007.)
"I think in that situation, Kurt and I have kind of been off and on, but I feel like we see eye to eye now," Love told our own Bill Simmons this week on the "BS Report" podcast. "As long as I'm out there playing hard, he's going to give me more minutes."
If the détente lasts and the clicking continues, maybe Minnesota will actually be able to focus on sorting out Ricky Rubio's future -- as well its search for reliable athletes/defenders to keep next to Love and Beasley to truly make their partnership workable long-term and finally stop worry about its front line.

The curator of the Weekend Dime has always considered himself to be the foremost NBA Jam addict at ESPN and among NBA media folk, as evidenced by the three pieces (linked here, here and here) he's written on the seminal video game since March.
So you can imagine Marc Stein's unrestrained pride and joy when the EA Sports Twitter feed (@easports) dispatched the following link at 8:14 ET on Thursday night. Turns out that the legendary voice of NBA Jam, Tim Kitzrow, was in EA's Vancouver studio recording 200-odd custom commentary for fans, athletes and celebrities via Facebook and Twitter requests and surprised us with this YouTube'd homage to the Daily Dime.
Not sure about whether Stein can pass for Brook Lopez -- let alone pass like that -- but he'll be the last guy to launch a realism protest.