1. Mavs At Crossroads At Cuban Anniversary
Getty Images, AP PhotoIn his 13 years as Mavericks owner, Mark Cuban helped turn a playoff drought into a title reign.
The 13th anniversary of Mark Cuban's ownership reign in Dallas will not be remembered as the luckiest.
Not when the Mavericks are under .500 at the turn of the year for the first time since Cuban emerged from the tech world, without warning, to buy the franchise from Ross Perot Jr. on Jan. 4, 2000.
Not when the ever-durable Dirk Nowitzki, after missing just 45 games in his first 14 seasons, had to sit out this season's first 27 games after knee surgery.
Not when Cuban is still smarting from his own painfully public battle with kidney stones that sent him to the hospital.
On this particular Jan. 4, reminded of his team's wholly unrecognizable 13-20 record on what is typically regarded as a holiday in Mavsland, Cuban needed no such reminders.
"It's killing me," he says.
"The good news is that, with Dirk back, it really feels like we are getting better and making progress, but it doesn't change our record," Cuban continued. "We put together this team with Dirk as the centerpiece. I'm just hoping we can hang in there 'til he gets up to speed, so we can see what kind of team we truly have and then compete for a playoff spot."
The reality is that a playoff berth, after 12 consecutive trips to the postseason, is already seriously slipping away. If you buy 45 wins as the minimum to snag a top-eight spot, as it's been out West for the past half-decade, Dallas needs a 32-17 rush starting with Saturday's home game against New Orleans to avoid its first lottery season since the season Cuban took charge, when a post-New Year's Day surge under the Broadcast.com billionaire's watch left the Mavs just out of the playoffs at 40-42 in 1999-2000.
That was Nowitzki's second season. Dirk and Cuban would need more than a decade together after that promising start before Dallas broke through to win its first championship in 2011, only to discover almost immediately that the challenge of "rebuilding a championship team," as Mavs coach Rick Carlisle recently described it, isn't any easier.
Compared to where Cuban started 13 years ago with the unproven trio of Nowitzki, Steve Nash and Michael Finley ... and a houseguest named Dennis Rodman?
"Night and day," Cuban told ESPN.com this week. "The league was completely different back then. There were so many teams that did things the way they always have done things. They were so old school, and the way I did things was so different that I felt like I had an advantage. Now the rules are different and teams across the board are smarter. So it's much more difficult to have an edge.
"Today the draft is far more important than it has ever been, as is being smart about how you spend money. It used to be I could spend as much as I could and there were no consequences. Those days are gone. Now being over the [luxury] tax impacts your ability to improve your team. Hopefully we will be smart enough to draft well, sign the right players, make the right trades and get things going."
In line with that hint, rival executives describe the Mavericks as one of the teams most eager to do business between now and the Feb. 21 trade deadline. As much as the Mavs believe that Nowitzki's gradual return to normalcy is going to open up the game for at least a few of the nine newcomers on this roster in transition, Cuban expected a playoff team at the minimum and wants every option explored to keep that target in play.
What he won't do, though, is lament or apologize for the controversial decision to let several key members of Nowitzki's title-winning supporting cast scatter. Cuban and president of basketball operations Donnie Nelson remain convinced that the only way to reload around Dirk -- to find the younger stud(s) good enough to gradually allow the 34-year-old face of the franchise to slide into a co-starring role -- was to pass on matching the four-year, $55 million offer culture-changing center Tyson Chandler got from the New York Knicks in exchange for the most salary-cap flexibility in history of the Cuban era.
The Mavericks then finished a frustrating second last offseason in the two-team race for free agent and Dallas-area native Deron Williams. It's a whiff that, combined with the recent nosedive, has only given local second-guessers who pine for Chandler more reason to question the plan. Yet there's no shortage of executives in other cities who believe the Mavs are still at the front of the line for Dwight Howard -- one of their two original main targets, along with Chris Paul, when they dissolved the championship team before both players unexpectedly removed themselves from the 2012 free-agent class -- if the struggling Howard decides at season's end that Lakerland isn't for him.
"I have it as Lakers, Dallas or Atlanta for Dwight," said one Western Conference GM.
The Hawks are the only team currently on course to have the requisite cap space to be able to try to recruit both Howard and Paul as a tandem in July 2013. The realistic view, regardless, is to assume neither is actually leaving L.A., with nothing but pro-Clipper whispers in circulation about how much CP3 likes the long-suffering Clips' long-term outlook ... and common sense reminding you that the Lakers providing they want to retain Howard in the wake of L.A.'s ongoing underachievement -- aren't in the habit of losing their own marquee free agents. To anyone.
The Mavs nonetheless contend that the ability to absorb a potential younger star's contract in trades, if they whiff again in free agency for the second straight summer, had to take priority over retaining the likes of Chandler and J.J. Barea. Not surprisingly, according to the GM grapevine, Dallas is right there with the Boston Celtics in terms of expressing its willingness to take the DeMarcus Cousins gamble if Sacramento decides to make him available.
The Kings, of course, continue to say that Cousins is untouchable, but that's not the point here. Although Cuban understandably refused to address Cousins or any other player he intends to chase, no one in Dallas is denying that the Mavs aren't necessarily waiting for July.
"I'm always cautiously optimistic," Cuban said. " The one thing that has never changed is that the Mavericks will be opportunistic. We are not afraid to pull the trigger on deals. We went all-in to win a ring knowing we would have to regroup because of the age of our team, which is why we had so many of our contracts expire over two years.
"We wanted to create flexibility so that we could pull the trigger when the right deals came along. We can now go back to taking back money if we have to in order to get a star player. The challenge, of course, is having the right deal come along and drafting well along the way."
As for what happened last July and Williams' subsequent struggles in Brooklyn, Cuban said: "Not going to comment on other teams' players or this summer. What I will say is that it's difficult to build around two players that take about 70 percent of your cap unless you have a boatload of draft picks to build or trade with, or an established core of young players to grow with them. Something we didn't have.
"Time will tell if my assessment of the new CBA was right or wrong. Obviously, I hope I was right."
In the interim, Dallas will try to hang on in the West, riding the only mainstays left from their championship group (Shawn Marion, Nowitzki and star coach Rick Carlisle) and hoping that the last-year-contract newcomers surrounding them (O.J. Mayo, Darren Collison, Chris Kaman and Elton Brand) still have time to come together.
Cuban took to his Twitter feed Friday to thank Mavs fans for their patience, trotting out a #weneverquit hashtag. He also revealed in our chat that he can't help but get swept up in what Jan. 4 represents, remembering how bleak things were for the 9-22 Mavs at the time he assumed operational control from Perot ... and the streak Cuban inherited of nine straight seasons out of the playoffs.
Insisting that Friday could thus have never been an unhappy anniversary, in spite of the Mavs' current plight, Cuban said: "I actually do get nostalgic every year around this time. It amazes me that I've owned this team for so long. It amazes me that it's a never-ending battle to try to be smart and make the right decisions. And it amazes me that it still hurts so much every time we lose a game."
Dimes past: Dec. 19 | 20 | 21-22 | 23 | 25 | 26 | 28-29 | 30 | 31 | Jan. 1 | 2 | 3


ESPN.com senior writer Marc Stein
• On Twitter @ESPNSteinLine | On TrueHoop | On ESPN.com | On email
• Follow ESPN's NBA coverage on Twitter | On Facebook | On Google+
2. Eastern Conference

As noted earlier this week via Twitter, there's a growing belief in NBA coaching circles that the Nets will wait until the offseason to pursue a full-time replacement for the ousted Avery Johnson should their forthcoming pitches to No. 1 coaching target Phil Jackson fall short.
Given Nets owner Mikhail Prokhorov's known penchant for splash-making, Jackson emerged immediately as Brooklyn's top choice to succeed Johnson. Yet it remains to be seen whether even Prokhorov's inevitable desire to go all-out for Jackson is best delayed until after the season, knowing that the coach with a record 11 championship rings has never taken over a team in-season. There's also the possibility that Jackson himself -- whose willingness to take on the big challenge of putting Brooklyn in the championship conversation depends on whom you ask at this early juncture -- is bound to be even more reluctant to try to jump in midstream with a team unfamiliar with his triangle offense and with franchise player Deron Williams still performing at less than full capacity.
What's clear is that the Nets believe, if they're ultimately rebuffed by Jackson, that their options will improve significantly after the season. One example to back that up: ESPN's Jeff Van Gundy, Brooklyn's widely presumed No. 2 target, has made it abundantly clear that he wouldn't consider any job unless it's legitimately vacant.
And Johnson's seat has been filled rather ably through four games by interim coach P.J. Carlesimo, who sparked the Nets to their best win of the season Wednesday at Oklahoma City one night after a painful rout in San Antonio.
The New York Times' Howard Beck summed it up well in Friday's paper: "Jackson will be No. 1 on the Nets' wish list unless he removes himself." The downside to this approach, of course, is that the Nets have been thrust straight back into limbo until their Zen Master chase plays out, which is a state they're unhappily familiar with after a lame-duck season in Newark in 2011-12 awaiting the move to Brooklyn and the fruitless trade pursuits of Carmelo Anthony and Dwight Howard.
Yet as one coaching source contends, there's a benefit that comes with taking their time to hire Johnson's successor that didn't exist when they chased Anthony and Howard, since there should be a "bigger field [of potential replacements] come the summer."
---
Some numbers of note in the East this week:
13.0: Brooklyn's Brook Lopez is leading the league at 13.0 points per game in the paint this season, just ahead of LeBron James' 12.9 ppg in the paint.
2: Orlando's Nikola Vucevic is one of only two players in the past dozen NBA seasons, dating to 2001-02, to grab as many as 29 rebounds in the same game he scored 20 points with his recent 20-and-29 game in an OT loss to Miami. Minnesota's Kevin Love, with his 31 points and 31 rebounds against the Knicks in November 2010, is the other.
3: All three members of Miami's Big Three are converting at a career-best percentage from the field. James entered the weekend at .544, with Dwyane Wade at .506 and Chris Bosh at .553.
4: With his zero points and 13 assists Wednesday night in a home win over Portland, Toronto's Jose Calderon became one of just four players in the past 25 seasons to post a double-digit assist total while going scoreless and attempting only one field goal.
2-5: Jrue Holiday's 16 points, 10 rebounds and 10 assists in Philadelphia's loss Wednesday at Phoenix was the seventh triple-double registered by a player on the road team this season. Those teams are 2-5 in those games. There have been nine triple-doubles in home games this season, according to the Elias Sports Bureau, with the home team at 8-1.
---
Amid the understandable hoopla emanating from China in the wake of Quincy Douby's 75-point game this week for Zhejiang Cjouzhou comes fresh uncertainly surrounding former Wizards All-Star (and Magic castoff) Gilbert Arenas.
Arenas has played in only four games for the Yao Ming-owned Shanghai Sharks, having signed with them in November after ultimately conceding that he had no immediate NBA prospects. But he's back in the States now to receive treatment on a nagging groin problem after suffering the original injury in the Sharks' season opener.
Arenas has averaged just 9.8 points, 4.5 rebounds and 2.8 assists in his limited time on the floor in Shanghai. Sharks officials dispute the suggestion in circulation that Arenas won't be returning at all.
As for Douby, yes, you read right: 75 points! (Charles Gaines, in the same game, had 60 points and 29 rebounds on the losing side for Shanxi.) Jon Pastuszek, curator of the best English-language site covering Chinese basketball (NiuBBall.com), has passed along a link to watch the 75-point eruption in its entirety if you've got a spare two hours.
Douby last played in the NBA for Toronto in the 2008-09 season.
3. Film Session
Commissioner David Stern, visiting with ESPN Radio's Scott Van Pelt and Ryen Russillo, predicted there "for sure" will be "multiple" NBA franchises in Europe within 20 years. In the latest Weekend Stein Edition of TrueHoop TV, Europe-loving Marc Stein joins THTV host and former London-based student Henry Abbott to discuss how feasible that prediction is.
4. Western Conference

External interest in Eric Bledsoe is predictably high no matter what the Clippers do to dissuade it, thanks to Bledsoe's consistently noticeable impact in limited minutes off the bench as a defensive disruptor and tempo-changer alongside NBA Sixth Man Award top contender Jamal Crawford and swingman Matt Barnes.
Yet sources briefed on L.A.'s thinking insist that the Clippers don't want to even begin to contemplate the idea of trading Bledsoe until they know that Chris Paul is signed and sealed for the long term. So don't expect Bledsoe to be in play before the Feb. 21 trade deadline.
The fact remains that, even after L.A.'s recent run of 17 straight wins, no one in Clipperland is relaxing because everyone knows Paul is still headed for free agency on July 1. When all those increasingly positive whispers about CP3's willingness to sign a long-term extension with the Clips in the summer come to fruition, maybe then the thought of trading Bledsoe is something they can stomach.
---
Some numbers of note in the West this week:
14: The Clippers are the 14th team in league history to post a winning streak that spanned at least 17 games. But more than half of those 14 teams, including the Clips, lost at least two straight games after the long unbeaten run.
2,567: Oklahoma City's Kevin Durant scored a total 2,567 points in 2012, according to the Elias Sports Bureau. From 1997 through 2012, only one player topped that total in a calendar year: Kobe Bryant in 2006 with 2,688 points for the Lakers.
2: When San Antonio's Tim Duncan rumbled for 28 points, 13 rebounds, six assists and three blocks in Wednesday night's win at Milwaukee, it marked the second time this season that TD has reached all four of those statistical minimums in one game. No other player has done so once, according to the Elias Sports Bureau. Duncan also had 31 points, 18 rebounds, six assists and five blocks at Denver on Dec. 18.
4: Dallas' O.J. Mayo emerged from a recent slump with his fourth 30-point game of the season in Wednesday night's OT loss at Miami. Mayo didn't have a single 30-point game in his final two seasons in Memphis.
3: Golden State's David Lee and Steph Curry are not only both bidding to become the Warriors' first All-Star representative since Latrell Sprewell in 1997 but likewise form one of only three duos in the league in which two teammates average at least 20 points per game. Oklahoma City's Kevin Durant and Russell Westbrook and Miami's LeBron James and Dwyane Wade are the only other pairs of teammates with both guys averaging in the 20s.
5.

One-On-One ... To Five
Five questions with Spurs guard Manu Ginobili:
Ginobili
Q: The West isn't getting any easier, but how do you feel about where you guys slot in with all this tough competition?
A: I think we're fine. Of course we were rolling -- we were playing great -- and then we had that stretch where we lost four out of five. And that [brought] us down a little bit. But no big deal. [Over] 82 games, that's going to happen more than one time. We just got to keep playing, focus on the next game, try to stay healthy, of course, and keep playing well.
Q: I know you guys usually don't say much about what's happening around you, but how closely are you guys watching the other top teams?
A: You sort of do. It's not that we are always [asking]: "What are the Clippers doing? What is OKC doing?" But we watch them. We want to know how good they are and what they do well. But, still, we're not even halfway through the season, so we watch a little bit, but not too crazy. This is my 11th season and I don't remember one time where the West was easy. It's always tough [with] a lot of teams that can cause problems. ... At the end of the year, it's all going to be tight.
Q: The way the Spurs' season ended and then the way the Olympics ended ... hard things to forget about it?
A: Yeah. Yeah, it was. Well ... let me say: It was great with a bad finish, because both were unbelievable experiences. We kicked butt all season long with the Spurs. You play a great team and you lose Game 5 at home [to the Thunder] and that can happen. Of course it's disappointing, because we thought we had a chance [to win a championship]. But it can happen.
With Argentina the same. We are a veteran team. We knew nothing was going to be easy, but again we got to the [Olympic] semifinals doing great, healthy, enjoying what we were doing. It can happen that you have a bad game and down the stretch you miss a shot, they make one and you lose. ... Besides the fact they both ended up in (disappointment), they were both great experiences and I'm very proud of both (teams).
Q: How much does the fact that you've won a championship here and gone all the way (to a gold medal) with Argentina make it easier to get over those disappointments?
A: It may be the fact that I already won and also that I'm 35. At 23, you take things differently.
Q: Was London the last stand for Argentina as we know it? Or can that team come back one more time?
A: Depends what you call "that team." Three players is that team? Or five? Or 10? Nobody knows. Nobody really announced they're not playing any more. I haven't done it, (Luis) Scola says he gonna keep playing, (Carlos) Delfino says he's gonna keep playing, (Andres) Nocioni says he gonna keep playing. I don't know what I'm going to do, but a big part of that team is going to keep going."
I really enjoy playing with those guys a lot. And not only playing. Hanging out, working out, preparing, even losing with them. It's the same as with some of these guys. There's a point where you play 10-plus years with somebody that you find a connection. And even losing you kind get something out of it and you respect those guys. I've been so lucky in my career to be able to play here 11 years [and] with the same core of the Argentinean national team for 14 years.
"Coaches are never happy. Happy is not a word in the vocabulary."
-- San Antonio coach Gregg Popovich, responding to a question about his level of contentment after his team swamped its old friends from Dallas for the Spurs' second rout of the Mavericks in a span of seven days.
The words, of course, should have a ring to them. Popovich famously bristled during a between-quarters interview with TNT's David Aldridge way back in the opening week of the season that featured a similar line of questioning.
So why highlight this sort of exchange again?
Two reasons:
1) Couldn't believe that there was still a reporter in circulation who, out of fear, hadn't purged every urge to ask Pop anything happiness-related.
2) Couldn't believe, furthermore, that the question in question from last Sunday's postgame scrum at American Airlines Center generated no hoopla afterward. I was under the assumption that all awkward Pop/reporter interactions always made headlines.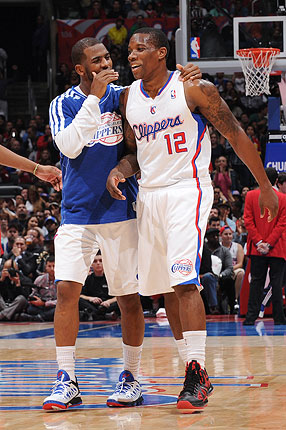 Noah Graham/NBAE via Getty Images
If teams are interested in trading for the Clippers' Eric Bledsoe, they're going to have to wait. (See Box 4.)
Galloway & Company: Marc Stein
Marc Stein joins Galloway & Company on ESPN Radio in Dallas for further discussion on the state of the Mavericks amid their worst start of the Mark Cuban Era.
9. Post-Christmas Rush
The NBA trade deadline isn't until Feb. 21, but two key dates in the world of player movement are already upon us.
Teams can start signing players to 10-day contracts Monday, while players currently possessing nonguaranteed contracts will see those contracts become guaranteed if they survive with their current teams through Jan. 10.
In both cases, though, there is pertinent small print to digest.
The option of signing players to 10-day deals usually comes into play leaguewide on Jan. 5, but that date was pushed back 48 hours this season to the first available business day because Jan. 5 falls on a Saturday.
Players whose contracts aren't yet fully guaranteed, furthermore, actually only have to make it to Monday at 5 p.m. ET. Teams that choose to release players before the Jan. 10 guarantee date have to waive them by Jan. 7 to ensure they clear waivers in time.
Just in the past week, that's why we've seen New Orleans release Dominic McGuire and Brooklyn release Josh Childress at his request because the sparingly used Childress knew he wouldn't be lasting beyond Jan. 7. The looming deadline is also why we saw Chicago announce that it was picking up Nate Robinson's full $854,389 for the season.
A list of players still watching the clock follows:
| | |
| --- | --- |
| Anthony Tolliver (ATL) | $854,389 |
| Kris Joseph (BOS) | $473,604 |
| Jarvis Varnado (BOS) | $320,379 |
| Andray Blatche (BKN) | $854,389 |
| Jeff Adrien (CHA) | $653,356 |
| Kevin Jones (CLE) | $390,027 |
| Shaun Livingston (CLE) | $773,976 |
| Samardo Samuels (CLE) | $854,389 |
| Chris Douglas-Roberts (DAL) | $582,995 |
| Julyan Stone (DEN) | $762,195 |
| Kent Bazemore (GSW) | $473,604 |
| Ben Hansbrough (IND) | $473,604 |
| Sam Young (IND) | $854,389 |
| Darius Johnson-Odom (LAL) | $473,604 |
| Robert Sacre (LAL) | $473,604 |
| Josh Harrellson (MIA) | $762,195 |
| Terrel Harris (MIA) | $762,195 |
| Lazar Hayward (MIN) | $542,788 |
| Lance Thomas (NOH) | $762,195 |
| Chris Copeland (NYK) | $473,604 |
| Rasheed Wallace (NYK) | $854,389 |
| DeAndre Liggins (OKC) | $762,195 |
| Daniel Orton (OKC) | $849,363 |
| DeQuan Jones (ORL) | $473,604 |
| Maalik Wayns (PHI) | $473,604 |
| Diante Garrett (PHX) | $473,604 |
| Luke Zeller (PHX) | $473,604 |
| Gary Neal (SAS) | $854,389 |
| Jamaal Tinsley (UTAH) | $1,352,181 |
| Shelvin Mack (WSH) | $511,119 |
| Garrett Temple (WSH) | $572,943 |
There are also seven players who began the 2012-13 campaign with at least a six-figure sum of their not-fully-guaranteed contracts for the season locked in no matter what happened.
They are: Atlanta's Kyle Korver ($500,000 of $5 million guaranteed); Cleveland's Daniel Gibson ($2,492,332 of $4,792,332 guaranteed); Houston's Scott Machado ($236,802 of $473,604 guaranteed) and Greg Smith ($381,098 of $762,195 guaranteed); Milwaukee's Samuel Dalembert ($1.5 million of $6,698,565 guaranteed); New Orleans' Brian Roberts ($100,000 of $473,604 guaranteed); and Utah's Kevin Murphy ($200,000 of $473,604 guaranteed).
10. Corner 3
Three quick slams and dunks from the deepest recesses of Weekend Dimedom:
1. Royce White has a lot of fans in this game. He has lots of people pulling for him because of White's willingness to be so open about his battles with anxiety disorder and his determination to nudge the NBA toward establishing overdue leaguewide protocols for dealing with mental health issues. But White's unending outspokenness on Twitter, including repeated critiques of an organization in Houston that's been trying for months to make things as comfortable as it can for the rookie forward in unprecedented circumstances, repeatedly takes the focus off White's actual illness and instead leaves the distinct impression that he only wants to proceed with his NBA career on his own terms. Most of us have no clue what it's like to battle the demons White faces, but you can safely say that the Rockets, as an employer, have gone well above the norm -- not just by NBA standards but by any real-world measure -- in trying to help White cope. Sorry to say that repeatedly refusing assignments to the D-League's Rio Grande Valley Vipers and publicly questioning the Rockets' competence sadly comes across as D-League-itis more than anything else.
2. The Spurs have long been among the most vociferous protesters -- and rightly so -- that there's not enough room for players to land when they need to because of all the courtside traffic. San Antonio's absolute worst fears weren't quite realized Thursday, but seeing Stephen Jackson stumble and sprain his ankle when he unknowingly backed into a kneeling waitress after hoisting a corner 3 of his own Thursday night at Madison Square Garden should be sufficiently scary for every team in the league to reopen this discussion with some real volume for a change. There are too many people too close to the court at NBA games. Period.
3. You know you're an NBA writer when you're eating at one of your favorite restaurants (Houston's, if you must know) and you get excited because the unofficial anthem for Renaissance hotels -- which airs continuously on the chain's own in-house channel advertising other properties around the world -- starts playing over the dining room speakers. (The name of the song is "Holographic Universe" by Thievery Corporation and, yes, I've got it in my iPhone so I don't have to be in a Renaissance room to hear it.)