1 a.m. ET
From ESPN Research's Mark Simon:
Notable late-game triples in All-Star Game history 2009 -- Curtis Granderson triples over Justin Upton's head, then scores winning run as AL edges NL.
2006 -- Michael Young hits go-ahead triple against Trevor Hoffman in ninth inning as AL rallies from 2-1 deficit to win.
2002 -- Omar Vizquel hits game-tying, eighth inning triple. Game ends in a tie.
1987 -- Tim Raines hits two-run triple in the 13th inning to give NL lead, snap scoreless tie.
1978 -- Steve Garvey leads off eighth inning with triple. NL scores four runs to snap 3-3 tie to win 7-3.
1959 -- Willie Mays hits go-ahead triple in eighth inning vs. Whitey Ford as NL beats AL 5-4.
--Nick Pietruszkiewicz
10:54 p.m. ET
• Last Oriole to drive in a run in an All-Star Game before Adam Jones put the AL ahead: Miguel Tejada in 2005.
--Jayson Stark
10:41 p.m. ET
• The NL now has gone 16 straight hitters without a hit. They started the game with five straight outs, then got four hits in succession, then made 16 outs in a row. Tough way to win an All-Star Game for the first time since the Clinton administration.
--Jayson Stark
10:31 p.m. ET

• Last players before Yadier Molina with RBIs in their home park: Chipper Jones and Andruw Jones in 2000, in Atlanta.
--Jayson Stark
9:57 p.m. ET

• Prince Fielder's last pinch-hit RBI in the regular season: April 19, 2006 -- a double off Mike Gallo in Houston.
--Jayson Stark
9:44 p.m. ET
• Roy Halladay has appeared in four All-Star Games -- and been scored on in three of them. His career All-Star ERA: 9.00 (6 IP, 6 ER).
--Jayson Stark
9:35 p.m. ET

• Big Island alert: Shane Victorino was the first Hawaiian in history to get a hit in an All-Star Game.
--Jayson Stark
9:22 p.m. ET

• Last time the NL rallied for three runs or more to take a lead: a five-run fifth inning in 2003 -- against Shigetoshi Hasegawa and Eddie Guardado.
--Jayson Stark
9:16 p.m. ET
• Roy Halladay whiffed in his audition for all those NL teams trying to trade for him. Just so you know, the last AL pitcher who actually made contact at the plate was Freddy Garcia in 2002. Last before that: David Wells in 1998. Last with a hit: Charles Nagy in 1992.
--Jayson Stark
9:09 p.m. ET
• Tim Lincecum in the regular season: two first-inning runs in 18 starts.
Tim Lincecum in this All-Star Game: two first-inning runs in, well, one start.
--Jayson Stark
9:04 p.m. ET
• Ichiro's hit to lead off the game made him 8-for-22 (.363) lifetime in his eight All-Star Games. According to Elias, he's one of three players in history (with at least 15 All-Star ABs) who have a .320 average or better in both the All-Star Game and the regular season. The others are Wade Boggs and Charlie Gehringer. In a half-inning, when Albert Pujols gets his 15th lifetime All-Star at-bat, you can add a fourth name to that list.
• Last time any team scored two or more in the top of the first: 2004 -- when the AL got six in the first against another Cy Young winner, a fellow named Roger Clemens.
--Jayson Stark
8:28 p.m. ET
Ed. note: We couldn't help ourselves, so the live blog is, well, alive again.
Nothing like an All-Star Game to get the Useless Information Department alive and cranking. So here we go …
• Roy Halladay was attempting to do something in this All-Star Game that he hadn't done for more than a month -- i.e., win a game. Halladay's last regular-season win was June 7 -- which was 37 days ago. The Elias Sports Bureau reports he's the first pitcher to start an All-Star Game after going a month or longer without a win since Billy Pierce did it way, way, way back in 1955. Pierce had been winless for exactly one month.
• One more on Halladay: 210 decisions into his career, he has a .671 winning percentage (141-69). Elias reports that the last pitcher to start an All-Star Game with a better winning percentage than Halladay and that many decisions was (surprise) Juan Marichal in 1967 (142-86, .686).
• Not one of the top 10 active home run hitters can be found on either of these All-Star teams. And the Sultan of Swat Stats, SABR's David Vincent, reports that this is only the second time in All-Star Game history that's happened. The other was 1992.
The active top 10 back then: Dave Winfield, Eddie Murray, Andre Dawson, Dale Murphy, Carlton Fisk, Jack Clark, Gary Carter, Lance Parrish, George Brett and Darryl Strawberry.
• At 37 years and 42 days old, Phillies outfielder Raul Ibanez is the second-oldest first-time All-Star starter in history. So who was first on that list? A fellow named Babe Ruth, according to Elias. Ruth was 38 years, 150 days old when he started the first All-Star Game ever, in 1933.
• Certain All-Star trends make no sense. Here's one of them: The National League headed into this Obama-fest undefeated in All-Star history (4-0) when a president or former president has thrown out the first pitch. OK, so obviously, it's been a while, but here are the four years in question: 1962 (John F. Kennedy), 1970 (Richard M. Nixon), 1976 (Gerald Ford) and 1978 (retired president Ford).
--Jayson Stark
7:25 p.m. ET
Detroit third baseman Brandon Inge was the quintessential good sport after failing to go deep once in Monday's Home Run Derby.
"I'm going to ask them to stop that announcer who keeps saying how many outs you've made,'' Inge said. "I kept looking up at him and saying, 'Shut up! I've got it already!'''
Inge received a text message Tuesday from Kansas City reliever and former Detroit teammate Kyle Farnsworth, who told him, "Great Home Run Derby, buddy,'' while congratulating him on making the All-Star team.
"I was hoping to get razzed about it,'' Inge said. "I deserved it.''
--Jerry Crasnick
7:04 p.m. ET
St. Louis closer Ryan Franklin is attracting a lot of attention for his numbers this season. He's 2-0 with a 0.82 ERA, and opponents are batting .169 against him. He's reinvented himself in the bullpen and found new life under pitching coach Dave Duncan. Franklin also stands out for the enormous tuft of hair hanging from his chin. But he figures he's due for a trim very soon. "It's starting to get in the way,'' Franklin said. "It's so long now, it keeps getting in my eyes when I'm trying to sleep.''
--Jerry Crasnick
6:55 p.m. ET
Texas third baseman Michael Young, who has a track record for late All-Star Game heroics, was added to the starting lineup Tuesday when Tampa Bay's Evan Longoria had to be scratched with an infected finger.
Young was especially excited over the opportunity to meet President Barack Obama, who is scheduled to throw out the ceremonial first pitch at Busch Stadium. Young voted for Obama in the 2008 election and traveled to Washington, D.C., for the inauguration in January.
"It was wild,'' Young said. "It was so much fun. It's going to be a huge thrill. When I found out I was coming to St. Louis, this was one of the things I was really looking forward to.''
--Jerry Crasnick
6:35 p.m. ET
• AL manager Joe Maddon said he planned to hold back his two most versatile position players -- Ben Zobrist and Chone Figgins -- because they play so many different positions and would give him more maneuverability late in the game.
• Maddon said that three pitchers -- Tim Wakefield, Josh Beckett and Justin Verlander -- probably wouldn't pitch unless the game went extra innings. In Wakefield's case, Maddon conceded it was a difficult decision to tell a 42-year-old first-time All-Star he might not pitch. "It's all about, this game does matter," Maddon said. "And he's the perfect guy, if this game would go extra innings, to carry us a long way."
• Maddon said that Mariano Rivera would be the closer if his team had a save situation because "that's the right thing to do."
• Maddon hasn't ruled out the possibility that Brandon Inge could wind up catching in this game if things get crazy enough. And Maddon said he actually called Inge last weekend to see if that was OK. "I called him Saturday and asked the question, if the opportunity should arise, in an emergency, could he do that? And he said that was fine."
--Jayson Stark
6:28 p.m. ET
OK, so the All-Star Game counts? It's important, right? Home-field advantage and all? Serious, everybody serious? Well, there are still signs, big and small, that this is nothing more than an exhibition.
An unwritten rule, one of the most rigidly observed, is that the day's starting pitcher never speaks with the media before the game. Yet, there was Tim Lincecum, lounging by his locker about three hours before first pitch, holding court. The NL starter in tonight's 80th All-Star Game didn't mind chatting at all, discussing everything from his delivery, to pitch selection to, of course, his hair. He would never do that before a "real" start.
As for what in the world is going on with his hair, he offered this:
"I'm too lazy to cut it right now," he said. "And I have no clue what I would do with it if I did cut it."
--Nick Pietruszkiewicz
5:37 p.m. ET
Derek Jeter famously offered advice to President George W. Bush before the ceremonial first pitch at Yankee Stadium shortly after Sept. 11, 2001.
"I told him he had to throw from the mound, that he couldn't move up closer," Jeter recalled this week in St. Louis. "And I told him not to bounce it because he'd definitely get booed. He threw a strike."
Since Jeter is good at offering advice, what should President Barack Obama keep in mind as he heads to the hill tonight at Busch Stadium to toss the ceremonial first pitch before the 80th All-Star Game?
"To President Obama … hmmm … let's see … I tell him, 'Don't hurt yourself,'" Jeter said. "Yeah, that it's -- 'Please just don't hurt yourself.'"
Obama has said he plans to loosen up before his pitch.
-- Nick Pietruszkiewicz
5:10 p.m. ET
David Wright, for one, is tired of the National League losing in the All-Star Game. The NL has not won since 1996, when it posted a 6-0 win over the AL at now-gone Veterans Stadium in Philadelphia.
"I don't think the AL is that much more dominant than the NL," Wright said. "They just have a knack for making something at the right time more than we do. I don't even know what the streak is at, but I know it's double digits, and we'd like to end that."
The live blog will keep you updated until the first pitch at 8 p.m. ET, then we'll hand off to the All-Star Game chat.
-- Nick Pietruszkiewicz, baseball editor
11:02 p.m. ET
Well, Cruz set a Derby record for HRs by a Cruz. OK, he was also the first Cruz ever in a Derby. Nope, no Jose, Todd, Fausto or Deivi.
--Jayson Stark
10:55 p.m. ET
From ESPN Research's Mark Simon:
Nine champs have won with five HRs or fewer.
--Nick Pietruszkiewicz
10:41 p.m. ET
Fielder hit six in eight swings -- carrying a total of 2,851 feet. That's an average of 475 per bomb.
--Jayson Stark
10:35 p.m. ET
And there it is, at long last, the first 500-foot shot of the night. Prince Fielder hammered one 503 feet.
--Nick Pietruszkiewicz
10:33 p.m. ET
Nelson Cruz hit five HRs of 450-plus in the first two rounds -- as many as everybody else combined.
--Jayson Stark
10:26 p.m. ET
Howard now has 41 total Derby HRs-- as many as Bobby Abreu hit on one night in Detroit!
--Jayson Stark
10:22 p.m. ET
Howard had six homers in last nine swings. But will it be enough?
--Jayson Stark
10:12 p.m. ET
Pujols will be the 12th straight hometown Derby participant not to win -- unless everybody else gets shut out. Last to win: Ryne Sandberg in '90.
--Jayson Stark
10:03 p.m. ET
From ESPN Research's Mark Simon:
Precedent for a big Pujols round?
In 2003, Pujols had a four-homer first round but hit 14 in the second round.
He lost in the finals to Garret Anderson, hitting eight.
--Nick Pietruszkiewicz
9:51 p.m. ET
This is only the second swing-off since they abandoned the old format, which broke ties based on season totals.
--Jayson Stark
9:47 p.m. ET
From ESPN Research's Mark Simon:
Pujols won a swing-off with Justin Morneau in 2007, winning 2-1.
--Nick Pietruszkiewicz
9:41 p.m. ET
Albert Pujols' third homer probably wasn't a homer. A fan reached over the outfield wall and snatched it up. The umpires, though, ruled it a homer. You think anybody was going to have the guts to take one away from Albert in St. Louis?
--Nick Pietruszkiewicz
9:32 p.m. ET
Five homers in the first round hasn't been enough to advance in any of the past five Derbies, except in San Francisco in '07.
--Jayson Stark
9:24 p.m. ET

The sign of the night so far, from a fan seated in right field:
"Finally Pujols Will Get Some Pitches To Hit"
--Nick Pietruszkiewicz
9:16 p.m. ET
The Nationals lost their manager, and they almost lost Ryan Zimmerman. Ryan Howard nearly took out Zimmerman with a line shot down the first-base line, which is where the NL players are camped out.
Zimmerman playfully stared Howard down before going back to his seat.
--Nick Pietruszkiewicz
9:10 p.m. ET

Last year, Josh Hamilton hit 28 homers in the first round. This year, the first five hitters combined have hit 29.
--Jayson Stark
9 p.m. ET

In case you were wondering (after Gonzalez made six straight outs), the last Derby with two zero heroes: 1997 -- Nomar Garciaparra and Jim Thome.
--Jayson Stark
8:57 p.m. ET
Inge with fourth Derby bagel in this decade. Others: Jason Bay 2005, Bret Boone 2003, Troy Glaus 2001
--Jayson Stark
8:54 p.m. ET
Is this the Year of the Pitcher? In the Home Run Derby? Brandon Inge did not hit a homer, and Adrian Gonzalez went six swings without going deep. Finally, he snuck one over the left-center field wall for a homer. He hit only one more out and finished with a measly two.
--Nick Pietruszkiewicz
8:48 p.m. ET

Brandon Inge joked that, as the little guy in the field, he'd need everything to go just right to compete with the big boys in this Home Run Derby. It didn't go well for Inge, who did not hit a homer. That's right, 10 swings, 10 outs. Think he might hear about that a bit when he gets back to the Detroit clubhouse?
--Nick Pietruszkiewicz
8:42 p.m. ET
Prince Fielder threatened the night's first 500-foot homer. His mammoth blast went 497. Before the night's over, something tells me somebody goes deeper than 500 feet -- perhaps the unofficial host of this weekend, Albert Pujols? Maybe Ryan Howard?
--Nick Pietruszkiewicz
8:26 p.m. ET
The ball is carrying well -- doesn't it always in a Home Run Derby? -- despite a soft wind blowing in from left field. Nelson Cruz has already hit a few deep, deep home runs, including one off the second "C" in the "Big Mac" sign on the fašade of the second deck in left field. He topped even that, just a moment ago, going into the third deck. It brought on the first non-Pujols/non-Ozzie Smith standing ovation of the night.
--Nick Pietruszkiewicz
8:13 p.m. ET
Two of my favorite scenes so far:
1. Mariano Rivera taking pictures of his son in the dugout.
2. Justin Upton, in uniform, buying a couple of his Diamondbacks uniform tops at a concession stand at 6:45 p.m. local time.
--Peter Gammons
8:10 p.m. ET
Earlier Monday, Ryan Howard predicted the fans at Busch Stadium would certainly be rooting hard for Albert Pujols to win the Home Run Derby, but that the knowledgeable crowd would also get behind the rest of the contestants because people in St. Louis respect good players.
Well, they certainly were polite during introductions -- no boos were heard, not even for NL Central rival Prince Fielder. But the roar for Pujols rang loud and clear. If Pujols doesn't win, a lot of folks here are going to go home quite upset.
--Nick Pietruszkiewicz
7:35 p.m. ET

OK, with the Derby about 30 minutes out, let's review the format and rules.
Format:
First round
• Each player gets 10 outs per round.
• The four players with the highest number of HRs advance to second round.
Second round
• HRs carry over from the first round.
• The two players with the highest cumulative number of HRs in the first two rounds advance to the championship round.
Championship round
• HRs from the first two rounds do not carry over to the championship round.
• Highest total in the championship round claims the crown.
Rules:
• Pretty simple. Each player gets 10 outs per round.
Tiebreakers
• If two or more players are tied at the end of a round, a swing-off will decide which player advances.
• In the swing-off, each player will get five swings to hit as many HRs as possible.
• If the participants are still tied after five swings, they will go again, this time taking three swings.
• If there is still a tie, the process will repeat, with three swings, until there is a winner.
--Nick Pietruszkiewicz
6:05 p.m. ET

When Pittsburgh lefty Zach Duke made the All-Star team as a replacement for San Francisco's Matt Cain, he joined teammate Freddy Sanchez on the National League roster. It marked only the third time since 1994 that two Pirates have made the squad.
Brian Giles and Jason Kendall represented the Pirates in 2000, and Sanchez and Jason Bay made it in 2006.
That's not bad considering the Pirates have made their biggest waves this summer with a flurry of trades orchestrated by GM Neal Huntington. The biggest deal, which sent outfielder Nate McLouth to Atlanta, resonated throughout the Pittsburgh clubhouse.
"That one was tough to swallow, for sure,'' Duke said. "Nate's been a friend of mine since 2001.
"But when you see the pieces we've got, you start to figure out that there's a little purpose to it. I know they're trying to build something, and it's going to be a pretty exciting time in a few years. I don't know if I'll be around to see it or not.''
--Jerry Crasnick
5:55 p.m. ET

Is there a less likely All-Star in town than A's rookie Andrew Bailey?
A year ago this time, he was in Double-A. And not only that. The way he was pitching, he wasn't exactly a candidate to appear in any Double-A all-star games -- since he happened to be 1-8, with a 6.18 ERA.
But then the A's moved him to the bullpen and got him to add a cut fastball. And the rest has been one of the most amazing baseball stories of the year. That same Andrew Bailey now leads all AL relievers in strikeouts (with 60 in 51 2/3 innings).
"When I went to the bullpen, I didn't take it as a demotion, because I still had a name on the back of my jersey," the 25-year-old right-hander said. "So when I went to the bullpen, I said to myself, 'I want to pitch well enough to make it to the [Arizona] Fall League.' So that happened.
"Then I went to the Fall League and said, 'I want to pitch well enough to make the big league team.' And then that happened. Then, going into big league camp, I just said, 'I just want to make an impression, so late in the year, if they need an extra arm, I'd be one of the first ones that they think of.
"Well, it just so happened that I [survived] every cut. Then I went to San Francisco for the Bay Series. And then I made the team. So the whole year has just been a roller coaster. It's all happened so fast. And now put this on top of it."
--Jayson Stark
5:40 p.m. ET
Tim Lincecum never made it to the All-Star Game at Yankee Stadium last year because he reportedly was suffering from dehydration and the flu. The running joke was that he also might have been suffering from excessive exposure to the New York City nightlife.
Lincecum is the starting pitcher for the National League this year, so the chances that he'll be a no-show in St. Louis are nil. He also has entrusted Giants teammate Matt Cain to keep an eye on him in advance of the game.
"I have a three-foot leash that Timmy isn't allowed to go out of," Cain said. "I think he learned a lot last year, and he'll have plenty of hydration. He'll be more acclimated to St. Louis. We were just here a week or so ago, so he'll be all right."
--Jerry Crasnick
5:30 p.m. ET
Toronto second baseman Aaron Hill is particularly appreciative of his first career All-Star Game appearance, given that he spent the final four months of the 2008 season on the disabled list. Hill suffered a concussion on May 29 of last year in a collision with teammate David Eckstein and never returned.
This year, Hill leads American League second basemen with 114 hits and 20 home runs.
"I keep saying it over and over, but I'm just blessed to be in a uniform," Hill said. "For four months last year, I was doing nothing, and there were some thoughts that maybe I'm not coming back. You don't forget how quickly something can be taken away from you like that."
--Jerry Crasnick
4:20 p.m. ET
I asked Joe Maddon whom he most enjoyed picking for the American League All-Star team. His answer was Tim Wakefield.
Maddon also said he might have Brandon Inge catch during the All-Star Game. Inge responded to that possibility by saying, "I burned my catcher's glove last winter. But as Bob Uecker said, 'The best way to catch [a knuckleball] is to run back to the screen.'"
When asked whether he would be fine if he gets the chance to catch Wakefield, Victor Martinez didn't sound all that excited: "I'll do it, but I've never caught [a knuckleball]." Joe Mauer, meanwhile, pretty much echoed Martinez's words: "I'd rather hit against Wakefield than catch him."
--Peter Gammons
2:55 p.m. ET
Jonathan Papelbon is looking forward to a more relaxing All-Star appearance than the one he had last year in New York.
"Hopefully I don't have to wear a bulletproof vest to the parade," Papelbon said.
Papelbon's then-pregnant wife was reportedly threatened during the parade a year ago.
"At first I was taken back by it, then it really started to bother me," Papelbon said. "By the end of it, I was just like, 'Get me off this thing.'"
Papelbon also created a stir by saying he should close the game at Yankee Stadium, a comment that many viewed as a shot at Yankees closer Mariano Rivera.
"He understands my competitiveness," said Papelbon, who has spoken to Rivera since last year about his comments. "It was no shot at him. The [closer] role is what it is today because of that guy."
And when does Papelbon feel like pitching in this year's game?
"Of course I want to [close the game]," he said. "But there is no reason Mo shouldn't save this game. I guess I am going to have to wait until he retires. But do I want to? Of course. It's probably not going to happen, though."
--Nick Pietruszkiewicz
2:20 p.m. ET
Hanley Ramirez on why his batting average is up and his home runs are down while hitting in the third spot in the Marlins' batting order:
"I'm hitting with more people in scoring position, so I'm cutting down my swing."
--Jorge Arangure Jr.
2 p.m. ET
Miguel Tejada on why he thinks he's in a better position this time as a free agent:
"I'm in better position because I'm giving teams more options," Tejada said. "I can play third base or I can play second base."
Tejada on playing third:
"I've always put that option out there of playing third base."
Tejada on giving up playing shortstop:
"I like playing shortstop, but I love playing baseball."
--Jorge Arangure Jr.
1:50 p.m. ET
Albert Pujols is the unofficial host of this All-Star Game, with it being here in St. Louis and all. And Pujols dressed the part during this afternoon's National League news conference. He was the only player of the National League All-Stars to wear a suit and tie. Miguel Tejada was the only other player to wear a tie but decided not to go with the sports coat.
Other random items from this afternoon's NL player availability:
-- Tony La Russa, who will be one of the coaches for the NL, was the only no-show.
-- The two players who drew the least media attention were, not surprisingly, Pittsburgh's Zach Duke and Freddy Sanchez.
-- The player who drew the biggest crowd? Well, Pujols, of course.
--Nick Pietruszkiewicz
1 p.m. ET
Ryan Zimmerman weighed in on the firing of Nationals manager Manny Acta, saying that somebody has to be held accountable when a team is losing as much as Washington has.
"It's tough, but it's something you have to go through," Zimmerman said. "Unfortunately for him, he's not going to be around to see us grow up.
"Obviously it doesn't all fall on him. He has his ways, and it didn't quite work out the way the front office wanted."
Zimmerman said the losing has gone on so long in Washington that even those within the organization have become accustomed to it.
"There needs to be some accountability," he said. "There needs to be a little more sense of urgency."
--Nick Pietruszkiewicz
11:45 a.m. ET
It took Roy Halladay about three minutes to be asked about being traded. All the talk, which should only continue as the July 31 trade deadline approaches, is getting to Halladay.
"It has been tough," Halladay said. "I do enjoy being in Toronto so much. You'd like to be three games up and not have to deal with this."
--Nick Pietruszkiewicz
11:30 a.m. ET
Charlie Manuel just announced his starting lineup for the National League for Tuesday's All-Star Game:
Hanley Ramirez, SS
Chase Utley, 2B
Albert Pujols, 1B
Ryan Braun, RF
Raul Ibanez, LF
David Wright, 3B
Shane Victorino, CF
Yadier Molina, C
Tim Lincecum, SP
Joe Maddon countered with this lineup for the American League:
Ichiro Suzuki, RF
Derek Jeter, SS
Joe Mauer, C
Mark Teixeira, 1B
Jason Bay, LF
Josh Hamilton, CF
Evan Longoria, 3B
Aaron Hill, 2B
Roy Halladay, SP
--Nick Pietruszkiewicz, baseball editor
8:23 p.m. ET
The World's Chia-Jen Lo, a prospect with Houston, really dialed up when he loaded the bases, touching 93 and adding 5 mph to that big curveball before fanning Scott Sizemore on a 91 mph fastball.
--Keith Law
8:05 p.m. ET
If you're going to be a lefty-on-lefty guy in the big leagues, you can't leave fastballs belt-high against them. Luis Perez found that out the hard way against Jason Castro.
--Jason Grey
8:01 p.m. ET
Jarrod Parker, a right-hander for the U.S. team and a prospect with the Diamondbacks, was warming up at 93.
--Keith Law
7:40 p.m. ET
For whatever reason (weather, the rain delay) velocity is down for pretty much all the pitchers. Francisco Samuel, Mat Latos and Jhoulys Chacin all down a few ticks from where they were at the Texas League All-Star Game a couple of weeks ago.
--Jason Grey
7:32 p.m. ET
Eric Young Jr. has been a stolen-base machine for Colorado's Triple-A farm club in Colorado Springs this season. He has 48 steals in 57 attempts.
Young has only five homers in 320 at-bats in the hitter-friendly Pacific Coast League, but he showed some serious thump by taking a Francisco Samuel fastball over the fence in right-center field in the third inning. The Pirates reportedly are infatuated with Young, but can't interest Colorado in a deal for Freddy Sanchez because of his $8 million price tag in 2010.
--Jerry Crasnick
7:27 p.m. ET
Leyson Septimo, a lefty on the World team, is up to 93 -- loose arm, slider breaks pretty early. Major league hitters would likely see that out of his hand.
--Keith Law
7:22 p.m. ET
World manager Jose Oquendo calls for the lefty to face Pedro Alvarez. This time it counts!!!!
--Keith Law
7:14 p.m. ET
Just saw this: Francisco Samuel, a pitcher for the World Team and a prospect in the St. Louis organization, has hit 95 mph a few times, with a slider at 85.
--Keith Law
6:31 p.m. ET
All the water has been pushed aside and play has resumed after a 4-hour, 9-minute rain delay. Now, all the baseball executives who have players in the Futures Game have to hold their breath and hope everything goes well over the seven innings or so on this slippery track.
--Nick Pietruszkiewicz
6:03 p.m. ET
There will be baseball. How much, nobody is sure at this point. The announcement just came that the Futures Game will resume at 6:30 p.m. ET. The plan is still a seven-inning game … but there is a catch: No inning will start after 8:30 p.m. ET. So if they want to play seven innings, they better play quickly.
--Nick Pietruszkiewicz
3:43 p.m. ET
Even as scouts and development people gathered at Busch Stadium for the Futures Game, everyone had an opinion about the Roy Halladay sweepstakes.
A National League front-office executive gauged the likelihood of the Blue Jays trading Halladay by July 31 at "30 percent.'' The process has become so public and Toronto general manager J.P. Ricciardi has set the bar so high, it remains to be seen if he can land a package of talent that he deems satisfactory. Philadelphia might be the most motivated suitor, but unlike some other teams mentioned in speculation, the Phillies lack a young major league "sure thing'' to serve as the centerpiece of a Halladay deal. Although the Phillies have high regard for pitcher J.A. Happ, he doesn't fit that description. "He's pretty good,'' said an NL scout. "But from the way everybody in Philly talks, you'd think he was the second coming of Steve Carlton.'' St. Louis outfielder Colby Rasmus is the type of player who does fit the description, but Cardinals GM John Mozeliak would have to swallow awfully hard before including him in any kind of trade. Some front-office people think it's just as likely Ricciardi will move Halladay during the offseason. The Blue Jays are doing so much legwork now, with Tony LaCava and their other scouts collecting information about other teams' farm systems, they'll have a significant head start if Halladay is still in trade purgatory this winter.
--Jerry Crasnick
2:55 p.m. ET
Mike Arbuckle, a senior adviser to Royals general manager Dayton Moore, was one of many scouts and front office people at Busch Stadium for the All-Star Futures Game on Sunday.
Arbuckle recently checked out Royals third baseman Alex Gordon during a rehab assignment with the Northern Arkansas Naturals in the Double-A Texas League, and said Gordon is coming along nicely in his rehab from hip surgery. Barring a setback, the Royals expect Gordon to return after the All-Star break. "He's moving fine in the field, and he's starting to get his timing back at the plate,'' Arbuckle said. The Royals rank 13th in the American League in runs scored (346) and home runs (76), so they'd welcome any kind of offensive lift at this point.
--Jerry Crasnick
2:30 p.m. ET

[+] Enlarge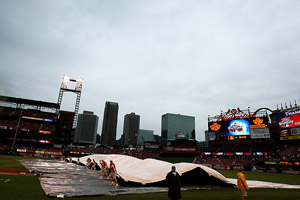 Elsa/Getty Images
The All-Star festivities aren't off to the best start. That's right, the top half of the first inning of the Futures Game is not even finished and we have the week's first rain delay. The tarp is being rolled out, and the boos from those that are here are rolling in. The people of St. Louis planned a lot of events -- there was a very good charity concert Saturday night featuring Sheryl Crow and Elvis Costello -- but there is no Rain Delay Theater on the list. Might have to update the program.
--Nick Pietruszkiewicz
1:50 p.m. ET
Groundskeepers keep getting more and more creative. No longer are cross-patterns in the infield and outfield enough. This year, at Busch Stadium, the grass in the outfield is cut with a large picture of the Old Courthouse building framed by the Gateway Arch. Wonder what they'll come up with next?
--Nick Pietruszkiewicz
12:08 p.m. ET
Different people watch baseball in different ways. Fans sit in seats around the park. Media members get used to the same view, from right behind home plate. Scouts have their own place, and it makes for an interesting picture on this Sunday morning. Busch Stadium is not yet open to the fans, so those red seats are pretty much empty … except for the group of scouts positioned along the first-base line.
With so many right-handed hitters in the lineups, the scouts from around baseball are positioned in the last few rows of the first deck behind first base. That angle gives them the best view to analyze the players they might have on their big-league rosters in the second half or the ones they might be considering dealing as the July 31 trade deadline creeps closer. The gates open soon, so they might have to find a new spot to watch. For now, they can work in peace and quiet.
--Nick Pietruszkiewicz
11:45 a.m. ET
Welcome to this year's installment of ESPN.com's live All-Star blog from hazy, humid, baseball-crazy St. Louis. Check back frequently over the next few days as we take you inside the Futures Game, Home Run Derby and All-Star Game, providing all the sights, sounds and interesting moments from the 80th All-Star Game.
We open the festivities on this Sunday afternoon with the Futures Game, which will be carried live both on ESPN2 and ESPN360.com at 2 p.m. ET. Tune in to see the stars of tomorrow play today, and check back to the blog for more nuggets over the next three days.
--Nick Pietruszkiewicz, baseball editor