Matt Cassel will be good in Kansas City
February, 28, 2009
02/28/09
4:07
PM ET
By
Christopher Harris, ESPN.com
And thus ends the Tyler Thigpen administration.
As if you needed any more proof that there's a new sheriff in town, Chiefs fans, new GM Scott Pioli and new head coach Todd Haley pulled off a trade that I have a hard time believing ex-GM Carl Peterson and ex-coach Herm Edwards would've made. On Saturday afternoon, they filled in the details from the Mike Vrabel trade from Friday: Kansas City will receive both Vrabel and Matt Cassel from the Patriots in exchange for its second-round pick this April, the 34th overall selection.
Wow.
[+] Enlarge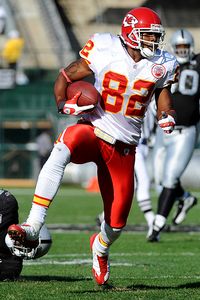 Kirby Lee/US PresswireBowe could be a fantasy sleeper with a good quarterback and a potent offense in 2009.
Forget the gimmick offense that Thigpen ran in the second half of 2008. Heck, forget Thigpen. He's back where he belongs: a very athletic runner and a second-stringer capable of injecting some life into a team for a short period of time, but someone who's too erratic with his arm to be a starter. With Haley in place, essentially working as his own offensive coordinator (the Chiefs haven't announced who'll call the plays, Haley or returning coordinator Chan Gailey, but I have to believe it'll be Haley), and Pioli coming over from the highly successful Patriots offensive system, I think it's safe to assume you're going to see a lot of shotgun out of the Chiefs in 2009, and a lot of passing in general. After all, Haley's coming over from the Cardinals, where he had Kurt Warner, Larry Fitzgerald, et al. Cassel isn't a lock to be successful, but he's a lock to start, and he's got Dwayne Bowe and Tony Gonzalez at his disposal. Should Cassel instantly be rated as a top-five quarterback? Absolutely not. He doesn't have the O-line he leaves behind in New England, and while Bowe's a nice young player, he's not Randy Moss. Plus Cassel hasn't shown he can consistently throw the deep ball; even while accumulating 3,693 pass yards in '08, he never showed he could consistently make teams pay for single-covering his wideouts deep. But I believe Cassel will be a starter right away in a 12-team fantasy league. And Bowe and Gonzo are looking like utter studs in a pass-heavy system. Heck, upgrade Mark Bradley and Will Franklin in deeper leagues while you're at it.
In New England, the best news is what the Patriots seem to think about Tom Brady's surgically repaired knee. Kevin O'Connell is a nice prospect, but he's only been around the Pats for a year, and probably wouldn't perform as well as Cassel if Brady's health is shaky. By the power of transitive logic, then, I have to assume that Brady's health isn't shaky. It's impossible to etch anything in stone at this early date, but I believe Brady is right back to being a top-3 quarterback, with more upside than anyone in football. Moss and Wes Welker are looking rock-solid as well, though Jabar Gaffney's departure to Denver leaves the third receiving gig open. Expect the team to sign someone in free agency now that they've got Cassel's franchise-tag salary off the books.
As to the Vrabel portion of this trade: Does this signal the end of the fantasy effectiveness of the Patriots' defense? Well, first of all, let's just say I wasn't that sold on the fantasy effectiveness of the Patriots' defense this past year; with one of the worst sets of corners in the league, they were a nightmare against the pass, and gave up big plays and points galore to better offenses. And the fact is when Adalius Thomas got hurt, every other outside linebacker, including Vrabel, got exposed. Vrabel sank horribly from his stellar '07: He went from 12.5 sacks to four, 77 tackles to 62, and just didn't look like the same player. While I have very little idea what New England has planned at outside linebacker (Thomas should return from his broken forearm, but there really isn't anyone else on the roster who can play, and yes, I'm looking at you, Pierre Woods), I'm going to assume they've got a plan. No, this Vrabel deal in and of itself it doesn't sink the Pats' D. The team's cornerbacks take care of that all by themselves. Expect New England to sign several defensive players in free agency, too.