Anyone out there still doubt Louisville?
March, 15, 2009
03/15/09
1:53
AM ET
NEW YORK --
Andre McGee
and
Terrence Williams
popped into a store near the team hotel on Saturday searching for something to drink. As they browsed around, the two Louisville team captains spotted some sparkling cider on a shelf.
They bought four bottles, took them back to their rooms and stuffed them in the bags they'd bring with them to Madison Square Garden. They didn't tell anyone they had purchased them.
Hours later, the drained bottles were scattered on the locker-room floor, and Williams and McGee's unsuspecting teammates sat with towels over their heads, still mopping up the fizzy McIntoshes after their 76-66 victory over Syracuse in the Big East tournament title game.
"We ran back and popped them," McGee said. "We got a few people."
More than a few, actually. The Cards have pulled one over on an awful lot of folks.
Since November, fans and prognosticators have discussed who might be the best team in the country, the one ultimately awarded with the No. 1 overall seed in the NCAA tournament. North Carolina owned the conversation early. Connecticut and Pittsburgh swapped the honors with each other. Oklahoma had a moment in the sun.
Louisville? Not even so much as a passing glance.
Yet when the brackets are announced at 6 p.m. on Sunday night, the Cardinals could be standing atop everyone else.
Or at least they should be.
Michigan State, North Carolina, LSU, Washington, Kansas and Louisville all won their conference regular-season crowns.
Not only is Louisville the lone team among those that won its conference tournament, it's also the only team to even reach a conference final. The Spartans, Tar Heels, Tigers and Huskies all lost in the semis, while the Jayhawks were ousted in their first game.
The conference Louisville won during both a three-month span and a three-day span has been called the best in the country since before the first tip-off of the season. The Cardinals dropped all of two Big East games in 21 tries.
The criticism that the Cards had three bad early losses? Two of those three teams (Western Kentucky and Minnesota) will be in the NCAA tournament. The third, UNLV, was on the bubble heading into March.
And since those early problems, Louisville has won 20 of 22 games.
[+] Enlarge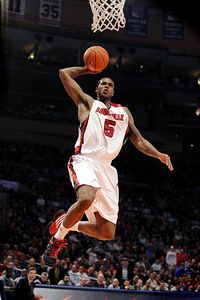 Rich Kane/US PresswireEarl Clark posted a double-double in the Cards' 76-66 victory over SU.
"We won the regular season, we won the conference tournament, so I'm not sure what else we can do," Louisville junior guard Earl Clark said.
For now, they can celebrate. Four years ago, Louisville joined a band of defectors and bolted Conference USA in search of greener pastures for its football program. The move brought Rick Pitino full circle back to his coaching roots. His first full-time job came at Syracuse, and he cut his teeth as a young hotshot at Providence.
He joined the league when his team wasn't very good, an NIT squad thrown in the jungle of a conference Pitino knew would swallow it up. Prophecy realized, the Cardinals finished 6-10 that first season.
But building on Pitino's combo-platter résumé of Hall of Fame coach with New York/East Coast bloodlines in the blue-blooded basketball state of Kentucky, Louisville didn't last long at the bottom.
By the Cards' second year, they were 12-4 and finished second in the league. A year later, they matched their finish and improved their record by two.
Yet New York remained elusive. The Cards never lasted very long in Pitino's stomping grounds, winning just one game here in his first three Big East tournaments.
Now the Cards have climbed the mountain in the most difficult year of all and could very well be rewarded for it.
Pitino chuckled at the obsession with seeding, saying, "There's so much banter and talk about seeding. I've been doing this quite some time. I've never seen so much talk about seeds." But if history is any indicator, nabbing a No. 1 seed might very well matter. Pitino has entered the tournament with a top-seeded team four other times in his coaching career. Three of those teams -- Kentucky in 1993, 1996 and 1997 -- went to the Final Four. The fourth lost in the regional final to a loaded North Carolina team that had Jerry Stackhouse and Rasheed Wallace.
Could this be his fifth?
"All I know is that there are a lot of No. 1 teams that didn't win their conference tourneys," Williams said. "We did."
That the Cardinals beat a team that had pixie dust and talent on its side made the victory all the more impressive. In two nights, Syracuse went from a good Big East team to America's team, capturing the country's heart by surviving six overtimes to beat Connecticut and one more to oust West Virginia.
Somewhere along the way the Orange either invited their entire alumni association to New York or inducted a few new members. Madison Square Garden was every bit as orange as the Carrier Dome, a sea of fans that erased any delusion that Louisville was playing on a neutral court.
"It was a sea of orange," Williams said. "There were a lot of pumpkins out there."
The pumpkins ran out of magical carriage rides. Syracuse built an eight-point lead in the first half but watched it wilt under Louisville's withering pressure. The temptation is to blame Syracuse's fade on fatigue, and certainly, the abundance of short shots (the Orange went 0-for-8 from the arc in the second half) and missed layups easily could be attributed to dead legs.
But to say the Orange were too tired to win discredits the fact that Louisville was too good to lose.
The Cardinals have built their entire résumé and reputation on defensive pressure, and that was trouble even on a good day for Syracuse. During the regular season, the Orange lost to Louisville by 10 points at home.
On this night, the tired Cuse were no match for the Ville. In the first 6:07 of the second half, Louisville outscored Syracuse 21-5, forcing the Orange into seven costly turnovers. Mix in the cold shooting, and the 38-30 advantage at the half quickly disappeared into a 51-43 deficit.
Syracuse left bittersweet -- proud of its run, prouder still of tournament MVP Jonny Flynn, but crushed that it had come up short.
"A lot of people are going to remember who won this tournament," Flynn said. "They're not going to remember who won the most outstanding trophy."
That might not be entirely true.
Flynn and his megawatt smile made a lot of new fans in four games, as people were stunned and amazed at his stamina and talent. He played 67 minutes of the six-overtime game, all 45 of the West Virginia game and 34 against Louisville, becoming just the fourth player from a losing team to earn the hardware.
Before he took the stand, Flynn was met on the floor by Williams, who once again finished a bridesmaid. He made the first-team all-conference but couldn't snag even a portion of Big East Player of the Year voting. He was named to the all-tournament team but missed out on the MVP trophy.
It is the price to pay in a stats-obsessed culture in which one number matters more than the rest: scoring. Williams can score, but when he doesn't, he still alters the game. Williams had just two points at halftime, but when the second half started, he was the one who got the Cards started. He swiped three passes to send Louisville on its decisive run, the sort of stuff UL fans have come to expect of a player whom assistant coach Steve Masiello calls the most underrated and underappreciated in the country.
"By a long shot," Masiello said. "He's a threat for a triple-double every single time he steps on the court. Who else can you say that about?"
Williams was the last to don any Big East champion apparel when the game ended, putting on only a hat when McGee plopped it on his head.
But when he was given the Big East championship trophy, Williams wouldn't let go. He carried it while television cameras and reporters swarmed him on court, switching the behemoth hardware from hip to hip. He lofted it high in the air when the band played "My Old Kentucky Home" (a dagger that has to hurt Kentucky Wildcat Nation, as its team likely awaits an NIT bid).
"I might put it down when I get in the shower," Williams said. "But then I'm coming out and grabbing it again. This means a lot. No one expected us to do this, but here we are."
In a season of seismic shifts, the Cards may end up pulling the ultimate fast one.