Boilers, Huskies aren't out for style points
March, 20, 2009
03/20/09
9:59
PM ET
PORTLAND, Ore. -- It's tempting to wade into cliches of contrasting styles when considering Saturday's Purdue-Washington tilt (5:40 p.m. ET) in the second round of the NCAA Tournament.
That temptation is there, in part, because the cliches are accurate.
[+] Enlarge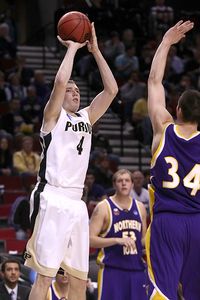 Jonathan Ferrey/Getty ImagesRobbie Hummel expects a hostile environment in Portland.
Washington, the No. 4 seed and Pac-10 regular season champion, and Purdue, the Big Ten tournament champion, mostly conform to preconceptions: The Huskies like the West Coast run-and-gun. The Boilermakers like to grind you down with man-to-man defense.
The Huskies led the Pac-10 with 79 points per game, 10 more than Purdue, which only yielded 59.
Then you extend the contrast into intangibles and you posit a fast but potentially soft Pac-10 team vs. a plodding but rugged Big Ten team. Such talk, however, evokes frowns from both camps.
The Huskies felt they got some lip from Mississippi State, their first-round opponent, about being soft, and it's clear they didn't appreciate that stereotype.
"A lot of us are from California, so they think we surf all day or something," forward Quincy Pondexter said. "I don't see why they think that. After the game, I don't think they were saying the same thing."
Meanwhile, Purdue's players insist they aren't afraid to run -- at least not some.
"I think our team has really shown that we can play numerous styles -- I think we showed that in the Big Ten tournament," forward Robbie Hummel said. "But I think our style of play is probably a little slower than Washington, especially since they're in the Pac-10 and that's more of a running league. We'll try to impose our will and try to control the tempo."
Controlling the tempo figures to be more critical for the Boilermakers than the Huskies, who have consistently won this season when forced to play a half-court game by teams like Washington State, Arizona State and UCLA. Purdue is just 1-7 when opponents score 65 or more points.
But the Huskies don't play matador defense either. Defensive stops and dominant rebounding feed their transition game.
"Our staple is defense, and after watching Washington I would say the same thing about them," Purdue coach Matt Painter said. "I would say their staple is on the defensive end and getting into people and trying to cause havoc."
Painter and his players both compared the Huskies to Michigan State, noting that, like the Spartans, the Huskies dominate on the boards. MSU is No. 1 in the country in rebounding margin; the Huskies rank fourth (plus-8.4).
Purdue is 189th at minus-0.3 per game.
"If they're stealing points in transition and they're stealing points on the glass they're going to win the game," Painter said.
That rebounding starts with Jon Brockman, who celebrated celebrated his 22nd birthday Friday by nursing a slightly sprained wrist suffered against Mississippi State.
"Brockman is just a beast," said Purdue's lockdown defender, Chris Kramer.
While the Huskies figure to have the advantage on the boards, the Boilermakers style will present its own challenges.
"I don't think there's a Pac-10 team that uses all five guys out on the floor like Purdue does," Washington coach Lorenzo Romar said. "Their bigs step out on the floor and can knock the perimeter shot down, everyone on that floor can do that. And with their motion, your bigs, which will be our bigs tomorrow, are placed in positions all over the floor and sometimes guys just aren't comfortable defending out there."
Both teams agree Washington will have one clear advantage. Being just three hours from home in Seattle, the Huskies are essentially playing a home game, with a crowd in excess of 20,000 at the Rose Garden expected to be deeply partisan.
No worries, say the Boilermakers.
"I think our team thrives on that environment," Hummel said. "It's almost like us against the world, so we're looking forward to that."
Western Kentucky vs. Gonzaga
Don't call Gonzaga or Western Kentucky mid-majors. Or even major-mid-majors.
That might raise the hackles of one or the other coach before the two programs square off Saturday in the NCAA Tournament's second round.
[+] Enlarge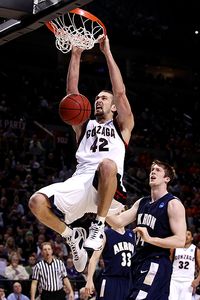 Jonathan Ferrey/Getty ImagesWestern Kentucky may have problems when it comes to matching up with Josh Heytvelt.
"We're not a mid-major by any stretch of the imagination," Hilltoppers first-year coach Ken McDonald said. "You don't have 21 NCAA tournaments and get that label.
For some reason it's a negative term and I think of it as kind of a slap in the face."
Or, just maybe, the label isn't that big of a deal.
"It really doesn't bother us," WKU guard A.J. Slaughter said. "We are a mid-major program, but at the same time we can compete with any team in the country."
Perhaps the dean of major-mid-major coaches, Gonzaga's Mark Few can help. He's an expert on the topic because his program is an example of how a mid-major can become so major that perhaps it becomes just, er, major. McDonald admitted that Gonzaga came up during his job interview as an example of what WKU wants to become.
Programs wanting to emulate the Gonzaga model surely fascinates Few.
"Seems to be a tad bit redundant," Few said. "But at the end of the day it's flattering."
Gonzaga, making its 11th consecutive tournament appearance, is much different today than when it started to bust up brackets as a scrappy upstart. When the Bulldogs take the court, they pass the sight test. Put them in Duke or UCLA or Michigan State uniforms and no one would think anything was amiss.
That's why McDonald -- mid-major or not -- is grabbing the underdog role, particularly with the Northwest crowd sure to be decidedly behind the Zags.
"They've got four pros in the starting lineup," he said. "There's a lot of fronts that we have to cover. They shoot the ball extremely well. They're long and athletic, so I would imagine they're going to try to go inside."
Fair point. The Bulldogs are much bigger. WKU's tallest starter is 6-foot-9 center Jeremy Evans, who tips the scale at 190 pounds, while the Zags get 28 points and nearly 14 rebounds a game from 260-pound center Josh Heytvelt and Austin Daye, who are both 6-11.
Of course, it's the Hilltoppers who made a Sweet 16 run last year while Gonzaga has gone one-and-done the previous two tournaments.
Perhaps that's why Gonzaga wasn't eager to embrace the overdog role.
"I don't think it's a role reversal," guard Jeremy Pargo said. "Western Kentucky has been a team that's been good for a long time. This isn't the first time I've heard about them."
That's because these two went nose-to-nose in the Great Alaska shootout last year, with Gonzaga rallying to win 74-71.
Of course, there is one big advantage to being considered a mid-major.
Explained Hilltoppers sharpshooter Orlando Mendez-Valdez, "There's no pressure on us, that's the best thing about it."