Gibson's perfection powers Trojans
March, 20, 2009
03/20/09
10:36
PM ET
MINNEAPOLIS -- In the days leading up to the NCAA tournament, Boston College center
Josh Southern
repeated the standard criticism about Pac-10 teams.
[+] Enlarge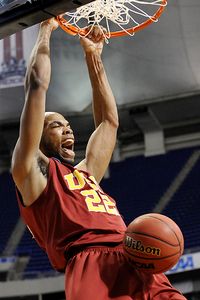 AP Photo/Jim MoneTaj Gibson made all 10 of his field goals, scoring 24 points to power USC's win over BC.
He questioned USC's toughness and talked about how he was looking forward to meeting Michigan State -- Southern hails from Saginaw, Mich. -- in the second round.
Big mistake.
"I really took offense," Trojans forward Taj Gibson said. "I'm from New York City. … He was talking about [how] the Pac-10 is not really a tough league, we look kind of thin, got a lot of athletes but don't have any toughness. That really dug into our skin."
It dug especially deep for Gibson, the Pac-10 Defensive Player of the Year and the personification of toughness. There's nothing L.A. about the junior from Brooklyn, N.Y. He brings the Big East to Cali.
And after USC finished a sluggish first half against Boston College, Gibson reminded his teammates at halftime exactly where he's from.
"He got up and said, 'We're not going to get any calls. This is East Coast basketball,'" USC point guard Daniel Hackett said. "That woke us up a little bit."
Gibson lifted USC into the second round with a nearly perfect performance in a 72-55 win. He scored a game-high 24 points on 10-of-10 shooting and added five assists and three blocks.
Most important, Gibson followed a rebound-less first half with six boards after halftime, triggering a Trojans defense that limited Boston College to 21 second-half points and held Tyrese Rice (nine points) in check. And Gibson stayed in the game down the stretch despite picking up his fourth foul with 6:40 remaining.
As for Southern? He had only three points in 24 minutes, and he had no answer for Gibson down low.
"He makes the game easier for us," said dynamic USC freshman DeMar DeRozan, who continued his stellar play with 18 points and nine rebounds.
Hackett, who played AAU ball with Gibson and rooms with the star forward, remembers seeing a different player a few years back.
"He used to tear rims up," Hackett said. "Not too many 10-for-10 nights."
Gibson nearly tore the rim off its hinges with several resounding dunks Friday, and his halftime talk follows several speeches he made during USC's run to the NCAAs. His most memorable talk came before a Monday practice with the Trojans mired in a season-killing February slump.
He told his teammates how fortunate they were to be playing college ball at USC.
"I was fired-up and emotional, it brought tears to my eyes," Gibson said. "There's a lot of guys out there that wish they had an opportunity. Being from New York, I've seen a lot of guys playing street ball with talent who don't make it out.
"Guys coming in from the AAU circuit, a lot of players get a little bit spoiled. You forget where you come from. You forget how hard it really is."
Gibson knows exactly where he comes from and, after Friday's game, so does Southern.