Pressure is on Pittsburgh this time
March, 25, 2009
03/25/09
8:06
PM ET
BOSTON -- Pittsburgh came out against Connecticut intense and active on March 7, fueled by the potential of a Big East regular-season title, the prospect of playing the nation's No. 1 team, and a final home game for a trio of seniors.
Pitt won by 10. The Petersen Center has never been that loud.
The top-seeded Panthers have to generate that passion on the first and last possession -- and every one in between -- when they take on No. 4 seed Xavier in the Sweet 16 at the TD Banknorth Garden on Thursday night.
The Panthers slumped in a 14-point loss to West Virginia in the quarterfinals of the Big East tournament and then were on their heels to 16-seed East Tennessee State in the first round before winning by 10 points. Oklahoma State was a bad matchup for the Panthers in Round 2 as the Cowboys were ready to shoot quickly, and run, against Pitt. The Panthers eventually prevailed by eight to reach the Sweet 16.
"We wanted to play so perfect that we played so tight," Pitt senior guard Levance Fields said of the first two rounds.
If there is one top seed that appears to be vulnerable, it is the Panthers.
"We've just got to think that every team is a No. 1 team," said Pitt sophomore DeJuan Blair, the co-Big East player of the year. "We've got to be like that."
Pitt has to throw the first punch -- not literally, but figuratively. The Panthers must be the aggressor against Xavier. The Musketeers are too good -- better than OSU or ETSU -- to build a lead against and then let up.
Pitt is in a different position this season. The Panthers are expected to win. Pitt is the favorite over Xavier, and a win Thursday would mean being a favorite against Duke or Villanova.
This is new ground for the Panthers. Sure, the Panthers were down about not getting past the Sweet 16 a year ago, but they weren't the favorite then.
"It's definitely different, and in some ways it's harder being this rather than the underdog," Fields said. "We're expected to win and win by a lot. But we must be doing something right if we're here."
The Panthers cut down on their turnovers from the first to second round (18 to 14) and were much more dominant on the backboard, outrebounding the undersized Cowboys by 20.
"We've just got to get back to the basics and it starts with defense," Fields said. "The offense will come, but we've got to outrebound teams and cut down on turnovers and we did that in the second round."
The Panthers know they're close. The three seniors -- Fields, Sam Young and Tyrell Biggs -- know this team is built for a six-game run to the title. This is easily coach Jamie Dixon's best shot to win a national title in his six-year tenure at Pitt.
"It's right there," Fields said of getting to the Final Four. "But we've got to take care of phase three first."
That's Xavier. The Musketeers are in their second straight Sweet 16. They don't have the pressure to win. Reaching the Elite Eight for the third time since 2004 would be quite remarkable. Last year, Xavier lost to UCLA in the West regional final. But like last season, and now this one, the X can play freely. Pitt cannot.
• Gerald Henderson was swarmed by the local media in the Duke locker room. The Blue Devils' junior guard was in the city where his father, Gerald Sr., had starred for the Boston Celtics.
To Henderson's left sat sophomore forward Kyle Singler. Singler isn't a media attraction, but he should be. Not for his outspoken behavior (he's more of an introvert), but because Singler is becoming a star on the court.
[+] Enlarge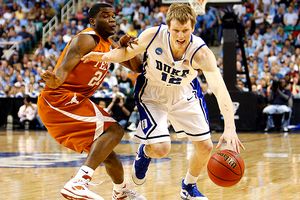 Streeter Lecka/Getty ImagesSingler finished with 17 points and seven boards in a second-round win over Texas.
He has become much more aggressive on it and is a tough matchup with his angular body and that ability to make the 3-pointer, post up down low or simply score off an offensive putback.
The maturity from Singler is also evident off the court. Singler gets the process. He understands that going to the NBA isn't about a place in the draft, but rather being ready to contribute. Singler was highly touted out of Oregon but didn't get on a fast track to the NBA.
"I'm not the most athletic guy in the country," Singler said on the eve of No. 2 Duke versus No. 3 Villanova. "I've got my skill set and I needed a year to learn the game and how to use what I have and my ability. It's a big jump from high school to college and guys in college were stronger, and having a year of experience was great for me."
Henderson has elevated his game to where he's the go-to player on the Blue Devils and a tantalizing pick for any NBA general manager. Singler would certainly get bites in the first round, but he's not taking the bait.
"I can honestly say I'm not the player I'm going to be yet," Singler said. "I have a lot of improving to do still. When I look at the growth, it's exciting to me."
Singler is likely to return to Duke. NBA personnel folks and agents aren't anticipating otherwise.
"I would hate to base my life on potential," Singler said. "I don't want to be that guy that gets drafted on potential. Once I get drafted, if I have the opportunity, I want them to know what they're getting. I want to be the guy who contributes early. I don't want to be the guy who sits on the bench and waste my time. I love the game. I want to have the opportunity to play as much as I can."
Singler credits Duke coach Mike Krzyzewski for teaching him how to play the game. He has also matured this season and is trying to become more of a leader. Singler said he is taking reserve forward Miles Plumlee under his wing and becoming much more of a tutor to him.
"He'll be a great player for us," Singler said.