8:23 p.m. ET
The World's Chia-Jen Lo, a prospect with Houston, really dialed up when he loaded the bases, touching 93 and adding 5 mph to that big curveball before fanning Scott Sizemore on a 91 mph fastball.
--Keith Law
8:05 p.m. ET
If you're going to be a lefty-on-lefty guy in the big leagues, you can't leave fastballs belt-high against them. Luis Perez found that out the hard way against Jason Castro.
--Jason Grey
8:01 p.m. ET
Jarrod Parker, a right-hander for the U.S. team and a prospect with the Diamondbacks, was warming up at 93.
--Keith Law
7:40 p.m. ET
For whatever reason (weather, the rain delay) velocity is down for pretty much all the pitchers. Francisco Samuel, Mat Latos and Jhoulys Chacin all down a few ticks from where they were at the Texas League All-Star Game a couple of weeks ago.
--Jason Grey
7:32 p.m. ET
Eric Young Jr. has been a stolen-base machine for Colorado's Triple-A farm club in Colorado Springs this season. He has 48 steals in 57 attempts.
Young has only five homers in 320 at-bats in the hitter-friendly Pacific Coast League, but he showed some serious thump by taking a Francisco Samuel fastball over the fence in right-center field in the third inning. The Pirates reportedly are infatuated with Young, but can't interest Colorado in a deal for Freddy Sanchez because of his $8 million price tag in 2010.
--Jerry Crasnick
7:27 p.m. ET
Leyson Septimo, a lefty on the World team, is up to 93 -- loose arm, slider breaks pretty early. Major league hitters would likely see that out of his hand.
--Keith Law
7:22 p.m. ET
World manager Jose Oquendo calls for the lefty to face Pedro Alvarez. This time it counts!!!!
--Keith Law
7:14 p.m. ET
Just saw this: Francisco Samuel, a pitcher for the World Team and a prospect in the St. Louis organization, has hit 95 mph a few times, with a slider at 85.
--Keith Law
6:31 p.m. ET
All the water has been pushed aside and play has resumed after a 4-hour, 9-minute rain delay. Now, all the baseball executives who have players in the Futures Game have to hold their breath and hope everything goes well over the seven innings or so on this slippery track.
--Nick Pietruszkiewicz
6:03 p.m. ET
There will be baseball. How much, nobody is sure at this point. The announcement just came that the Futures Game will resume at 6:30 p.m. ET. The plan is still a seven-inning game … but there is a catch: No inning will start after 8:30 p.m. ET. So if they want to play seven innings, they better play quickly.
--Nick Pietruszkiewicz
3:43 p.m. ET
Even as scouts and development people gathered at Busch Stadium for the Futures Game, everyone had an opinion about the Roy Halladay sweepstakes.
A National League front-office executive gauged the likelihood of the Blue Jays trading Halladay by July 31 at "30 percent.'' The process has become so public and Toronto general manager J.P. Ricciardi has set the bar so high, it remains to be seen if he can land a package of talent that he deems satisfactory. Philadelphia might be the most motivated suitor, but unlike some other teams mentioned in speculation, the Phillies lack a young major league "sure thing'' to serve as the centerpiece of a Halladay deal. Although the Phillies have high regard for pitcher J.A. Happ, he doesn't fit that description. "He's pretty good,'' said an NL scout. "But from the way everybody in Philly talks, you'd think he was the second coming of Steve Carlton.'' St. Louis outfielder Colby Rasmus is the type of player who does fit the description, but Cardinals GM John Mozeliak would have to swallow awfully hard before including him in any kind of trade. Some front-office people think it's just as likely Ricciardi will move Halladay during the offseason. The Blue Jays are doing so much legwork now, with Tony LaCava and their other scouts collecting information about other teams' farm systems, they'll have a significant head start if Halladay is still in trade purgatory this winter.
--Jerry Crasnick
2:55 p.m. ET
Mike Arbuckle, a senior adviser to Royals general manager Dayton Moore, was one of many scouts and front office people at Busch Stadium for the All-Star Futures Game on Sunday.
Arbuckle recently checked out Royals third baseman Alex Gordon during a rehab assignment with the Northern Arkansas Naturals in the Double-A Texas League, and said Gordon is coming along nicely in his rehab from hip surgery. Barring a setback, the Royals expect Gordon to return after the All-Star break. "He's moving fine in the field, and he's starting to get his timing back at the plate,'' Arbuckle said. The Royals rank 13th in the American League in runs scored (346) and home runs (76), so they'd welcome any kind of offensive lift at this point.
--Jerry Crasnick
2:30 p.m. ET

[+] Enlarge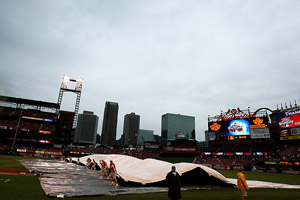 Elsa/Getty Images
The All-Star festivities aren't off to the best start. That's right, the top half of the first inning of the Futures Game is not even finished and we have the week's first rain delay. The tarp is being rolled out, and the boos from those that are here are rolling in. The people of St. Louis planned a lot of events -- there was a very good charity concert Saturday night featuring Sheryl Crow and Elvis Costello -- but there is no Rain Delay Theater on the list. Might have to update the program.
--Nick Pietruszkiewicz
1:50 p.m. ET
Groundskeepers keep getting more and more creative. No longer are cross-patterns in the infield and outfield enough. This year, at Busch Stadium, the grass in the outfield is cut with a large picture of the Old Courthouse building framed by the Gateway Arch. Wonder what they'll come up with next?
--Nick Pietruszkiewicz
12:08 p.m. ET
Different people watch baseball in different ways. Fans sit in seats around the park. Media members get used to the same view, from right behind home plate. Scouts have their own place, and it makes for an interesting picture on this Sunday morning. Busch Stadium is not yet open to the fans, so those red seats are pretty much empty … except for the group of scouts positioned along the first-base line.
With so many right-handed hitters in the lineups, the scouts from around baseball are positioned in the last few rows of the first deck behind first base. That angle gives them the best view to analyze the players they might have on their big-league rosters in the second half or the ones they might be considering dealing as the July 31 trade deadline creeps closer. The gates open soon, so they might have to find a new spot to watch. For now, they can work in peace and quiet.
--Nick Pietruszkiewicz
11:45 a.m. ET
Welcome to this year's installment of ESPN.com's live All-Star blog from hazy, humid, baseball-crazy St. Louis. Check back frequently over the next few days as we take you inside the Futures Game, Home Run Derby and All-Star Game, providing all the sights, sounds and interesting moments from the 80th All-Star Game.
We open the festivities on this Sunday afternoon with the Futures Game, which will be carried live both on ESPN2 and ESPN360.com at 2 p.m. ET. Tune in to see the stars of tomorrow play today, and check back to the blog for more nuggets over the next three days.
--Nick Pietruszkiewicz, baseball editor