West Region QBs among nation's best
August, 19, 2009
08/19/09
9:22
AM ET
[+] Enlarge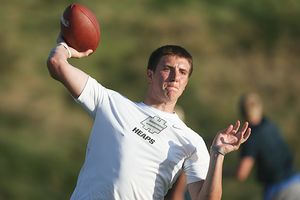 Tom Hauck for ESPN.comSkyline's Jake Heaps was named MVP of the Elite 11 camp.
This was supposed to be a down year for quarterbacks, and although the class may lack a true franchise-type player, there is some good depth from the west region with four quarterbacks who made the prestigious Elite 11 QB Camp.
The battle for the west's top signal caller was a tight one between Skyline (Sammamish, Wash.) High's Jake Heaps and Lakewood (Calif.) High's Jesse Scroggins. Heaps has been a familiar name in the area for the past three seasons and had a dominant showing at Elite 11, where he earned MVP honors and solidified his spot at the top.
Heaps is the most ready-to-play quarterback in the nation. He has all the physical tools including a live, accurate arm, can make all the throws, and knows when to use touch and when to put some heat on the ball.
He's not a great athlete and needs to work on his ability to move around in the pocket and escape the rush, but Heaps is a natural leader. He's very advanced when it comes to reading coverages and should have no problem picking up a college offense. Saying that, Heaps has a chance to play early at BYU and have a big college career.
Scroggins, on the other hand, has more upside that any QB in the region. He's a late bloomer who is still maturing physically, but was named MVP of the USC Nike Camp and was one of the most impressive performers throughout the entire Nike tour.
He has incredible arm strength and has a natural feel for the position. There are times when he trusts his arm a little too much and forces some throws that aren't there, but that can easily be corrected.
Kingsburg (Calif.) High's Tyler Bray was one of the last quarterbacks chosen for the Elite 11 after a big performance at the final regional camp in Las Vegas. He quickly proved he belonged and should be mentioned among the top quarterbacks in the nation.
The future San Diego State Aztec throws a great deep ball, moves around well for a big quarterback and has a quick, effortless release.
Nick Montana has improved more over the last few years than just about any quarterback we've seen. As a sophomore he was barely a college prospect, but he put up a big junior season and keeps getting better. He has a solid frame that he can grow into, a live arm and is very accurate. He's athletic and can hurt you with his arm or his legs, and is a natural leader as well.
Monte Vista (Danville, Calif.) High's Brett Nottingham already has a college body and is as steady as they come. He has been very well coached and has an advanced feel for the position. He's smart and knows where to go with the football and has the tools to get it there.
For a big man, the future UCLA Bruin moves around well and throws on the run on time and with good zip. He doesn't have a big arm but it's strong enough to make plays down the field. Nottingham has the ideal makeup you're looking for in the quarterback position.
The West Region's Top 10 QBs:

1. Jake Heaps, 6-2, 195 / Skyline (Sammamish, Wash.) -- BYU
MVP of the Elite 11 QB Camp, does everything well.
2. Jesse Scroggins, 6-3, 195 / Lakewood (Calif.) -- USC
Strong arm, has all the throws and huge upside.
3. Tyler Bray, 6-6, 190 / Kingsburg (Calif.) -- San Diego State
Cinderella story of the spring, was MVP runner-up at Elite 11.
4. Nick Montana, 6-2, 180 / Oaks Christian (Westlake Village, Calif.) -- Washington
Made huge strides in the last two years, athletic with plus arm strength.
5. Brett Nottingham, 6-4, 210 / Monte Vista (Danville, Calif.) -- UCLA
Big kid, smooth delivery and very accurate, only lacks elite arm strength.
6. Bryan Bennett, 6-3, 185 / Crespi (Encino, Calif.) -- Oregon
Very athletic and can make all the throws.
7. Chase Rettig, 6-4, 205 / San Clemente (Sierra Madre, Calif.) -- Boston College
College body, huge arm, just needs to work on consistency.
8. Grant Hedrick, 6-1, 180 / Independence (Ore.) Centra -l- Boise State
Among the most technically sound QBs we saw all summer.
9. Pete Thomas, 6-5, 220 / Valhalla (El Cajon, Calif.) -- Arizona State
Great frame, has tools but needs time to develop.
10. Connor Halliday, 6-5, 185 / Ferris (Spokane, Wash.) -- Washington State
Missed the summer camp circuit but shows up very well on film.
The Next 10:
11. Sean Mannion, 6-5, 200 / Foothill (Pleasanton, Calif.) -- Oregon State
12. Nick Hirschman, 6-3, 215 / Los Gatos (Calif.) -- Colorado
13. Marcus McDade, 6-3, 190 / St. Mary's (Stockton, Calif.)
14. Garrett Grayson, 6-2, 185 / Heritage (Vancouver, Wash.)
15. Dallas Lloyd, 6-3, 205 / Pleasant Grove (Utah) -- Stanford
16. Brian Blechen, 6-3, 205 / Moorpark (Calif.) -- Utah
17. Tyler Shreve, 6-4, 210 / East Valley (Redlands, Calif.)
18. Andrew Manley, 6-3, 220 / Leilehua (Wahiawa, Hawaii)
19. Kevin Spain, 6-3, 190 / Paradise Valley (Phoenix) -- Hawaii
20. Teshon Burton, 6-2, 185 / Leuzinger (Lawndale, Calif.)
Others to watch (alphabetical order):
Austin Anderson, 6-5, 195 / Arbor View (Las Vegas)
D'Angelo Barksdale, 6-0, 180 / Eastlake (Chula Vista, Calif.)
Brandon Bialkowski, 6-0, 185 / Gilbert (Ariz.)
Brandon Brennan, 6-4, 195 / Capistrano Valley (Mission Viejo, Calif.)
Chase Cartwright, 6-3, 205 / Corona Del Sol (Tempe, Ariz.)
Charles Cobbs, 6-0, 150 / Oakland (Calif.)
Brandon Connette, 6-3, 200 / Santiago (Corona, Calif.) -- Duke
Chad Dashnaw, 6-4, 215 / Narbonne (Harbor City, Calif.)
Aaron Dupin, 6-2, 215 / Foothill (Santa Ana, Calif.)
Cody Fajardo, 6-2, 185 / Servite (Anaheim, Calif.)
Alex Hart, 6-1, 170 / Jordan (Sandy, Utah)
Lester Fontenette, 6-1, 190 / Madison (San Diego)
Dalton Gervais, 6-2, 185 / Lakes (Lakewood, Wash.)
Mitch Glasmann, 6-3, 210 / Chaparral (Temecula, Calif.)
Jordy Johnson, 6-1, 185 / Sheldon (Eugene, Ore.)
Blake Jurich, 6-4, 200 / Scotts Valley (Calif.)
Ryan Kasdorf, 6-2, 205 / Notre Dame (Sherman Oaks, Calif.)
Taylor Kelly, 6-2, 175 / Eagle (Idaho) -- Nevada
Colby Kirkegaard, 6-1, 180 / Arcadia (Phoenix)
James Lee, 6-3, 180 / Capital Christian (Sacramento, Calif.)
Meiko Locksley, 6-1, 170 / La Cueva (Albuquerque)
Blake Loncar, 6-4, 212 / Los Osos (Rancho Cucamonga, Calif.)
Logan Meyer, 6-1, 210 / St. Bonaventure (Ventura, Calif.)
Josh Milhollin, 6-3, 180 / South Medford (Medford, Ore.)
Ryan Orozco, 6-3, 185 / Ayala (Chino Hills, Calif.)
Victor Perez, 6-6, 215 / Chula Vista (Calif.)
Justin Podrabsky, 6-6, 220 / Lewiston (Idaho)
Dominic Ragland, 6-2, 175 / Fountain Valley (Calif.)
Justin Sieczkowski, 6-4, 205 / Seton Catholic (Chandler, Ariz.)
Tommy Stephens, 6-2, 185 / Campolindo (Moraga, Calif.)
Harrison Stewart, 6-4, 190 / Yucaipa (Calif.)
Matt Viles, 6-1, 180 / Edison (Huntington Beach, Calif.)
Other notes from around the country
• The Columbus, Ohio area has some of the best prep football in the country, and The Columbus Dispatch takes a look at the area's top squads.
• Sports have long been an outlet for many people. In the Hampton Roads region of Virginia, seven current or former high school football players have been killed by gun violence. Coaches in the area are working to let area players know that they have options to keep them safe from gang violence. Salem (Va.) High coach Robert Jackson led a symposium that taught young athletes about alternatives in their lives. The Virginia Pilot has a full report on the symposium.
• The spread offense continues to spread. The offenses are gaining popularity in New Jersey as the Newark Star-Ledger reports.