Midwest powers set to kick off season
August, 27, 2009
08/27/09
1:49
PM ET
[+] Enlarge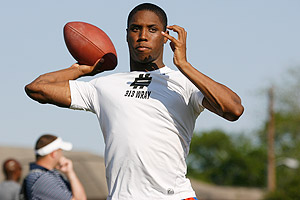 Tom Hauck for ESPN.comQB Detchauz Wray leads ESPN RISE FAB 50 No. 23 East St. Louis against No. 3 Elder.
One of the top games in the country this weekend is a battle between two ESPN RISE FAB 50 Teams, as the No. 3 Elder (Cincinnati) Panthers host No. 23 East St. Louis (Ill.) at the University of Cincinnati. Each team is geared up to make another run at their respective state titles, as Elder was the Division I state runner up last season while East St. Louis captured the Illinois 7A state title. It will be an early test for both teams and surely will shake things up in the FAB 50, especially if the Flyers can pull the upset on the road. The St. Louis Post-Dispatch breaks down the Flyers and the challenges that lie ahead in their division. The Cincinnati Enquirer takes a look at Elder and its competition in the Ohio Greater Catholic League.
• Elsewhere in the Buckeye State, an epic battle is on the horizon when Cleveland powers FAB 50 No. 19 Glenville faces No. 37 St. Ignatius face off this weekend. The two teams split two meetings last season with St. Ignatius winning the playoff matchup on its way to the Division I state title. The Cleveland Plain-Dealer previews Glenville and St. Ignatius with video breakdowns of each team.
• Booker T. Washington (Miami) endured a trying offseason; the Tornadoes were shifted into a new classification and then suffered the tragedy of losing linebacker Anthony Smith who was shot and killed at a birthday party on July 6. With the season about to begin, the Miami Herald takes a look at the Tornadoes as they look to return to power in South Florida.
• Football gets underway in Michigan this weekend with the Big Day Prep Showdown, a seven-game football free-for-all that will matchup some of the state's top teams. University of Michigan fans might be interested in the Inkster vs. Pioneer (Ann Arbor) matchup since it will feature two future Wolverines in Inkster QB Devin Gardner and Pioneer WR Ricardo Miller. The Detroit Free Press previews the game.
Inkster has a chance to move into the FAB 50 this fall and getting off to a strong start would help the Vikings' chances. Here's the rest of the schedule for the two days in Michigan:
Friday
Lamphere (Madison Heights) vs. Fitzgerald (Warren), 2 p.m.
King (Detroit) vs. Muskegon, 5 p.m.
Hudsonville vs. Lake Orion, 8 p.m.
Saturday
Adrian vs. Monroe, 11 a.m.
Saline vs. Belleville 2 p.m.
Huron (Ann Arbor) vs. Chelsea, 5p.m.
Inkster vs. Pioneer (Ann Arbor), 8 p.m.
This could be the year of the running back in the west region and for good reason. The talent at the top of the board and the overall depth is the best in the last 10 years.
Just how strong a class is it this year? Last year's top running back in the West, Cierre Wood, would likely rank outside the top five in this year's class.
The player at the top of the board is Malcolm Jones and he has been a dominant force since his freshman season. He's a true between-the-tackle power back with better than average speed and great hands out of the backfield.
Jones is a tough, physical, downhill runner who has the ability to wear down a defense. He has a college body and would be among the top five linebackers in the region if he was being recruited on the defensive side of the ball.
Brennan Clay has the best combination of running back ability and receiving skills in the group. As a junior, he went over the 1,000 yard mark rushing and receiving and put on a show at the SoCal NIKE Camp winning MVP honors. He has a big, thick frame and will have no problem adding weight at the next level.
Jordon James is a game breaker with tremendous upside. He's explosive and a threat to score from anywhere on the field. He catches the ball well and is very strong for his size. His junior year was cut short after breaking his arm but he's healthy now and poised for a big senior year.
Dillon Baxter was the toughest player to rank in this group. Is he a running back or a receiver? He actually plays quarterback at the high school level and worked out with the receivers at the USC Rising Stars Camp. He's a definite playmaker and has good speed and a high football IQ.
D.J. Morgan is another game breaker with elite speed. He'll likely run track as well in college as he is one of the top hurdlers in the nation. He doesn't have the size to be an every down back but with his combination of speed, quickness and ability to make you miss in the open field, he could develop in to a Joe McKnight type for the Trojans.
Top 10:
1. Malcolm Jones, 6-1, 220 / Oaks Christian (Westlake Village, Calif.)
Has been one of the state's premier players since he was a freshman.
2. Brennan Clay, 5-11, 195 / Scripps Ranch (San Diego) -- Oklahoma
MVP at the SoCal NIKE Camp.
3. Jordon James, 5-9, 190 / Corona (Calif.)
Legit home run hitter but can also run between the tackles.
4. Dillon Baxter, 5-11, 190 / Mission Bay (San Diego) -- USC
One of the most versatile players in the region, could end up at WR.
5. D.J. Morgan, 5-9, 170 / Taft (Woodland Hills, Calif.) -- USC
Can score from anywhere on the field, big time track prospect as well.
6. Trajuan Briggs, 5-11, 195 / Birmingham (Lake Balboa, Calif.) -- USC
Underrated nationally, powerful running style and catches everything.
7. Deontae Cooper, 6-0, 185 / Citrus Hill (Perris, Calif.)
One of the most explosive players in the region regardless of position.
8. Anthony Wilkerson, 5-11, 215 / Tustin (Calif.) -- Stanford
A big back with speed, has been compare to former Tiller DeShaun Foster.
9. Devontae Booker, 5-10, 185 / Grant (Sacramento, Calif.)
Could break all of Onterrio Smith's Grant rushing records this season.
10. James McConico, 5-11, 185 / Compton (Calif.)
Averaged nearly 20 yards per carry a year ago.
The Next 10: 11. Deantre Lewis, 5-10, 180 / Norco (Calif.) -- Arizona State
12. Ricky Seale, 5-9, 175 / Escondido (Calif.)
13. Cameron Roberson, 6-1, 205 / Newbury Park (Calif.)
14. Joshua Quezada, 5-11, 205 / La Habra (Calif.)
15. Adonis Smith, 5-10, 175 / Serra (San Mateo, Calif.)
16. Kyle Middlebrooks, 5-8, 170 / Fountain Valley (Calif.)
17. David Dash, 5-8, 160 / A.B. Miller (Fontana, Calif.)
18. Stephen Nixon, 5-11, 175 / Cimarron (Las Vegas)
19. Ricky Galvin, 5-7, 160 / Berkeley (Calif.)
20. E.J Schexnayder, 6-0, 205 / J.W North (Riverside, Calif.)
Other Running Backs of Note, Alphabetical Order:
Jordan Allen / Mater Dei (Santa Ana, Calif.)
Samson Anguay, 5-7, 140 / Campbell (Ewa Beach, Hawaii) -- Hawaii
Kenny Bassett, 5-10, 165 / Beverly Hills (Calif.)
Zach Bauman, 5-8, 195 / Hamilton (Chandler, Ariz.)
Devon Blackledge, 5-7, 160 / St. Bonaventure (Ventura, Calif.)
Kenny Boggs, 5-6, 155 / Notre Dame (Sherman Oaks, Calif.)
Dionza Bradford / Serrano (Phelan, Calif.) -- UNLV
Antonio Bray, 5-8, 170 / Canyon (Canyon Country, Calif.)
Mario Brown, 5-8, 170 / Bishop O'Dowd (Oakland, Calif.)
Bobby Calvin, 5-10, 215 / Goldwater (Phoenix)
Jonathan Diaz, 5-8, 165 / Chaparral (Temecula, Calif.) -- Air Force
Larry Dixon, 6-0, 210 / Olympic (Bremerton, Wash.)
Exavier Edwards, 5-8, 180 / Mission Viejo (Calif.)
Sedale Foster, 5-7, 170 / J.W. North (Riverside, Calif.)
Dwayne Garrett, 6-0, 180 / Chaparral (Scottsdale, Ariz.)
Jamal Hale, 5-9, 160 / Bartlett (Anchorage, Alaska)
Malik Henderson, 5-9, 185 / Stockdale (Bakersfield, Calif.)
Anthony Herrera, 5-8, 170 / Wilcox (Santa Clara, Calif.)
Forrest Hightower, 5-10, 155 / Concord (Calif.)
Anthony Hughes, 5-9, 195 / Centennial (Peoria, Ariz.)
Alfonso Jackson, 6-1, 185 / Bakersfield (Calif.)
Brett Kirschner, 5-9, 195 / Interlake (Bellevue, Wash.)
Michael Lange, 5-11, 185 / Corona del Sol (Tempe, Ariz.)
Max Leonesio, 6-0, 185 / Brophy Prep (Phoenix)
Malcolm Marable, 5-9, 170 / Alemany (Mission Hills, Calif.) -- Oregon State
Marquis Miller, 5-8, 190 / Manteca (Calif.)
Adam Muema, 5-11, 190 / Charter Oak (Covina, Calif.)
A.J. Moore, 5-10, 190 / Murrieta Valley (Murrieta, Calif.) -- BYU
Dominique McGee, 5-9, 165 / Serra (Gardena, Calif.)
Tyree Parker, 5-9, 210 / Paradise Valley (Phoenix)
Jamaal Perkins, 5-10, 175 / Rio Mesa (Oxnard, Calif.)
Cody Peterson, 6-1, 185 / Black Hills (Olympia, Wash.)
Leslie Rogers, 6-1, 180 / Point Loma (Calif.)
Tyler Singleton, 5-10, 195 / Claremont (Calif.)
Derek Stewart, 5-10, 195 / Piedmont Hills (San Jose, Calif.)
Cory Westbrook, 5-11, 200 / Poly (Long Beach, Calif.)
Fullbacks:
Here's a look at five of the top fullback prospects in the West Region. Players in this category are here for their ability to play a true fullback position or be a featured runner in a one back style offense.
1. Melvin Davis, 6-2, 230 / Narbonne (Harbor City, Calif.) -- Washington
Big, physical and tough runner with natural ability.
2. Taylor Walstad, 5-11, 200 / Chandler (Ariz.) -- Arizona State
Quick feet and explosive for a big back, has frame to get a lot bigger.
3. Zach Fogerson, 6-0, 225 / O'Dea (Seattle) -- Washington
A true fullback who loves to hit and runs very hard.
4. Dustin Elisara, 6-2, 225 / Kapolei (Hawaii)
Tough kid who is an impact player at linebacker as well.
5. Algrenon Brown, 6-1, 205 / Skyline (Salt Lake City) -- BYU
A pounding runner who could play multiple positions in college.