Forty names, games, teams and minutiae making news in college basketball (where being UCLA (1) means you get all the calls and non-calls at just the right moments):
Hear that whistle? It's a warning signal
The Minutes does not want to be a mope, or a hysterical overreactor, or a false prophet of doom. But it has been an ugly season for basketball officiating, and the fear is that it will continue with crucial gaffes at precisely the wrong time.
Namely, now.
The postseason is here, the most wonderful time of the year. Here's hoping we don't spend half of it rehashing bad calls at crucial times in the biggest games -- but you have to wonder.
Just in the past week, Pauley Pavilion seemingly became Homer Central: the atrocious foul call against Stanford's Lawrence Hill (2) on Thursday night while he was snuffing a Darren Collison shot with 2.5 seconds left; and the egregious non-call on UCLA's mugging of Cal forward Ryan Anderson (3) in the corner two days later. That, of course, was followed by the non-call on the over-the-backboard shot by UCLA's Josh Shipp (4) -- which at least was close, as opposed to the other two.
(Not to mention the fact that it was a hell of a shot.)
The previous week, a Pac-10 crew began the Stanford-Washington State game by whistling the Cougars for the first seven fouls. Then it drastically reversed course and called the next nine on the Cardinal, including a technical on coach Trent Johnson.
But this isn't just a West Coast problem. Villanova was hosed against Georgetown on an inexplicable call 80 feet from the basket that gave the Hoyas two free throws in the final second to win. In fact, Georgetown has been the East Coast version of UCLA, also getting a no-call when Patrick Ewing Jr. (5) blocked/goaltended a winning layup at West Virginia, plus a bailout Marquette foul call to get that game into overtime.
As The Minutes has always said, officiating is a very hard job and utmost respect should be accorded to those performing a largely thankless task. When it's done right. But the elite refs in college hoops are an aging group that works relentlessly all winter, and there are concerns about breakdown at the end of a grueling season. You have to wonder where the reinforcements are, the next generation of topflight whistles.
And you have to wonder whether we can get through the next month without an outbreak of end-game errors.
Little Dance, Part II
A Minutes Waltz, if you will, through the major conference tournaments:

ACC
Story line: The entire ACC season has been a Tobacco Road production in varying shades of blue. Will that change at all this week, or are we headed for Heels-Devils III?
Team to beat: North Carolina (6), although there is reason to wonder how much Ol' Roy ever wants to win this thing. He was 2-3 in the ACC tourney until capturing it last year.
Team to watch: Miami (7). The Hurricanes have won six of their past eight games and could easily make the semifinals here. Unless first-round opponent North Carolina State rediscovers its redcoat tournament mojo of '07, Miami will meet Virginia Tech in the quarters -- and the Canes already have beaten the Hokies, in Blacksburg yet.
Team losing it: Maryland (8). Terrapins have lost four of their past five, helping solidify the tournament résumés of Miami, Clemson and Virginia Tech while doing significant damage to their own. Nobody should play with greater bubble urgency in Charlotte, but where was that urgency in the final weeks of the regular season?
Tourney MOP: Tyler Hansbrough (9). Pencil him in for three straight double-doubles and some net-cutting duties Sunday afternoon after the Tar Heels beat Clemson in the final.
Last stand for: Leonard Hamilton at Florida State?

ATLANTIC 10
Story line: There are five teams between 36 and 66 in the RPI jostling for bids. Who gets them? And how many?
Team to beat: Xavier (10). The Musketeers won the league by three games and, aside from Drew Lavender's (11) bad wheel, haven't shown many weaknesses. Potential quarterfinal opponent Dayton is the only team to hold X to fewer than 60 points in the past 13 games, but the Flyers scored only 51 and lost by six.
Team to watch: Massachusetts (12). Since an upset home loss to Fordham on Feb. 14, Minutemen have won six straight. Travis Ford's up-tempo style will test opponents' conditioning in a play-every-day format.
Team losing it: Rhode Island (13). Since reaching the 20-win plateau on Feb. 10, the Rams have thrown away an NCAA bid by losing six of their past seven. Opponents have averaged 86.4 points per game in that stretch.
Tourney MOP: Josh Duncan (14), Xavier. This is the time of year when seniors rise and shine. If he avoids foul trouble, the sweet-shooting big man will be a matchup problem for UMass in the title game.
Last stand for: Xavier's Sean Miller, UMass' Travis Ford and Duquesne's Ron Everhardt? All conceivably could chase other jobs by choice.

BIG 12
Story line: On paper, Kansas and Texas look much the best. But the top two seeds have played each other in the final only three times in the previous 11 renditions of the Big 12 tourney. Which one gets bumped off early, and by whom?
Team to beat: Kansas (15). Jayhawks have the most talent and deepest bench, which they'll use to wear down opponents. They're also playing to lock up a No. 1 seed and position themselves as the prime challenger to North Carolina.
Team to watch: Nebraska would be a good choice, but the Cornhuskers could be headed for a quarterfinal matchup with Kansas, the one opponent that completely owns them. So The Minutes goes with Oklahoma State (16), which has come back from the dead and spent most of the second half Sunday locked in a one-possession game with Texas in Austin. On a neutral floor, the Cowboys turn the tables and upset the Longhorns.
Team losing it: Texas Tech (17), which has lost three of its past four. As suspected, the timing of Bob Knight's resignation did nothing to help the Red Raiders (or successor Pat Knight) down the stretch.
Tourney MOP: Brandon Rush (18). He has been just part of the ensemble all season, but this should be the time when Rush elevates his game. Look for Kansas to roll Oklahoma in the tournament final.
Last stand for: Sean Sutton at Oklahoma State? Recent rumblings are that the Cowboys' late run probably has earned Sutton another season in Stillwater.

BIG EAST
Story line: The nation's deepest conference should stage the nation's best tournament. With nine teams in the RPI top 56, can it earn more than seven bids?
Team to beat: Louisville (19). The Cardinals have gone 11-2 in their past 13 games, with the two losses by a total of five points on the road against top-shelf competition (UConn and Georgetown). Rick Pitino has won seven of the past 12 conference tournaments he has coached in -- but never the Big East. He'd like to add that one to his collection.
Team to watch: Connecticut (20). Like Louisville, the Huskies have won 11 of their past 13 games. Providence's unlikely season sweep drops UConn to the No. 4 seed, which could be worse news for potential semifinal opponent Georgetown than for anyone else. (Although the possibility exists of a third game against the Friars, if they upset West Virginia in the opening round.)
Team losing it: Seton Hall (21). For the second consecutive season, Bobby Gonzalez has worn his team down by season's end. Last year, the Pirates lost seven of their last eight. This year, six of eight, including a come-from-ahead home loss to Rutgers on Sunday.
Tourney MOP: Terrence Williams (22), Louisville. Versatile and tireless, he's capable of filling every part of the box score for three straight nights -- including a championship-game victory over UConn. A chronically sketchy jump shooter, Williams has become more judicious in that area. Louisville was 1-2 in Big East games when the junior attempted more than five 3-pointers, 13-2 in games in which he attempted five or fewer.
Last stand for: Tim Welsh at Providence?

BIG TEN
Story line: Is there a Final Four contender in here anywhere? How about a fifth NCAA Tournament team? Hello? Anyone?
Team to beat: Wisconsin (23). Sizzle-less Badgers haven't lost to anyone other than Purdue since Dec. 8 -- and it says here they'll beat the Boilermakers when they meet a third time in the championship game.
Team to watch: Ohio State (24). The Buckeyes shot themselves back into NCAA tournament contention with a big home sweep of Purdue and Michigan State to end the regular season. They get another shot at the Spartans on a neutral court Friday with plenty of bubble-related motivation.
Team losing it: Indiana (25). The body of work post-Kelvin Sampson: three ho-hum victories and two ugly defeats, one by 29 points to Michigan State and the other at injured (and generally wretched) Penn State. There is reason to suspect that the Hoosiers have gotten their last win of the season.
Tourney MOP: Brian Butch (26), Wisconsin. Comes into the postseason on a roll, averaging 16 points and 8.7 rebounds his past three games while shooting 57 percent from the floor. On a team of equal parts, he's playing the best at the moment.
Last stand for: Bill Carmody at Northwestern?

PAC-10
Story line: Bubble teams go off to live and die in L.A. That includes the Oregon Ducks and the entire state of Arizona.
Team to beat: UCLA (27). The Bruins have earned the favorite's role by winning the league by three games. But the wobbly final weekend at home makes The Minutes believe they're vulnerable. So does the recent Pac-10 tourney track record (three first-game knockouts in the past four years).
Team to watch: USC (28). Athletic (and now fairly healthy) Trojans have won five of their past six and are on the other side of the bracket from the one team they could not handle this year, Washington State.
Team losing it: Arizona (29). Wildcats have lost seven of their past 10 and have a losing Pac-10 record, which means even that No. 1 strength-of-schedule rating might not be enough to lock up an NCAA bid without their doing some work here. The curiously timed announcement that Lute Olson is returning next season probably doesn't do Kevin O'Neill any favors, either.
Tourney MOP: O.J. Mayo (30). Played brilliantly the last six games, averaging 26 points, five rebounds, four assists and two steals. Improved his shot selection, got to the foul line and converted there as well. Mayo will be the biggest reason USC upsets UCLA in the semis and beats Stanford in the final.
Last stand for: Kevin Mouton at Oregon State. O'Neill at Arizona? Ben Braun at California? Ernie Kent at Oregon?

SEC
Story line: At least three bubble teams will be trying to make a lasting impression on the selection committee: Arkansas, Mississippi and Florida. That assumes Kentucky is in, but the Wildcats would be well-advised to win their quarterfinal game just to make sure.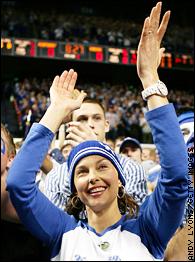 Has Mrs. Franchitti been keeping a close eye on the Cats' improved play?
Team to beat: Tennessee (31). The Volunteers are unquestionably the league's best team; what is questionable is whether Bruce Pearl cares at all about this tournament. He's 0-2 in it.
Team to watch: Kentucky (32). The Wildcats revived their season -- and presumably the interest of Mrs. Dario Franchitti (33) -- by going 12-4 in league play, including 11 wins in their last 13 games. But they also haven't beaten anyone with a top-40 RPI since Jan. 22, and away from Rupp Arena, they haven't beaten anyone with an RPI of better than 139 all season.
Team losing it: Florida (34). The young Gators have dropped seven of their past 10, with a home loss to LSU the most damaging. They're 2-8 against the RPI top 50, not a great indicator of success in Atlanta and beyond.
Tourney MOP: Jamont Gordon (35). Mississippi State's do-everything swingman has been all over the board lately: 20 or more points in five of the past eight games; single digits in the other three. Forty-three assists in that time, but 43 turnovers as well. But The Minutes can foresee a hot Gordon carrying the Bulldogs to the title.
Last stand for: Dave Odom at South Carolina. Butch Pierre at LSU. Dennis Felton at Georgia?
Talk to the hand
The Minutes would like to launch a polite pre-emptive strike at all wrong-side-of-the-bubble coaches and fans who wind up whining about how the tournament should be expanded to 68 … no, make it 80 … uh, what about 96 … why not go for 128?
Don't start.
The NCAA tournament is exactly one micro-element away from human perfection -- if it ditched the play-in game, we'd be there. Adding bad games and mediocre teams would tip the balance and ruin the thing.
Especially if you look at this year's motley bubble assortment. The committee's final deliberations over this field of 65 will involve putting bad teams in, not keeping good teams out. So attention, Jim Boeheim (36), Gary Williams (37) and other potential complainers to be named later: Take your NIT bid and make the best of it.
Buzzer beater
When hungry and thirsty in the excellent city of Charleston, S.C., The Minutes recommends a bite and a craft-brewed beer at Southend Brewery & Smokehouse (38). The Lowland barbecue is legit. After dinner, walk down the street to a cool little joint called Squeeze (39), which accurately bills itself as Charleston's coziest bar, considering its almost comical narrowness. Put it this way: If Kevin Love (40) were in the house, there would be no getting around him.
Pat Forde is a senior writer for ESPN.com. He can be reached at ESPN4D@aol.com.