We scrolled twitter so you don't have to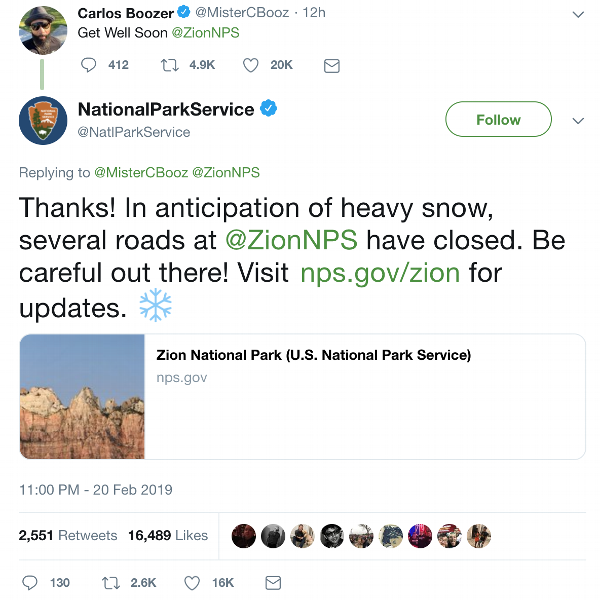 Confusing the Zions
If you'd like to tweet your condolences to Zion Williamson on his knee injury, his handle is @ZionW32 on Twitter. @ZionNPS, on the other hand, is the official Twitter account of Zion National Park, home of the stunning Zion Canyon and the setting for the "Honest Hearts" expansion in "Fallout: New Vegas." Carlos Boozer made that mistake and the @NatlParkService seized the opportunity. Isn't it nice when Twitter is like this? Read More
Things to care about

Should Zion shut it down?
Zion Williamson's injury Wednesday night was pretty scary, especially considering he's likely going to be the No. 1 pick in this year's NBA draft. Duke could be a powerhouse in the NCAA tournament with even an injured Zion, but is that enough of a justification for him to risk his future NBA earnings? Our panel debates.
Read More
Weekend binge reads

The game-day jobs you never knew existed
When you're at a game, you're paying attention to the players. You might never see the anonymous employees who are essential to everything going off without a hitch ... but they're there. From a 93-year-old Spurs lifer to the Bills' grounds crew, here are some of their stories. Read More
How Tim Donaghy's scam worked
In 2007, NBA referee Tim Donaghy pleaded guilty to betting on games he officiated. But it was never actually proved that he fixed them ... until now. Here's the epic story of greed, corruption, and one of the biggest officiating scandals in history. Read More
Inside the 10 deaths at Flamengo
Earlier this month, a fire at a youth dormitory claimed the lives of 10 players aged 14 to 17 from Flamengo, one of Brazil's biggest soccer teams. Catherine Osborn talked to survivors, family members and authorities in Rio to find out how such a tragedy could have happened -- and whether steps are being taken to ensure it never happens again. Read More
Overheard

"Go play in Europe."
Luka Doncic, on Twitter, responding to Donovan Mitchell saying something has to change regarding player compensation in the NCAA after Zion Williamson's injury. Read More
Things to watch

"... college basketball and [the] NCAA is bulls---"
Speaking of Zion, DeMarcus Cousins was asked for his opinion on what the young Duke star should do next. He did not hold back in the slightest. Watch
Kyrie can't quite do it
Kyrie Irving's chance at the winning shot goes off target, allowing Milwaukee a chance to escape. Watch
James Harrison's ridiculous workout
The former Steeler and Patriot might be retired, but it's clear James Harrison isn't done killing it in the gym with workouts that seem to be custom-crafted to create pain and exhaustion. He seems to handle them pretty well, though. Read More
Remember When?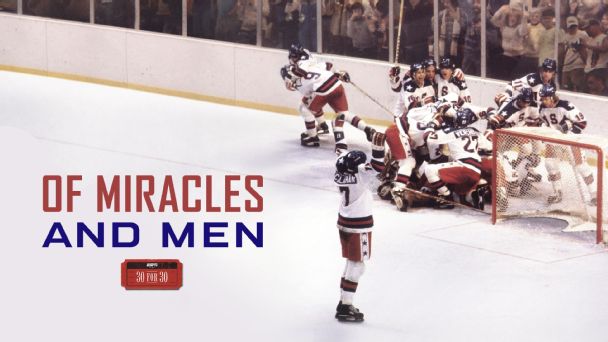 On Feb. 22, 1980, an American ice hockey squad consisting of mostly college players faced off against a Soviet team that had won five of the previous six Olympic hockey gold medals. Down 3-2 in the third period, the host Americans scored two goals to complete the "Miracle on Ice" and would eventually win gold over Finland. To mark the occasion, head to ESPN+ for our 30 for 30, which offers a fresh perspective on the historic game. Watch
What's on tonight?

Spurs at Raptors (7 p.m. ET, ESPN):
DeMar DeRozan returns home for the first time since the offseason deal that sent him to San Antonio. The Spurs won their first meeting with the Raptors 125-107, but they went into the All-Star break on a 1-4 mini-skid; the Raptors, on the other hand, have won six straight.
Jazz at Thunder (9:30 p.m. ET, ESPN):
Paul George looks to start the second half of his dark horse MVP candidacy with a bang as the Thunder welcome the Jazz to Oklahoma City. A win here for Utah would go a long way toward protecting its place in the West's playoff picture -- those last five spots are going to be heavily contested.
Shanghai Dragons vs. Boston Uprising (10 p.m. ET, ESPN3):
Season 1 of the Overwatch League saw the Shanghai Dragons go 0-40, which is the longest losing streak in professional sports. They're 0-2 so far in Season 2 but have looked far better than the last time around. Part of that could be due to the addition of star main tank Noh "Gamsu" Young-jin, whom the Dragons acquired in a surprise trade two days before the season started ... from the Uprising, whom they play tonight.