Say What?

Bad blood
Imagine someone wakes you up at 6 a.m. asking for your blood. Would you give it to them? You probably wouldn't, because you're probably not a UFC featherweight who's subject to random year-round drug testing. But UFC featherweight Dan Ige didn't think twice ... until the person he gave it to told him something shocking. Read More
Things to care about

How the Chiefs outmaneuvered the NFL ...
Patrick Mahomes looks like the quarterback of the future for the Kansas City Chiefs. The road to drafting him wasn't easy, though -- it required some fancy trades with a whole heap of variables. Here's the story of how the Chiefs got their man, and how he might change the course of their franchise forever.
Read More
Get ready for the Leggy 100 ...
There is some premium defensive talent in this draft -- so much so that you'll have to go out of the top 10 of Jeff Legwold's ranking of the top 100 NFL prospects before you find a quarterback.
Read More
The evolution of the NBA's kicks game ...
The NBA and sneakerhead-dom are intertwined, but these days, it's about way more than just who has the biggest collection. Here are three players who have embraced the sneaker-culture evolution.
Read More
Things to watch

That's one way to go out ...
You've probably seen UCLA gymnastics superstar Katelyn Ohashi's ridiculous floor routines go viral at some point over the past year or so. You know, she's the super-powerful one who looks like she's having the time of her life? Ohashi's college career came to an end this weekend, and you won't want to miss her final routine, which brought the crowd to its feet. Watch
Alonso's moonshot
An object needs to be moving about 25,000 mph to escape Earth's gravity and enter into orbit. This home run, by Pete Alonso, is ... nowhere near that. Not even close! It's ridiculous to even bring it up, save as a literary device to communicate that Alonso's home run is so massive as to invite such absurd comparisons. Real talk, it's probably a little over 100 mph, which is still totally impressive. Watch
Overheard

"I mean ... first of all, he's a nobody."
--Joel Embiid, on Jared Dudley getting in his face. Read More
Remember When?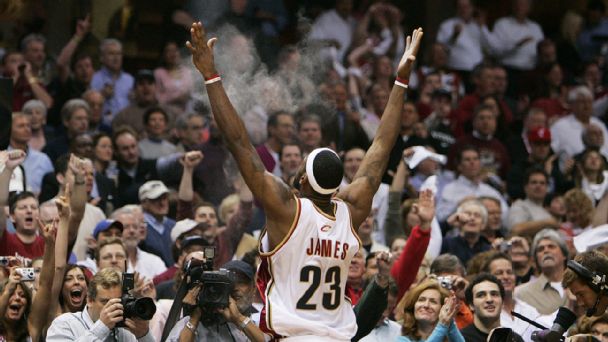 On this date all the way back in 2006, LeBron James played his first playoff game. He was overwhelmed by the moment and took some time to figure it all out - LOL just kidding, he dropped a triple-double in a win over the Wizards. Read More
What's on tonight?

Phillies at Mets (7 p.m. ET, ESPN):
The Phillies are sending 2015 Cy Young winner Jake Arrieta to the mound against the Mets on the road, and lately, he's been looking much more like his old self than he did in his inconsistent 2018 campaign. Right now, it looks like the Phillies and Mets will be battling atop the NL East, so for an early series, this one's pretty important.
Bucks at Pistons (8 p.m. ET, TNT):
Three consecutive blowout wins have the Pistons reeling against the Bucks with seemingly no way for them to stop Giannis Antetokounmpo. They'll have one more shot on Monday night.
Rockets at Jazz (10:30 p.m. ET, TNT):
Honestly, what are you even supposed to do against the Rockets when James Harden starts 0-for-15 and they still win? It helps if you don't keep it close enough that Harden has time to find his groove and score 14 points in the fourth quarter. In short, time is rapidly running out for the Jazz to figure out how to stop him.