Don't Ever Give Up
As Jimmy V Week begins, we remember the late Jim Valvano's inspirational 1993 ESPYS speech. Vitale on Jim Valvano's lasting legacy » Jimmy V's ESPYS speech

Donate »Jimmy V Week »
Scott Clarke/ESPN
SUPPORT THE V FOUNDATION
The 12th Annual Dick Vitale Gala will take place May 11, 2018 at the Ritz-Carlton in Sarasota, Fla. More »

Join Dick Vitale in helping the V Foundation in the fight against cancer.
FOLLOW DICKIE V
Follow Dick Vitale every day on Twitter! He'll have the latest college hoops news and predictions.

Dickie V is a Facebook diaper dandy! Help him reach PTPer status by liking his official page.
BEST OF DICKIE V
Dick Vitale keeps college hoops fans up to speed on all the happenings in the game he loves.
DICK VITALE'S TOP 25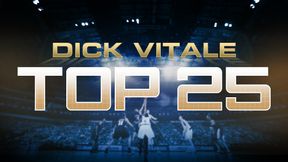 | | As Of March 5 |
| --- | --- |
| 1. | Virginia |
| 2. | Villanova |
| 3. | Xavier |
| 4. | Duke |
| 5. | Gonzaga |
| 6. | Cincinnati |
| 7. | Michigan State |
| 8. | Kansas |
| 9. | Michigan |
| 10. | North Carolina |
| 11. | Purdue |
| 12. | Wichita State |
| 13. | Auburn |
| 14. | Tennessee |
| 15. | Texas Tech |
| 16. | Saint Mary's |
| 17. | West Virginia |
| 18. | Arizona |
| 19. | Nevada |
| 20. | Clemson |
| 21. | Ohio State |
| 22. | St. Bonaventure |
| 23. | Rhode Island |
| 24. | Houston |
| 25. | Florida State |